The story of Travelwithdrone.com
By Jacek Grabarek
The reason why I created Travelwithdrone.com is because I travel a lot and before I go on a journey I always look for videos of the places where I will go.
Most of the videos don't give you an accurate perspective of the location you are about to visit. So when Google launched "Street View" I felt a kind of relief, until it turned out that Google is using cars and that most of the views are done from the road. And unfortunately in the less frequented places Google didn't even have any pictures of the location. So in 2012, I created the TravelWithDrone project to collect videos from the drone flying community and to place them on one single map with precise coordinates. Of course there is always a long way from the idea to the execution. So I have created my own, private page with a map, where I pinned my own travels.
In 2013, I discovered many Aerial Videos made with drones, which did led me to buy my own. Then, my initiative of placing my own videos on the map was reborn. Later, interested in the achievements of others, I noticed that there are hundreds, if not thousands of aerial videos, so I decided to create a mechanism that can gather these videos in one place. In fact, my map only included  a small area, so I wanted to create something that covers a wider range of my country (Poland) and maybe even Europe. Because I am not an expert in IT with experience in building my own site, I asked a friend's company to write a script and I bought the domain "travelwithdrone.com".
This idea was growing in my head for a long time, so we managed to build it in three months and launched the site on July 23, 2014. At the beginning, we invited UAV pilots who posted their videos on Vimeo. After a few days we went on YouTube channels, approached more people and invited them to include their aerial videos on the map. After three weeks, we had more than 1000 aerial videos from around the world on our map. Even today, we are still reviewing videos on Vimeo or YouTube and inviting their creators to use TravelWithDrone.
The rules applying to our website can be found on the "About us" page. We do not store any videos, we store only the information such as the location and the description, simply because the page is based on WordPress and our main goal is to provide an explanation of the video. The Description is a form of tag, so the search engines can index the content in the first place. Travelwithdrone.com page only contains aerial videos and it has been created to serve drone pilots from worldwide in was a little bit similar to Google's Street View. Our advantage is that the videos we collect cover a lot more than just the area next to roads, so our visitors should be able to find a lot of interesting details about the locations or even of their own neighborhood.
Our proud of the aerial videos we have collected of hotels around the world. We have a database of more than 200 to date and we plan to add as many as possible. So we would like to invite all of you Dronethusiasts to come and check out TravelWithDrone and post your videos to the site. We welcome the shots of any location as long as the video has some consistency in the story and that you cover one location per video.
Happy posting!
Summary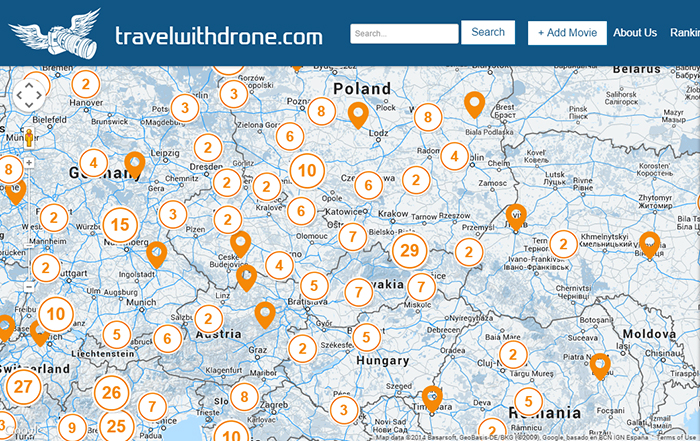 Article Name
The story of Travelwithdrone.com - Dronethusiast
Description
The story of Travelwithdrone.com. I travel a lot. Before I go on a journey I always look for videos of the places where I go...
Author
Other Interesting articles in "
News

"