Titan Underwater Diving Drone – The Latest in Deep Sea Fun

The Titan, coming to us from Geneinno, is quite an exciting drone that we're no doubt keeping a very close eye on. It's an incredibly impressive drone that is perfect for those who spend most of their time in the water, whether or not you're submerged.
"The Titan is able to dive at a rate of up to 150 meters, or 490 feet, which provides users with more space to explore and make more choices. Other drones are only able to take their users down to 50 meters or 100 meters. Some users will say 100 meters in enough, but we believe that exploring the unknown is in our nature as humans and something that a lot of people want to do. The only reason they haven't done it yet is because they don't have the right tools to do so," the chief technical officer for Geneinno, Alan Wang, commented.

The Titan's number one selling point is the fact that it's able to reach depths that no other drone can underwater. Paired with a 4K camera with resolutions and frame rates of 1080p at 30 FPS and 4K at 30 FPS, the opportunities are endless. The Titan's 4K camera is capable of capturing both photos and videos, with a minimum of 8 MP still photos.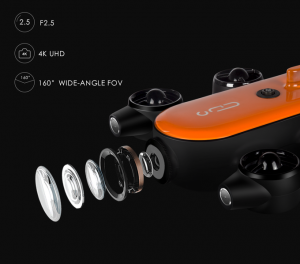 The Titan uses an app, which is available for both Android and iOS devices, that pairs with the physical controller. You can wirelessly communicate with the drone at depths of up to 50 meters, or 164 feet, using a WiFi module, which plugs directly into the topside cable reel. Using the cable for control and communication, you can also stream your videos in 1080p at 30 FPS to dry land!
Another great selling point that the Titan boasts, is that it uses 6 thrusters that allow high degrees of movement and maneuverability at speeds of up to 2 meters per second. The pitch, yaw and roll are customizable and fully responsive with a motion sensor that sits on a 9-axis stability system for total control. The Titan also uses 2 LED spotlight that combines 3,000 lumens of light to ensure that no matter how dark the water may get, you'll always know where you're going.
What's more, you have a choice when it comes to the filters you use. For example, you can use the F2.5 160-degree lens that works best with shots that aren't lit artificially from green or blue colors.
The Titan has a maximum battery life of up to a whopping 4 hours, with 2-hour charges in between. Interestingly enough, you can use a powered extension port that plugs into the bottom of the underwater drone for the purpose of using various accessories. For example, sonar units and manipulator arms.
At this time of writing, you can go on Kickstarter right now and make a pledge. Pledges are currently starting at approximately $1,200 for the Titan underwater drone, a 50-meter tether, and a kit including everything else you'll need in order to get started with using it. There are other, more expensive, price options available for pledges and packages, too.
As far as we currently know, shipping for the Titan underwater drone will begin in September of this year, so get those pledges out if you want to get your hands on one as soon as you can!
Other Interesting articles in "
News

"