UPS Approved By FAA for Commercial Drone Deliveries

We've written recently a couple of articles about delivery drones, and there's been even more developments in the field. This month, UPS just received approval from the FAA to operate limited delivery services across the United States. This is great news as one of the biggest blockers for commercial drone viability is FAA drone regulations and their slow pace at approving them.. With more companies given permission to operate, it paves the way to get sensible rules passed, and open the doors for more companies to follow suit.
Up until now, UPS has been operating under a limited FAA pilot programming. Through it, they've been delivering medical samples 150m between medical buildings in the Raleigh, North Carolina area. With the new program, UPS plans to expand to over 20 hospitals across the country over the next two years. This is also one of the key restrictions, UPS is only allowed to fly on medical campuses. That said, they do plan to expand to other industries over the next few years.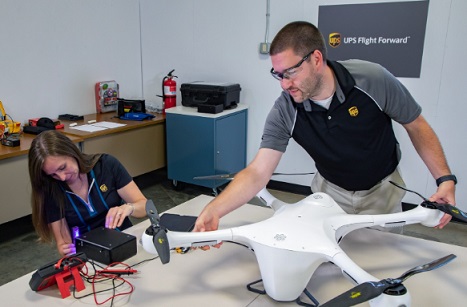 Other than UPS, there is only one other certificate to fly drones that was awarded by the FAA, and that was to Wing an Alphabet owned company. The big difference though is Wing is only allowed to use one drone and one pilot at any time while UPS can fly multiple. Outside of these two companies, the FAA is reviewing six other applications. Hopefully soon we'll see even more companies working with delivery drone technology.
The certification also comes with a couple of other exceptions that are otherwise off limits. This includes carrying over 55 pounds, to fly beyond the visual line of sight of the pilot, and fly at night. Each of these is an important piece, and all together will likely be needed to make drone deliveries viable for businesses. Without approval for these restrictions, companies would be severely limited in what they could utilize drones for.
This type of certification and progress is important if the United States wants to be a forefront of drone delivery. Other countries have already started utilizing delivery drones, and with less stringent regulations have made big moves into the space. Officials here in the states recognize this, and are starting to move quickly to keep up with the rest of the world. Take Rwanda and Ghana for example, these African countries have had over 20,000 deliveries of medical supplies courtesy of drone tech. The United States has a lot of catching up to do to get to those numbers.
#UPS makes history again! Today we become the 1st company to gain full approval to operate a drone airline. Check out this video for more about UPS Flight Forward. #Growth #Technology #UPSFleet pic.twitter.com/KRJHejTdQ9

— UPSers (@UPSers) October 1, 2019
One of the things that is still required is human monitoring. While the drones fly autonomously on pre-programmed routes, it still requires a human to monitor the flights. UPS is working to secure approval to get flights completely autonomous without a human operator, and this is going to be essential to further business development.
Business is happy about this movement as well, and it's easy to see why companies like UPS and Amazon are pushing to make delivery drones a reality. Scott Price, the chief strategy and transformation officer at U.P.S, had gone on record saying "Delivery by drone is cheaper than the cost of a person driving a car". Drones are poised to save businesses money, which is great for both the business and consumers.
At the end of the day, it's very exciting to see the progress being made in this field. The big roadblock is FAA regulation, so to see them working with companies to expand their operations is a big win. Hopefully, the initial testing will prove to be successful, and we'll see many more companies following suit.