VR Goggles For Drones – Best VR Headset For Drones

Updated: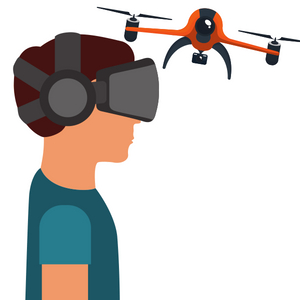 Drones are one of the most exciting technological fields out there, with more companies entering the market and new aircraft innovations being thought up every day. Virtual reality may be a close second, with high-end headsets like the Oculus Rift and the HTC Vive making international headlines with their state-of-the-art potential. Today we're going to be combining these two innovative fields into one with reviews of the five best VR goggles for drones.
A VR headset for drones is usually compatible with a phone or tablet that will connect to your drone with some kind of app, like the DJI Go app or FlyingSee. The drone will stream footage to the phone which in turn will stream it to the VR goggles like a monitor. This will allow you to look around with the headset as though you were looking from the drone's point of view, which can make it easier to pilot and will give you a one-of-a-kind immersive experience. If you've ever wanted to feel like Superman flying through the sky, these headsets will take you there.
Best VR Goggles For Drones
We've looked around and found the five best VR headsets for drones, which we've reviewed below so that you can find the option that best suits your needs. Note that these are different from simply being the best VR headsets – a lot of people would put something like the Oculus Rift in that camp, but the Rift and similar models will require a lot of extra setup and a huge additional investment since they go through a computer instead of a phone (and it will need to be a very powerful computer.) These are specifically the best VR goggles for drones.
EACHINE VR-007 Pro
The EACHINE VR-007 Pro is one of the best VR goggles for drones. This VR headset is designed for comfort above all, with a three point fillet (or headband) that spreads the pressure around the head instead of putting it all in one place. The VR goggles themselves are covered with special sponge that will adapt to the contours of your own face, which makes them fit better and makes you almost forget you're even wearing a headset!
These VR goggles for drones have a number of other great features, too, that make them especially good for flying quadcopters. Take a look:
Features and specs: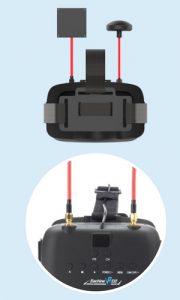 480×272 screen resolution
4.3 inch screen size
1600mAH 3.7V (1S) USB-chargeable Lipo battery
Retails for $63.99
Extremely comfortable
Can be used without glasses for Myopia below 400 degrees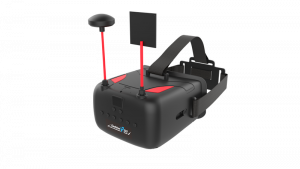 Click To Shop or Read Reviews
Zeiss VR One
Don't be fooled by its low price – the Zeiss VR One is frequently cited as the best VR headset for drones. It's not specifically designed for that purpose – rather, it connects to your smartphone so that you can stream video, play games, or partake in augmented reality. But if you have a drone that streams FPV footage to a mobile device (as many drones now do) you can see that video in immersive HD with the Zeiss. It has a number of additional features to improve the viewing experience, like an eye box that has been specially designed to account for pupil distance. Take a look:
Features and specs: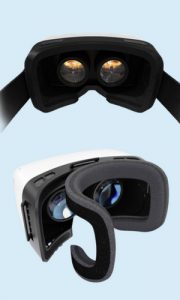 Supports multiple HD screen resolutions
4.7 – 5.2 inch screen size
1 Lipo battery
Retails for $31.29 (very cheap!)
Ventilation ports keep the lenses from fogging up
Can be worn over eyeglasses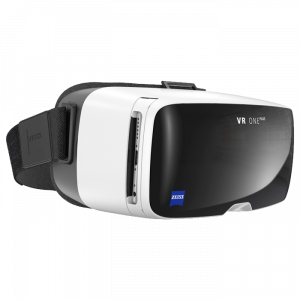 Click To Shop or Read Reviews
Utopia 360
The Utopia 360 VR headset is the best budget VR goggles for drones. Though not designed for drones, it's ultra-compatible with any phone on the market today and streams high-quality footage without the need for a battery (although it will drain your phone's charge at a significant rate.) It's very portable and designed to be transported, which is nice when you also have to carry a heavy drone around. Finally, I'm a big fan of how comfortable the headset is and the quality of the ventilated cushion. Take a look at the features and see if you agree:
Features and specs: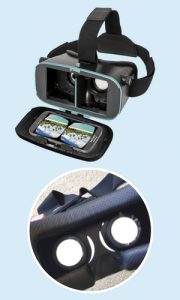 3-way adjustable strap with additional padding
Compatible with any phone and any screen size
Battery-free operation
Retails for $17.99 (cheapest price!)
Designed for portability
Anti-glare Lucidview Lens System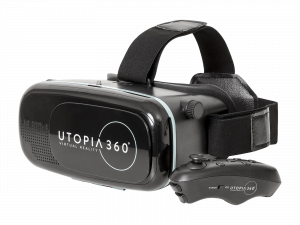 Click To Shop or Read Reviews
FatShark FSV1063 Dominator V3
Though their name may sound silly, FatShark is known for making some of the very best VR goggles for drones around. Their latest and greatest model is the FSV1063 Dominator V3, which have much larger and better quality screens with a 30 degree field of view. These virtual reality goggles are deceptively light, so they sit more comfortably on the head, and they last for a long time. There's a slight downside in that they don't come with a charger for the LiPo battery, but take a look at these features and decide for yourself if they're worth that minor downside:
Features and specs:
30° field of view for a perfect crisp image
16:9 WVGA display
1 1800mAh Li-Po battery (charger not included)
Retails for $349.99 (most expensive)
Includes digital video recorder
Receiver sold seperately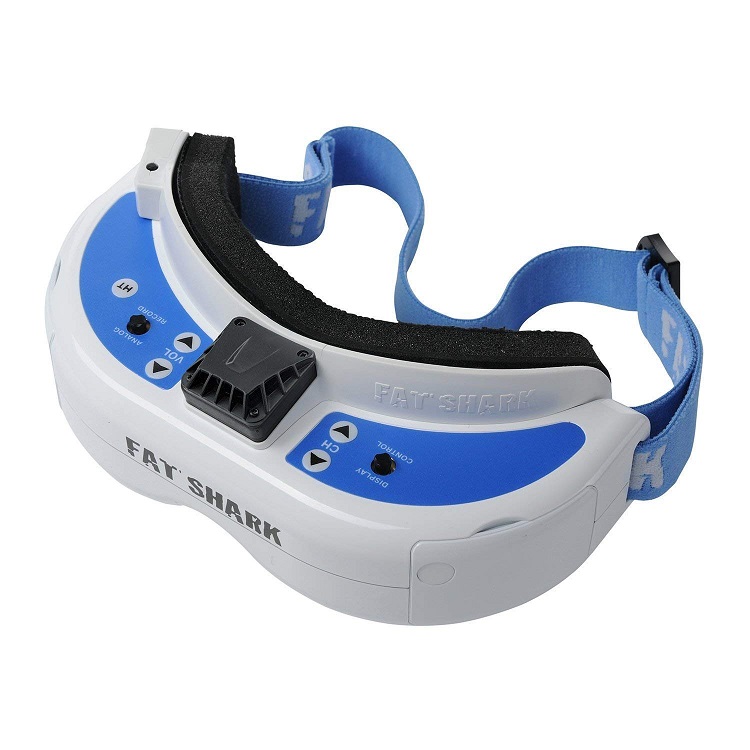 Click To Shop or Read Reviews
Walkera Goggle 4
The Walkera 5.8G Goggle 4 VR headset is a great choice if you're looking for a high tech option to use with a Walkera racing drone. It only works for the Walkera Runner 250, F210, Rodeo 150, and Furious 320 drones, which will obviously make it unusable for many of our customers. But it's still worth mentioning just because of what a high-quality pair of VR goggles for drones this is – we wish every quad company put this much effort into their gear! Just look at these features:
Features and specs: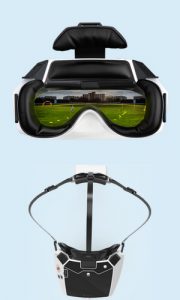 5 inch screen size
HD display
Highly ergonomic design
Retails for $162.99 (high end)
5.8 G Double Antennas
40 channels
Streams video right from the drone – no mobile device required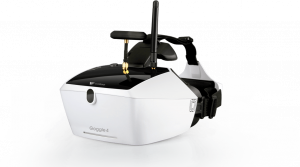 Click To Shop or Read Reviews
Great VR Headset Drones For Beginners
Now that you've found the perfect set of VR goggles, you're probably looking for a great drone to use it with! If you're an experienced drone enthusiast, chances are you already have something in mind, but we have two suggestions for excellent VR headset drones that any beginner can use with their new goggles.
The first is the Altair Aerial AA108. You can get fast and free shipping on their website or find the best price on Amazon. This mini drone costs only $119 USD and is highly durable and fun to fly. It streams FPV video to your phone which you can then stream to a pair of virtual reality goggles, giving you a bird's eye view in 720p HD from within a 100 meter range. This is one of our favorite beginner virtual reality drones and with three speed modes it's sure to please anyone.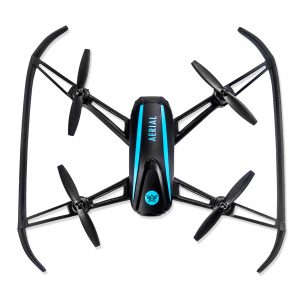 The second is the 818 Hornet Plus. Once again you can get fast and free shipping on their website or find the best price on Amazon. This is a larger and more expensive drone (though $150 USD is still not that bad for a drone of this calibur) and it comes with features that are especially good for aerial photography and therefore may be especially good for pairing with a VR headset. It has a longer flight time at an impressive 15 minutes per battery (with two batteries included) and a much longer flight range and more stable hover.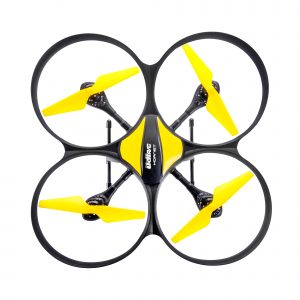 Either of these choices are great VR headset drones for beginners.
VR Goggles For Drones FAQ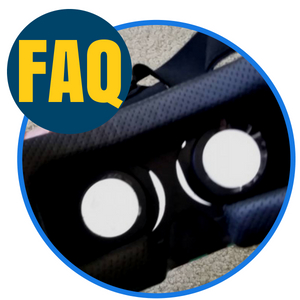 Why would I use VR goggles with drones?
VR goggles allow you to experience drone flight from the point of view of the drone, which many pilots feel gives them a more immersive experience that makes it easier to fly. They also make the whole experience feel more high-tech and fun!
What is the difference between FPV headsets and VR headsets for drones?
FPV headsets are designed for professional drone racers, with a lower latency that isn't necessary if you're not flying one of the fastest drones for sale. They have a clearer screen and better image quality and operate independently of your phone or any other device. They're also a lot heavier and more expensive. You can learn more about the best FPV goggles and glasses here.
VR headsets for drones are cheap, light, and much easier to set up and use. They also track your head and, when combined with certain apps, give you a full 360 degree range of view.
How expensive are VR goggles for drones?
It varies depending on the quality of the VR goggles in question, but you can generally expect to pay around $30-100 USD for a headset. You'll also need a phone or other mobile device.
What should I look for in a VR headset for drones?
The two most important considerations are comfort and quality of image, in that order. Many people don't think about how important it is to find VR goggles that comfortably fit their head, but you'll be wearing this thing quite a bit, and you don't want to get painful headaches.
You'll also want to make sure the headset is well-reviewed and actually does what the manufacturer says it does – we've already taken care of that for you in this article. Beyond that, extra high-tech features provided by the app the VR headset is designed to work with are always nice, like how the Zeiss VR One lets you try augmented reality.
Conclusion
We hope that this article has taught you everything you need to know about the best VR goggles for drones – and maybe even helped you purchase a virtual reality headset of your very own. If you've got a favorite pair of VR goggles that didn't make the cut, let us know in the comments and we'll be sure to check them out if we haven't already. And keep checking back here for the most up-to-date information on the best VR headset for drones!
Other Interesting articles in "
Reviews

"