Yamaha has raised the bar for drones used in the agricultural field. They announced their new YMR-01 multi-rotor drone will be hitting the shelves in 2018. The launch was debuted at the Next Generation Agricultural Expo Tokyo and impressed audiences since it is the first multicopter that has been shown by Yamaha.
In 1989, Yamaha entered the drone marketplace and began making unmanned vehicles for the purpose of spraying agricultural chemicals. In fact, they were responsible for 42.5 percent of rice paddy cultivation in Japan. Since their creation, they are used for agricultural purposes in Korea, Australia, Thailand, New Zealand, and the United States.
As the use of unmanned vehicles have increased over the years, Yamaha continuously made improvements to their drones already on the market in an effort to keep up with the changing technology and advancements. With the new YMR-01, all of these technological advances are beautifully seen combined in one sophisticated drone. The YMR-01 delivers high performance spraying capability, is easy to use, and is reliable to meet the needs of today's farmers.
The main advancement seen in this new drone are the two of the six axes that are located on it are vertical coaxial rotors. This creates perfect downward downward air currents, and with the placement of the spray nozzles, it allows the chemicals to be continuously and uniformly sprayed, seeping all the way to the root of the plants being treated. The drone is able to spray agrochemical at a rate of 1 hectare per flight.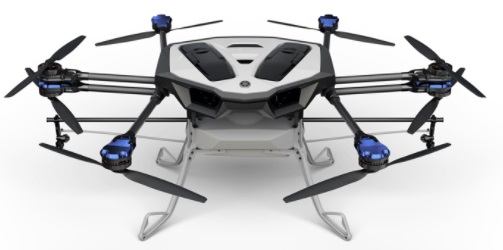 The fiber body of the drone is constructed with a monocoque shell, which allows it to have the ideal balance between lightweight and rigid. In an effort to keep the electrical system within the YMR-01 cool, the vessel has also been equipped with a double air intake design. Improvements have also been made to the landing gear so the drone can make landing with a reduced impact.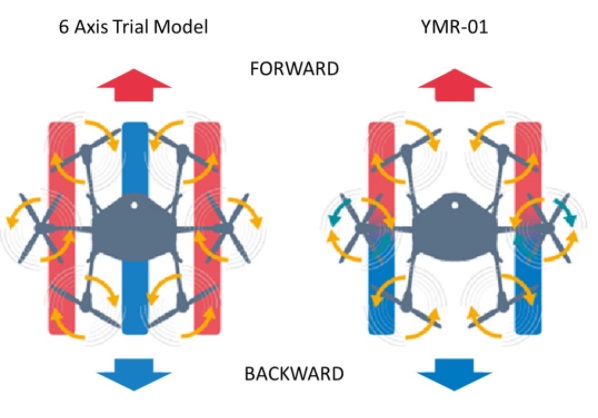 This new drone is expected to help the agricultural industry greatly. The use of these drones have increased greatly over the years by farmers with smaller fields that do not require the use of a helicopter. With so many advances, it eases the job of farmers and creates less manual labor for them to perform while maintaining quality crops.