Yuneec Presents the Mantis Q With Voice Control

Yuneec International is the current world leader in regard to electric aviation. This week, they've presented the Mantis Q, the latest, all-new extension of the award-winning Yuneec lineup.
The Mantis Q, which was pitched to be a travel drone, features foldable arms, gesture and facial detection controls, a maximum flight time of up to 33 minutes, a 4K camera, and a portable, mini controller. As well as the facial and gesture features, you can use voice commands.
The Mantis Q recognizes a wide variety of voice commands, including "take off", "wake up", "take a picture", "record video", "return to home", and "take a selfie". Thanks to facial recognition and gesture mode, the Mantis Q will take a picture of you if it spots you smiling or waving at a distance from up to 13 feet, or 4 meters, away from it.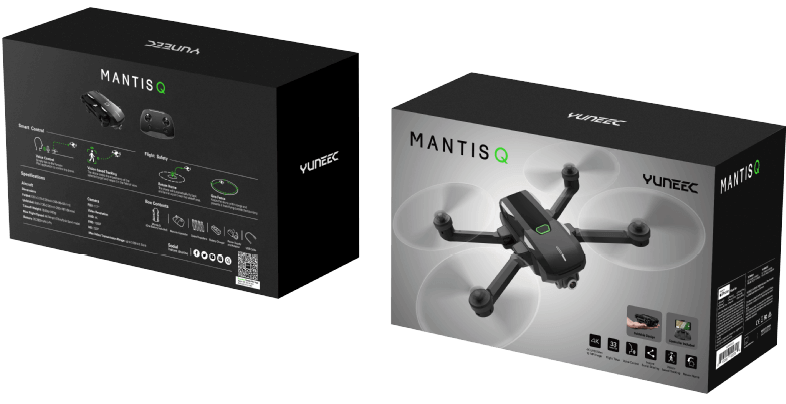 Aside from the standard thumbstick control with a small controller arm, there's an additional arm that is designed to hold your smartphone.
Basic Journey mode, Orbit Me, and Point of Interest are just a few of the other features that the Mantis Q has to offer. It doesn't come with any Obstacle Avoidance function whatsoever, but it makes up for it with infra-red pointed downward and dual sonar sensors to ensure you can fly safely indoors.
The portability of the Mantis Q is exceptional, weighing less than a pound, 6.6 x 3.8 x 2.2 inches in size, and even has propellers that fold all on their own! You can hit speeds of up 44 mph, or 70 km/h, when you enable Sport mode.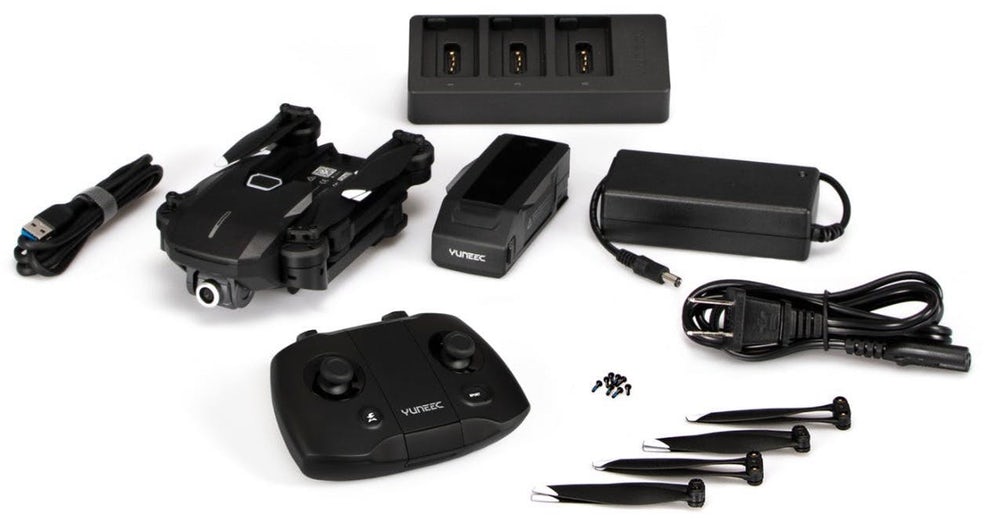 As we previously mentioned, it has a 4K camera with electronically-stabilized 1080p resolution. You can take 13 MP photos in both DNG and JPG formats, as well. The camera is capable of tilting to a 90-degree angle if you want it to look straight down or tilt upward as much as 20 degrees.
"The Mantis Q was developed in order to offer the most cutting-edge, advanced drone features, including facial detection and voice control, in a package that's ultra portable and easy to use. Consumers will find that the Mantis Q integrates seamlessly into everyday experiences. They will appreciate the incredible energy efficient package, which allows for up to 33 minutes of flight time, to help in capturing every moment," commented the CEO of Yuneec International, Michael Jiang.
The Mantis Q is as a portable, efficient, travel-sized drone that performs like a legit agility racer. You can enable a live image feed with a latency of less than 200 ms on your smartphone when it has a stable connection to the remote control.
You can pre-order the Mantis Q right now for $499.99, which will give you the Mantis Q drone, the tiny controller, spare propellers, a three-port charger, 1 battery, and a USB and power cable.
If you can swing it, you can pre-order the Mantis Q X-Pack for $649.99. This choice will give you the Mantis Q drone, the controller, 3 batteries, spare propellers, a three-port charger, a USB and power cable, and a travel shoulder bag.