One thing you realize after acquiring a DJI Phantom 3 drone is that you will at times use it in different locations, and this necessitates a carrying formula for it. Not only does a strong case help you move around with the DJI Phantom 3 comfortably, but also help you protect some of the delicate parts of the drone and its accessories, for example, the batteries, cables, camera, and gimbal.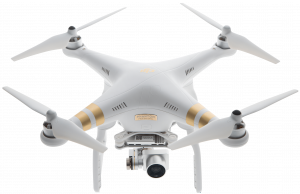 Click To Shop or Read Reviews
Moreover, if you are a frequent traveler, you know the drone rules that vary from country to country when it comes to handling your equipment, especially when it comes to its transport and storage.
Varying options exist when it comes to shopping for a drone traveling case. Backpacks are a great alternative when it comes to storing and carrying your gadget around. Most backpacks have soft padded carrying straps and back, to making it comfortable for owners to carry drones around. They are designed from water resistant materials, ensuring the entire system is moisture free, making them an excellent choice for casual drone enthusiasts.
Tough carrying cases are best suited for the military personnel. The reason behind this is, such cases can survive any destructive attempts on them, common with the profession, hence withstand serious bangs. Sturdy carrying cases come with extra features for example pressure equalization rings, to resist any changes in air pressure, which comes with flying. Also, they have extra space for fitting in many military grade accessories for serious DJI Phantom 3 users.

Wheeled cases provide DJI Phantom 3 users with the much-needed portability and protection of their devices. They have an extendible or retractable handle, for easy push or pull around concrete surfaces. To add up to the drone's protection, they have fitted with shock resistant seals, watertight caps and hard shell exteriors, for business like professionals, for example, drone technicians.
Best Cases for DJI Phantom 3
Case Club Waterproof Wheeled Case with Silica Gel
Case Club wheeled case boasts of being among the Airline Approved luggage, so no worries when it comes to flying around places with it. It comfortably fits all the DJI Phantom 3 models; Professional, Standard, and Advanced drones.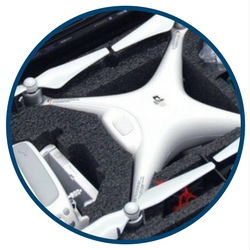 The exterior case is made of military grade 100% polyethylene, making its cleaning easy using wipes. It is waterproof, making it an excellent case for your drone if you are visiting humid environments.
Its interior ensures that each inch of space is fully utilized by your drone's body and accessories. For example, the lid cutouts, provide a perfect fit for disassembled propellers, protecting them from damage like breakage and bending. Two reusable silica gels sticking in the lid help in moisture remove from the interior. When fully saturated, the silica canisters are placed in an oven to dry them, for future use.
The long pocket stores extra props next to the drone itself. There is an insert to store another 6 batteries, with the battery relief for the drone, making a total of seven. If you wish to store the drone with its props on, precision cut plastic protruding from the foam, ensures that you correctly align the lid allowing you to keep the gadget intact and safely.
You can easily segment the two accessory pockets using plastic dividers. There is a perfect remote cutout, little slots to hold memory cards nicely and organized. A soft foam pad supports the gimbal and camera.
• Waterproof Case fits DJI Phantom 3 or Phantom 3 Pro with many accessories.
• Wheeled Case has a lifetime warranty & is 100% Waterproof, & Dustproof.
• Holds drone, tablet (up to 12″x7″x1/2″), 5 extra batteries, controller, memory cards, extra propellers, included silica gel canisters & more.
• Case is Airline Approved for checked luggage & pad lockable.
• Foam is military grade closed cell polyethylene that can be wiped clean and is long lasting.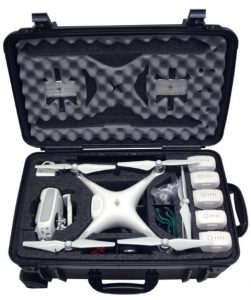 Click To Shop or Read Reviews
Koozam Phantom 4 Pro Case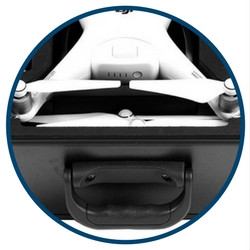 Inarguably, Koozam is one of the most stylish-walk around DJI Phantom 3 drone cases today. It is made from a sturdy and durable aluminum case. Its black color and matte finish gives it a more professional look. The aluminum exterior makes the case, extremely lightweight but also adding up to its compatibility. It can easily fit in any overhead bin on baggage check in aircraft.
The interior allows owners to carry up to five drone batteries, extra props, a remote, and chargers among other accessories, thanks to the many cuts out storage compartments. Its lid is made up of a waved foam protection, allowing it to withstand any overhead impact, which may have been attempted on the case top.
The Koozam case allows the user to transport the drone with the rotor guards still plugged in when transporting. Moreover, the case fits other DJI Phantom drone makes such as all the Phantom 3 models, Phantom 4, Phantom FC4 and Phantom Vision.
• Stylish Walk around in style with your aluminum Phantom Case, Look like a covert unit on a mission.
• Fits All DJI Phantom Models including Phantom 4 , FC40, Phantom 2, Phantom Vision , Phantom Vision +, Phantom 3 Advanced, Phantom 3 Professional, Phantom 3 Standard.
• Lightweight , extremely light, the most lightest case to carry around, and most compact to protect your phantom.
• Easy to carry. Fits into overhead bin on baggage check in on airplane.
• Fits easily 5 Batteries, the Drone, extra propellers, remote, chargers and lots of extra accessories.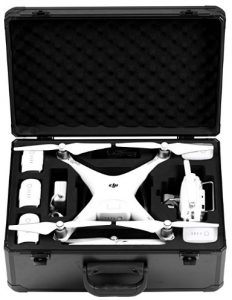 Click To Shop or Read Reviews
Best Backpack for Phantom 3
DJI Phantom 3- Hard Shell Backpack CP.PT.000239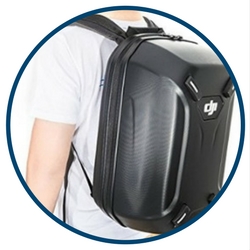 If you are a recreational drone user, the DJI Phantom 3 backpack is your to-go-to storage case. It perfectly fits all the DJI Phantom 3 drone models, thanks to its durable, lightweight and water resistant material. Since it is a backpack, it only weighs 4 pounds, with a maximum weight of 22 lbs. It has only chest straps and attention-to-detail cushy padded foam, lessening the strain on muscles that comes with carrying the drone.
The exterior is black and has the DJI logo, giving it a decent and comfortable look. The high-quality outer cover allows the backpack to hold the system completely, easing the portability process of the long run. The case comes with a zippered closure, with the option to padlock them, hence giving the device the much-needed security.
Its interior has an elastic strap to allow the holding of the aircraft securely, in place when in the horizontal position. However, you have to detach the props guards in the first place. It can easily accommodate up to four Phantom 3 batteries; one in the phantom device and three in the dedicated battery compartments. Additionally, you can pack the radio transmitter an extra set of the props and other little accessories.
• For Professional and recreational use
• Uses only the highest quality components
• Tested for safety and durability
• 15 X 20 X 3 Inches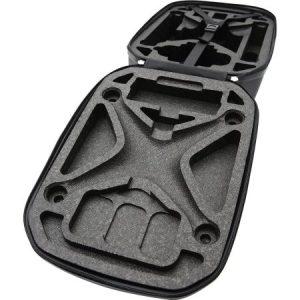 Click To Shop or Read Reviews
Drone Quadcopter Backpack Carrying Case- Black/Red by HD Stars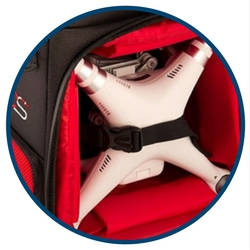 The backpack from HD Stars can easily accommodate all DJI Phantom quadcopter models. It has padded wide straps to allow for a more balanced weight distribution. The HD Star backpack is made from a water-resistant fabric. There are the high-grip zippers pulls which add up to its high-quality build.
Two outside mesh zipper pockets allow for the easy transportation of manuals and books. It allows owners to easily convert the backpack into a duffel bag thanks to the hideaway zipper pockets in for shoulder and waist straps.
Its interior which has padded double-cushioned Velcro foam has many compartments to carry the radio controller, spare batteries, a charger and a gimbal. The Velcro foam guard bracket is removable, allowing owners to carry the drone in alternative bags such as the photo packs. It has small pockets to carry other slimmer items, for example, a smartphones and SD cards.
• Fits Most Quadcopter with Gimbal Battery and Accessories.
• 4 Inner Pockets for Smartphone / Tablet / Memory Cards.
• Water Resistant: Fabric and high-grip zipper pulls.
• Wide Straps For Balanced Weight Distribution.
• INNER DIMENSIONS: up to 11.4 x 11.4 x 7.2″ – EXTERIOR DIMENSIONS: 20 x 16 x 8″.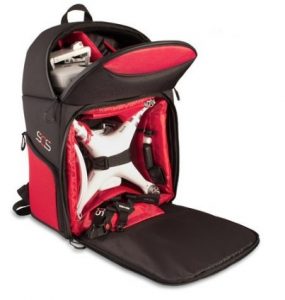 Click To Shop or Read Reviews
TOZO Hard Shell Camouflage/Black Backpack Travel Bag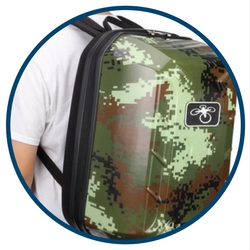 Coming with a perfect design, practicality and durability, this carrying case allows for the safe transportation of your device. It is exterior hard shell can be camouflage or black, providing it with a decent look. However, when dragged on rough surfaces, the case can scratch easily. The straps are padded and properly spaced for equal weight distribution in the first place. The carrying case weighs only 3.66 pounds.
Its interior is made of EPP foam, which offers the best cushioning and tight fit to the drone. Also, it is widely spaced, giving users plenty of room to store the drone and its accessories. For example, the side pockets allow easy storage of the manual and smartphone, while the sleeve pockets can easily fit in the drone's charger, batteries, and props.
The carrying case is designed for the Advanced and Professional models of the DJI Phantom 3 drone.
• Compatible with DJI Phantom 3 [Professional / Advanced] and Phantom 4 Quadcopter, Standard, Advance and Professional.[Not for Phantom 3 Standard]
• Perfect design, practicality, durable and comfort. It's custom built straps and padding to ensure that your Phantom stays safe during transport.
• Storage Quadcopter, Transmitter and iPad, Batteries, Charger, Accessories etc.
• Good Quality Backpack, durable ,Water resistant, light weight, adjustable contoured and padded shoulder straps.
• DJI Phantom and Accessories not include for sale.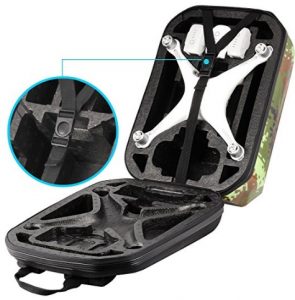 Click To Shop or Read Reviews
HD Stars Protective Aluminum Hard Traveling Case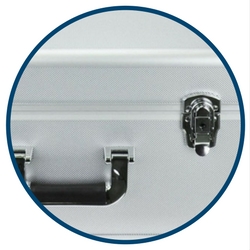 The hard case is solidly constructed allowing the safe and secure transport of the any DJI Phantom quadcopter. It is made from an all-aluminum material on its exterior, with steel corner reinforcement to withstand any knocks or security breach on your equipment. Its sophisticated construction makes the case look stylish, especially if you are a frequent traveler and would like to keep your gear protected at all times.
Its interior is made of padded foam with proper cutouts for the drone and its accessories. Here, the cut outs provide a snug fit in the drone, preventing the frequent shaking of the drone and its accessories while being transported. The lid gives extra room for the drone's props in case you want to carry the equipment when it is intact.
The case is weighty, with 9.6 pounds but still a good all round case for a well-traveled casual user.
• Designed for DJI Phantom 4 with Battery and Accessories.
• Take off & Landing Pad: When you're in areas of tall grass, mud, etc.
• Snug Fit: Drone will not move around while in transit. You can keep the propellers attached.
• Water Resistant – Made of Aluinum – Steel Corner Reinforcement.
• Inner Dimension: 21"x13.5"x6.5" – Exterior Dimension 21.75"x13"x9.5"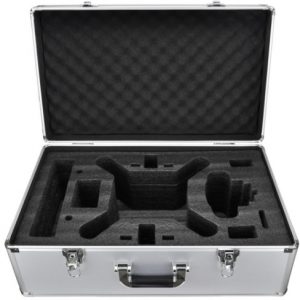 Click To Shop or Read Reviews
Conclusion
All in all, the above-reviewed carrying cases are the best in the market. They are great options and giving you an idea of exactly what you need to look for in a carrying case. Additionally, they offer you enough security to your drone, especially if you are going to encounter tough weather conditions or poor handling of the device when in transport. Simply put, if you are going for a hike, it would be better is you went for the backpack case. If you encounter some rugged terrain, go for a more sturdy carrying case. However, you may drag in the personal preference factor to help you make up your mind.