New 4K Capable DJI Phantom 3 Drone Delivers Most of Inspire 1's Virtues
DJI, the world leader in creative robotic equipment, today announced the next evolution in its ground-breaking Phantom drone platforms – the Phantom 3 (as anticipated earlier).
Two DJI Phantom 3Versions – Professional and Advanced
With two variations, the Phantom 3 Professional and Phantom 3 Advanced. The Phantom 3 Professional is capable of shooting 4K video at up to 30 frames per second, while the Phantom 3 Advanced records at resolutions up to 1080p at 60 frames per second.
Both models shoot 12 megapixel photos using a 94⁰ FOV, distortion-free lens, and a high-quality, 1/2.3" sensor that is more sensitive to light than the sensor in previous Phantom 2 Vision models.
Check our our new post on Phantom 4 carrying cases.
Safer Flying Indoors and Outdoors (and hopefully less or no flyaways)
Using DJI's own Visual Positioning System (VPS) that sports two ultrasonic sensors and a camera, these Phantom 3 platforms can hold their positioning indoors without GPS and can easily take off and land with the push of a button, a lot similar to what the Inspire 1 did first among the DJI quads. Seeing the Phantom 3 fly today really did show that it's "rock solid" up in the air.
DJI Phantom 3 Transmitter "Borrowed" from the Inspire 1
Controllers for the Phantom 3 come paired with DJI's Lightbridge technology, which allows pilots to see what the Phantom 3 camera is seeing in HD (720p) at a distance up to 1 mile (1.6 kilometers) with almost no latency.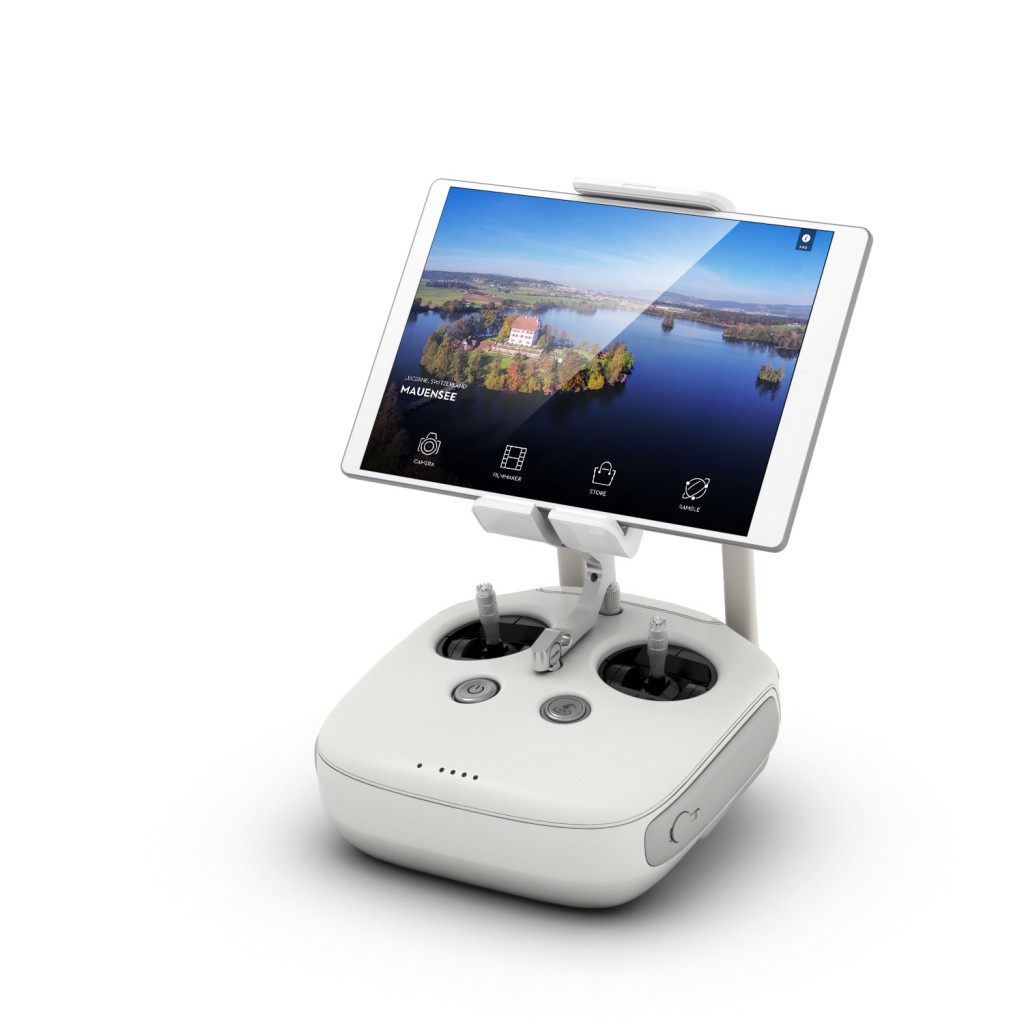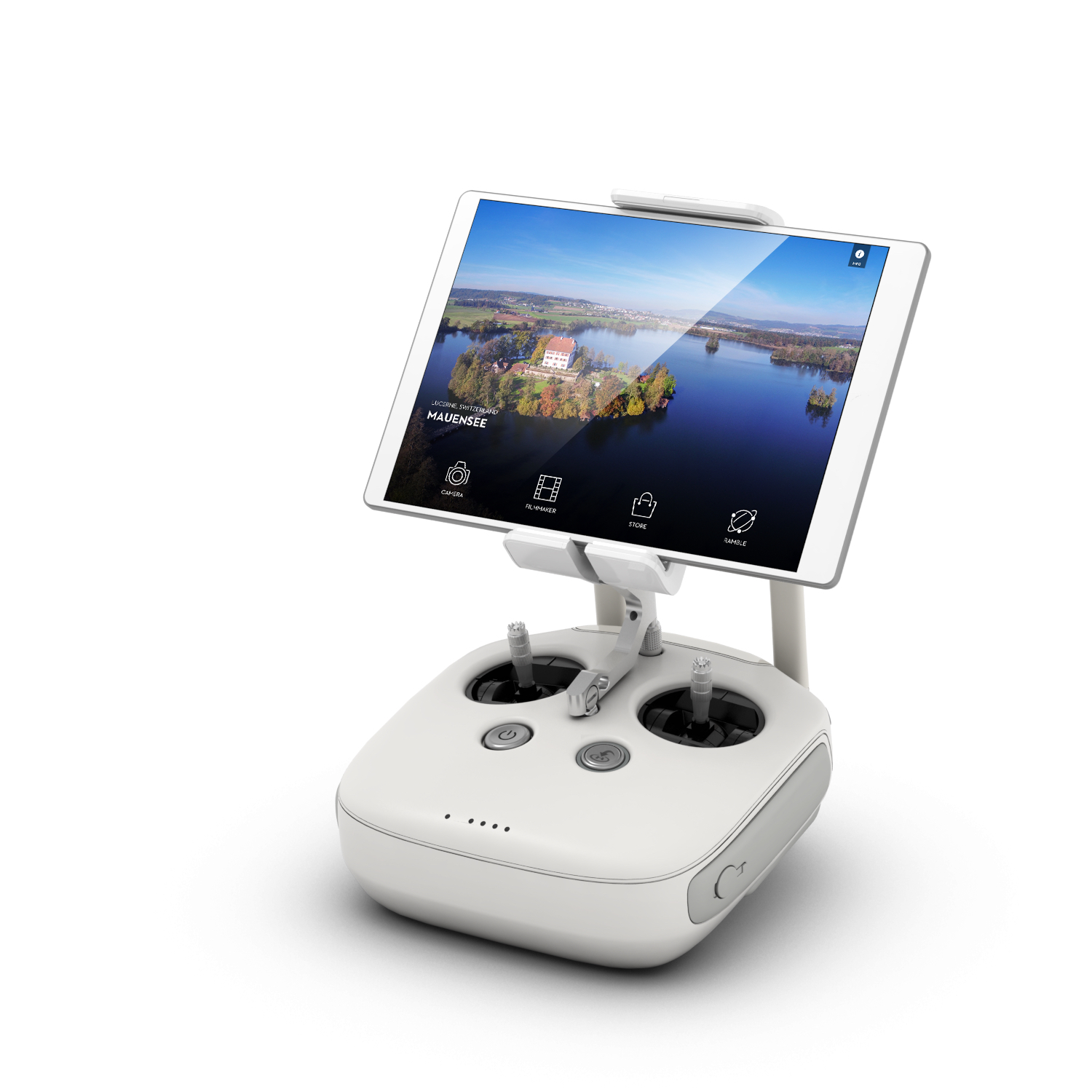 All camera settings, including ISO, shutter speed and exposure compensation, can be set using both the DJI Pilot app and the physical controls on the remote controllers. The DJI Pilot app also features a Phantom 3 flight simulator for virtually practising aerial manoeuvers, and a 'Director' feature, which automatically edits the best shots from flights into short videos that can be shared immediately after landing.
The upgraded app also allows pilots to live stream their flights to YouTube. Naturally, the new Phantom 3 units are equipped with 3 axis brushless gimbals for the buttery smooth stabilization we have already got used to on the Phantom 2 platform.

New Batteries
The Phantom 3 comes with new batteries, though very similar in appearance to the older Phantom 2 smart batteries. But this time, DJI equipped the new model with 448a mAh 4S batteries, so sadly the old Phantom 2 batteries we have all gathered will not fire up the new quadcopter :(.
Follow Me and Point of Interest
These two features are only anticipated at this point based on some SDK co-operation DJI might have in the future. I guess they don't want to include these functions on their own to avoid certain liability issues if people slam their quads into a lamp post while in follow-me mode. Well, the only solution to that will be to introduce obstacle avoidance which I was truly hoping for today. Well, the ex Google guys are working on it already with a handsome venture capital investment behind them, so it might just become available integrated in drones sooner than we think.
Our Opinion of the DJI Phantom 3
Obviously, the Phantom 3 is a pretty amazing piece of technology and as is the Inspire 1. What is going to be exciting to see is how many buyers will the Phantom 3 lure away from the Inspire 1. Yes, the retractable landing gear is pretty awesome so you don't have the props saying "Hello" to your viewers. But for nearly one third of the price (ok, a little more), the new 4K Professional version of the Phantom 3 goes a long way in delivering many of the "virtues" the Inspire 1 has. Plus not having the pressure on the pilot of flying something that's worth as much as used car (or down payment for a new one) is something many buyers will consider. I guess what DJI is thinking is that it's all good as long as these buyers purchase a DJI product which might or might not be the right tactic, who am I to judge?
Quotes from DJI
"In developing the next generation Phantom, DJI remained committed to providing a top tier flight experience in one easy-to-use platform," said DJI CEO Frank Wang. "We pride ourselves in creating a flying camera that fits in a backpack and can be ready to take professional quality videos from the sky in less than a minute."
"Pilots, whether they are journalists, extreme athletes, or global travellers – will not just be able to share aerial videos of where they were, but will also be able to send a YouTube link to their friends and colleagues to show them the aerial perspectives of where they are right now," said DJI's San Francisco General Manager Eric Cheng. "This has tremendous potential for changing the way we share experiences with one another."
Availability and Pricing
The Phantom 3 Professional and Phantom 3 Advanced will begin shipping in a few weeks for a suggested MSRP of US$1,259 and US$999, respectively.
The Official Product Video
Example Footage Recorded with the DJI Phantom 3
Until you can put your hands on the new Phantom 3, here is a "showreel" of recordings made with the new quadcopter.
More Videos From DJI
For Sports
For Weddings
For Exploration
For Travel
For Surveying
These are the more interesting aerials DJI has done with the Phantom 3 but you can find more at their Youtube channel.
Additional Features
Enhanced GPS (with GLONASS) for better position accuracy
Flight logging to help document flight statistics
Safe flying zones to prevent take off or flight near airports and other sensitive sites
Dedicated remote controller with camera and flight controls for enhanced ease of use and safety
Rechargeable Intelligent Flight Battery with sensors for real-time battery information
First integrated professional-quality aerial cameras available to any level of pilot
App features self-editing function for sharing professionally edited aerial videos instantly
Integrates with YouTube Live to stream aerial footage in near real time
Summary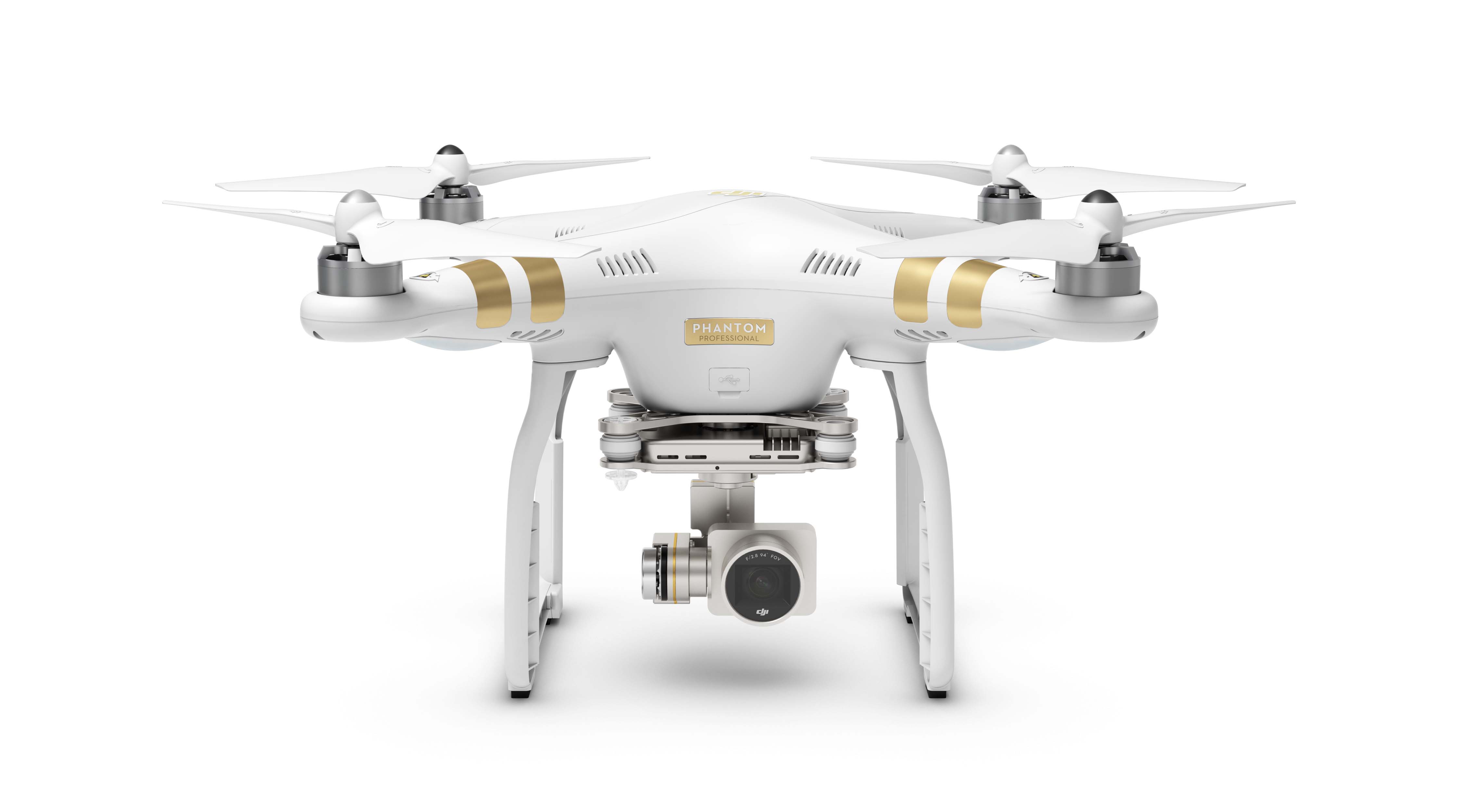 Article Name
New 4K Capable DJI Phantom 3 Drone Delivers Most of Inspire 1's Virtues
Description
DJI announced the much anticipated DJI Phantom 3 quadcopter today in events world wide. Is it going to lure away a lot of customers from their own Inspire 1 "prosumer" product?
Author
Other Interesting articles in "
News

"