Best Drones Under $150 – [Updated 2021]

Updated:
There's never been a better time to get into drones. Not long ago, unmanned aerial vehicles were prohibitively expensive, requiring thousands of dollars and an FAA registration just to get started. But then the market exploded, making consumer-affordable quadcopters widely available. Now all you need to learn how to fly is $150 and some spare time.
Many beginners try to jump into the deep end before they know how to swim, purchasing something like the DJI Phantom 4 because they read online that it's the best consumer drone on the market. I mean, it probably is – lord knows we can't stop singing its praises on this website. But it's also a giant, unwieldy piece of complex machinery that will crash almost immediately in inexperienced hands. Next thing you know, you've just paid a thousand dollars for an ugly paperweight. Better to start with something lightweight and durable – and, preferably, cheap, just in case something does go wrong.
In any case, this list is for you. Dronethusiast has tested every vehicle on this list and can vouch for the quality of the product and – at least in most cases – the manufacturers. So keep reading, soon-to-be dronethusiast, and learn everything you need to know about buying drones for under $150.
Table of Contents
Drones Under $150 FAQ
What are drones?
A drone is any aerial vehicle that doesn't have an onboard pilot. The most common drones are quadcopters, which simply means that they have four propellers. Drones are usually controlled with a radio transmitter (just like an RC car), but more recently may also be controlled with a mobile device via WiFi.

Are cheap drones any good?
Absolutely! Once upon a time, any drone worth its salt would run you at least $1,000, but that's no longer the case. The drone market has exploded in recent years with lots of great options at every price range. That's why we had to narrow this list down to the six best!

Can I get a professional drone for $150?
Not really. The drones in this article are best for first-time fliers and hobbyists who are interested in using drones mostly for recreational purposes. If you're looking for something that you can use for professional photography/videography, or something with more than 15 or so minutes of battery life, you'll have to be prepared to spend a lot more. If that's what you want, we wrote an article here that will help you get started.

Do I need to register my drone?
It depends. If you're in England, yes. In America (as of 2017) you only have to register your drone if you're using it commercially – that is, if you're using it in some capacity that makes money. If you're selling the pictures, for example. This rule varies in some states. In short, it's worth doing some research to find out what the law is where you live and to make sure you're flying in accordance with all local regulations.
Best Drones Under $150
If you're looking to get into quadcopters but you're really just a hobbyist, the $150 price point is pretty much the perfect place to start. You'll get a wide array of features to keep you interested, and you can even find some solid camera drones if you're interested in amateur photography. Plus, all these drones make great gifts for the upcoming holidays – no matter the recipients' level of experience. Check out this video for the #1 Drone Under $150 from Altair Aerial.
#1 Altair Aerial AA108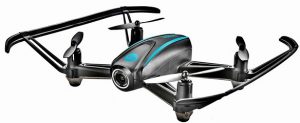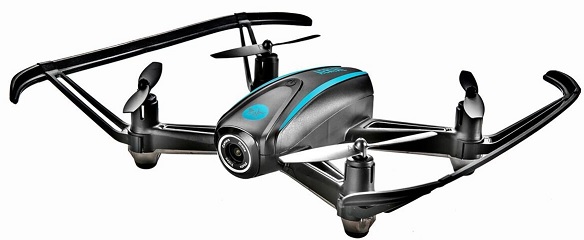 See the best price on Amazon.com or get Fast & Free Shipping from their Website at Altairaerial.com
You can read our full review of the AA108 here, but the bottom line is that this is a great drone for beginners and more advanced fliers alike. If you've never flown before, there's a wide array of features like headless mode and one-touch takeoff that make it easy to control, and it's durable enough to take a few hits. If you're an experienced pilot, this drone has a fast yaw and can really let loose at the higher speed settings. Plus, it has a high definition camera perfect for aerial photography and videography.
Tech Specs:
Altitude Hold Function – saves so many crashes and makes it easy to fly!
1 Touch Take Off and Landing
8 Minute Flight Time
300 ft range
Uses a 6-axis gyro stability for maneuverability and ultimate wind resistance
720p HD camera that takes video and photos
Heading Hold (Headless) Mode (Great beginner drone function)
3 speed levels – beginner, medium, and advanced
Altair also prides itself on providing good customer service – you can call them day or night and you'll get a real human being, not a phone tree. This makes this drone especially good for those who are looking for a low-stress hobby – unlike some of the other entries on this list, it's really easy to get replacement parts or after-sale service if something goes wrong.
Click Here To See Best Price!
Check out this video from Altair Aerial on our next drone:

#2 818 Plus Hornet Drone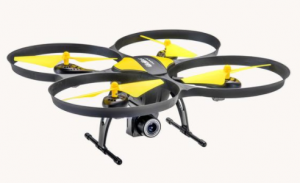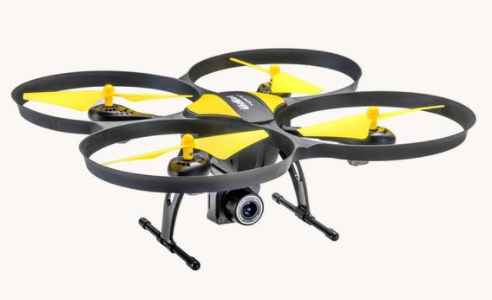 Get super fast shipping and amazing customer service by purchasing at Altairaerial.com (click here). Or you can shop for the 818 Hornet on Amazon.
The 818 Plus is another excellent drone for all skill levels from the makers of the AA108. Like its predecessor, it comes with a whole host of beginner-friendly features, like multiple flight modes, altitude hold, and a headless mode that makes it much easier to keep on course. It's a little less durable, but designed primarily for stability, with a great hover that's ideal for taking pictures. Most impressively of all, the 818 Plus can get 15 minutes of flight time off of a single charge, which is almost unheard-of at this price range.
Tech Specs:
3 Flight Skill Levels – for beginner up to advanced users.
150 meter range
60 meter real-time FPV range when using the included app
15 minute flight time
Headless Mode for easy beginner flight.
Altitude Hold Function – the drone holds its position in the air even if you let off the controls.
720P Wide-angle HD Camera
The 818 Plus also has a 150 meter range and can stream FPV video to your phone at 60 meters. And finally, the drone comes with everything you need to start taking pictures and video right out of the box, with the TF card that the AA108 annoyingly lacks. These features make it a great choice for anyone who's interested in amateur photography at the $150 level.
Click Here To See Best Price!
Altair Aerial Blackhawk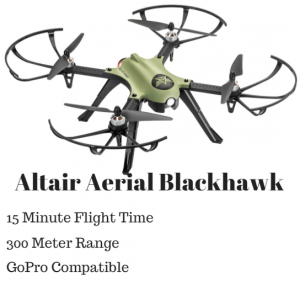 For only $109 you're getting an amazing drone at an amazing price! Get super fast and free shipping when you order the Blackhawk from AltairAerial.com, or you can also see Best Price at Amazon. The Blackhawk is a more advanced level quad with 15-17 Minutes of Flight time and 300-500 Meter Range!
All right, enough of the cameras. If you just want to fly, look no further than the Altair Aerial Blackhawk. This handsome devil has a seriously impressive range of 500 m and a battery that can last up to 20 minutes in the right conditions thanks to its brushless metal motors.
It's two-way signal also means that it controls extremely well with no lag.
Tech Specs:
Brushless metal motors that don't melt, ensuring a longer flight time
15-20 minutes of flight time per battery
Action camera mount
Super bright LED light
300-500m control range
Two-way communication between drone and remote
It doesn't have a lot of fancy features – if you want to take photos or video you actually have to buy a GoPro seperately and mount it to the frame. But at this price, it's hard to beat the BlackHawk for a long-lasting, stable flight that remains steady even at ridiculously long range.
Click Here To See Best Price!
Force1 U45W Blue Jay
Click Here To Read Reviews & Shop For the Force1 U45W Blue Jay!
Back To Top
The Force1 U45W Blue Jay is an excellent choice if you're a hobbyist looking to get involved with aerial photography – the bird name refers to the fact that it promises "a bionic bird's-eye view." It has a very long battery life for the price range and comes with an extra battery and a power pack, which makes it perfect for longer shoots, and it comes with a built-in 720p HD camera that works in VR and specializes in 360 degree shots.
Tech Specs:
2 3.7 500 mAh batteries
1 Touch Take Off and Landing
360 degree flip
Can be flown with an app that streams a 720p live feed and works in VR
Headless and altitude hold modes
Power bank for longer battery life
Fair warning – this drone is a little less beginner-friendly than the AA108. It doesn't have quite as many stability features and it may crack easily if it crashes. However, this is still an easy-to-use and exceptional drone for any user, and the gorgeous images it produces speak for themselves.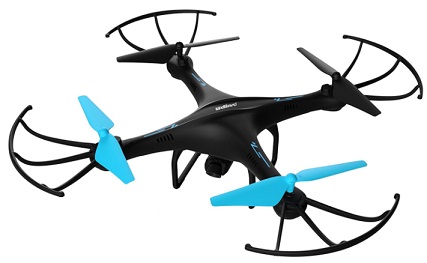 Click Here To See Best Price!
Force1 Headless 360 Flip Mode FPV Drone
Click Here To Read Reviews & Shop For the Force1 Headless 360 Flip Mode FPV Drone!
Back To Top
This drone – also produced by Force1 – is similar to the Blue Jay in terms of its specs and in that it's a photography-focused camera drone. But for a little extra cash, it comes with a lot of features that make it a great starting point for amateur videographers. For one thing, you no longer need a smart phone – there's a live video feed built right into the controller, complete with adjustable screen brightness settings. It also comes with an SD card and a reader right out of the box, which most camera drones don't provide. All you have to do is open the box and you're all set to take beautiful photos and video.
Tech Specs:
2 3.7 500 mAh batteries
Live video feed built into the controller
1-touch landing
360 degree flip
720p wide-angle HD camera
Headless Mode
Extra durable body with LED lights for nighttime flight
The Flip Mode FPV also comes with a much more durable body – those prop guards may look a little silly, but they do a great job of protecting delicate parts during a crash. And as the name implies, it's great for stunts – it can flip 360 degrees in 3D, which looks really cool when you're taking video! All in all, an excellent $150 drone.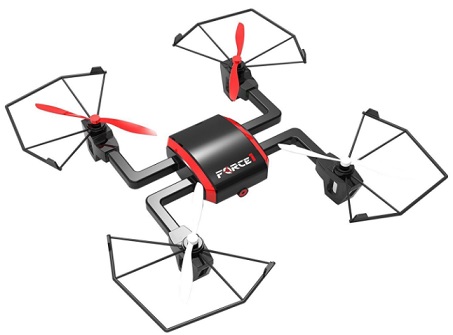 Click Here To See Best Price!
UDI U818A Wifi FPV Drone
Click Here To Read Reviews & Shop For the UDI U818A!
Back To Top
The UDI U818A is a staple of intermediate drone ownership, and it's not hard to see why. It takes videos in 1080×720 HD and professional color and white balancing and still has four times the battery life of the AA108 thanks to its new batteries and power pack. It also has many of the beginner-friendly settings shared by other drones on this list, including Headless mode.
Tech Specs:
2 3.7 500 mAh batteries and power pack
7-9 minutes of flight time per battery
Requires the free UDIRc app for Android or iOS
1-touch landing
360 degree flip
Video taken in 1080x720p HD at 30 FPS
Headless Mode
Comes with a 4GB Micro SD card (but no card reader)
Though it's got some incredibly features, this is another drone that's ideal for those at a non-beginner level of experience. The drone's reasonably durable but the prop guards are made of a light plastic, and it doesn't control as smoothly as the AA108. It can also be difficult to take photos since that involves taking your hands off the controls and pushing a button on your smartphone. But if you've got what it takes, this drone has the best camera available for under $150.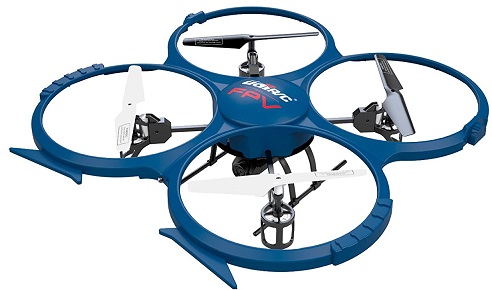 Click Here To See Best Price!
Holy Stone F181W
Click Here To Read Reviews & Shop For the Holy Stone F181W!
Back To Top
The F181W should look pretty familiar by now – it has all the functions you'd expect, like altitude hold and headless mode, one-touch takeoff, and the ability to flip a full 360 degrees. But Holy Stone has a great reputation for customer service, and the F181W is a great drone for beginners or intermediate users. It flies well, it's easy to use, and it's very durable. Plus, we found the app a lot easier to use than some of its competition – you can actually take photos without moving your hands completely off the controller.
Tech Specs:
Altitude hold function and headless mode function

120° FOV HD Wifi CAMERA

6-axis gyro flight control
7-10 minute flight time
50-100 m flight range
One-touch takeoff and landing
3D flips
This drone's not necessarily going to set the world on fire, but for a mere $120 you get a very high-quality product from a company you can reasonably trust. And it doesn't get much better than that!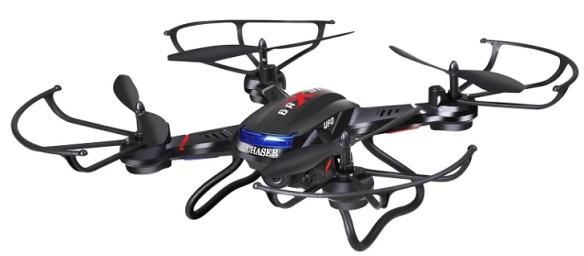 Click Here To See Best Price!
Conclusion about Drones Under 150
Thanks for reading our ultimate guide to the best drones under $150. Whether you're ready to take your photography for the next level or are just looking for a great toy to play around with, we hope we've helped you find the quadcopter that's right for you. If you have any questions, or if you've got a great cheap drone that we missed, please leave a comment below!
Got a slightly higher budget? Read The Best Drones Under $200.
Got a slightly lower budget? Read The Best Drones Under $100.
Other Interesting articles in "
Reviews

"