6 Best Drones Without Camera

Updated:
Drones are some of the trendiest consumer tech devices available today. Drones (a shorter name for any unmanned aerial vehicle) were originally developed for use by the military, but today they're used for everything from scientific research to recreation. One of the most common uses for remote-controlled drones is photography – in fact, even blockbuster films like Captain America: Civil War have used drones! But today we will be talking about some of the best drones without built-in cameras.
Now, the best drones without camera can still be used in photography. They require you to buy an action camera separately (like the popular GoPro line) and mount it on the vehicle, which will often have other features to enable the recording of steady and crisp footage. When fitted with cameras, these drones can be used in journalism, amateur photography, and monitoring farm activities. In recreation, you can unmount the camera during races to improve their agility. Then again you can mount cameras on these drones and take incredible drone selfies, or indulge in-flight virtual reality.
Start table with:
Best Drones without Camera Reviews
There are a lot of drones with cameras available on the market today, but if you're not familiar with the technology you might not know where to start. That is why we have sampled the best drones; we have tested and tried all these quadcopters to make sure that they live up to their reputations.
Best rated drones without a camera include the Altair Aerial Blackhawk, the 3DR Solo, the Force1 F100 Brushless Drone, the DJI Phantom 2, the Holy Stone HS170 and the JJRC H31. Below, we take apart each of these quadcopters, piece by piece to reveal all the details you need to know before making a purchase.
Altair Blackhawk
Click here to See it On Amazon! or you can get fast and free shipping from the manufacturer's website at AltairAerial.com.
This is our pick for best drone without a camera, not because it necessarily has the most features (that's the 3DR Solo below) but because it's a great choice for anyone. It's a cheap drone that's pretty easy to control and – most importantly for beginners – extremely durable and stable in the air. It can fly for 15 minutes off of a single battery, and it has a 300-meter flight range. This would be an impressive range of features for any quadcopter, but throw in the fact that the Blackhawk only costs $109.99 and what you've got is simply the best budget long-range drone on the market.
Other features of the Altair Blackhawk include

• stable, heavy-duty frame
• 15 minute flight time
• 300 meter range
• Action camera slot for GoPro Hero 3 or 4 or similarly-sized cameras

Beyond that, this drone is just incredibly fun to fly. It lacks the altitude hold of Altair Aerial's other offerings, which gives you complete control over the vehicle. It moves fast, especially while ascending and descending, and that 300 meter long range means that you can really let it go without worrying about losing it, giving you that racing feel. Plus, like a few other drones without cameras, it's compatible with the GoPro Hero 3 or 4, allowing you to take great photos and videos if you so choose.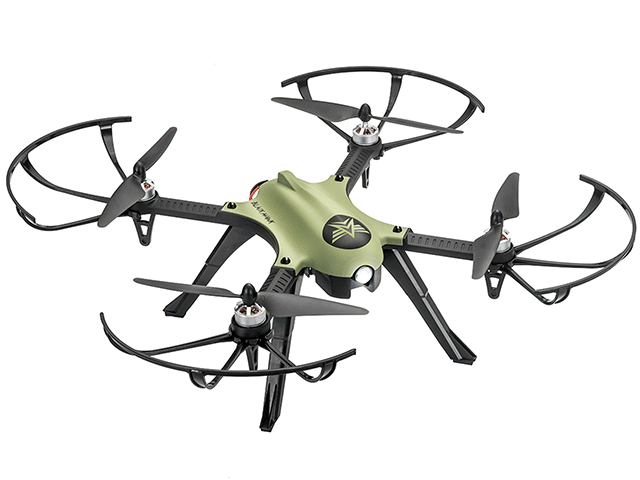 Click Here to See Best Price!
3DR Solo
Read reviews and show for the 3DR Solo
This drone is suitable for both beginners and advanced pilots. Control is easy, with the press of a button the drone takes off, lands or pauses mid-air. The 3Dr SOLO uses smart computer programs for flight control. The drone comes without a camera so you can fit one yourself. Even so, with features like wireless connectivity, Altitude Hold, and safety sensors, you are guaranteed the best aerial photos and videos.
Other features of 3DR Solo include
· Powered by twin computers
· Direct stream of flight footage to your iOS/Android devices
· Smart Shot technology for automatic photography and filming
· GoPro ready
· Follow Me

This drone has a spontaneous video game-style controller. Users get to enjoy creative photography thanks to the Smart Shots feature. The Follow Me feature will let you fly the drone hands-free. It just follows where you go. Besides, this quadcopter comes with its app for iOS and Android to provide users a flawless flying and filming experience. The Solo app receives regular updates tenure that your drone stays at per with technological advancements.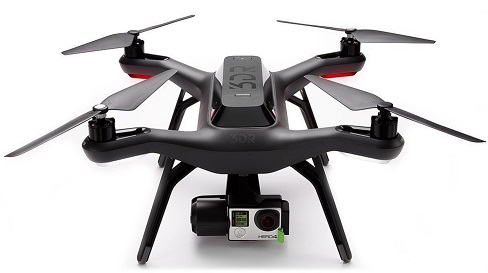 Click Here to See Best Price!
Xiro Xplorer Standard Version
Read Reviews About Xiro Xplorer
This is a great choice for a cheap, camera-less quadcopter that's very lightweight, compact, and easy to assemble and carry. It can get 25 minutes of battery time off of a single charge and has GPS stabilization that makes it easy to fly (and to take pictures with, if you decide to purchase a GoPro to use with it.) The body is extremely durable, and plus – how can you not love that distinctive X-shaped design.
Other features of the Xiro Xplorer include
· Modular design
· Direct stream of flight footage to your iOS/Android devices
· 25-minute flight time
· GoPro ready
· Follow-Me feature

Even in its standard version, the Xplorer also includes some features that let it go toe-to-toe with the DJI line, including a "Follow Me" mode similar to the Phantom 2's that lets you fly the drone hands-free. This quadcopter can be flown with an included controller or a smart phone and has a very impressive 1000 meter flight range. All in all this is a great drone for the price, and if you like the Standard Version you can also get the Xplorer V (which comes with a built-in camera) or the Xplorer G (which has a 3-axis gimbal.)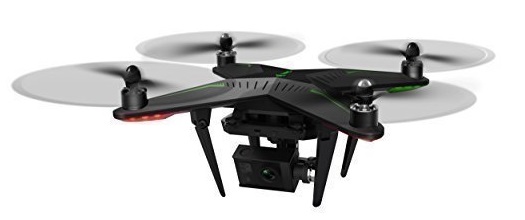 Click Here to See Best Price!
DJI Phantom 2
Read reviews and show for the DJI Phantom 4
This drone has been out for awhile, but it's still one of the best GoPro-compatible quadcopters around. Even without a camera, the flight experience is long and fantastic. The propellers are self-tightening, and control is easy and smooth. It also comes with a 3-axis gimbal stabilization technique for flight stability on all three dimensions.
Other features of the DJI Phantom 2 include:
· Smart battery that can support 27 minutes of flight
· Zen muse H4-3D Gimbal
· GoPro Hero4 compatible
· DJI downloadable software

Flying this aircraft is easy and fun. It is well constructed so don't worry about breakage in the event of minor crashes. This drone feature a built-in DJI Naza-M flight control system that enables for smooth controls. The system has a compass, barometric altimeter and LED indicator lights.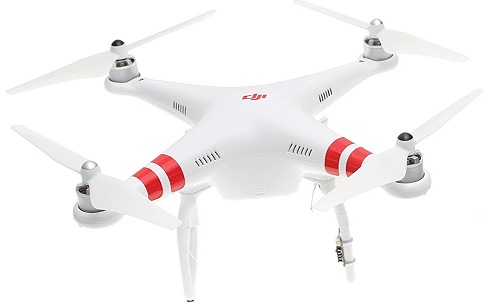 Click Here to See Best Price!
Holy Stone HS170
Read reviews and show for the HS170
The most significant highlight of this drone, one would say is the 6-axis gyro stabilization feature that guarantees stable flights. For that reason, photographers get to enjoy sharp and crisp images and videos that are void of noise. Aerial photography on the Holy Stone HS170 is also nice because of the Altitude Hold Function.
Features of Holy Stone F181C
· Headless Mode.
· Low-interference technology.
· 6-Axis gyro stabilization system.
· Wind-resistant.
· Flight duration between 6 and 8 minutes.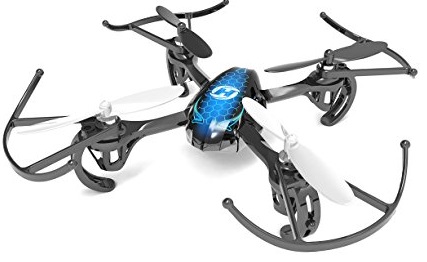 Click Here to See Best Price!
JJRC H31
Read reviews and show for the H31
This is the first waterproof quadcopter we have come across. You don't have to worry about your drone crashing in the sea; moisture does not interfere with its circuit board at all. But that's not all. You can fly in any direction with this drone, thanks to its Headless Mode.
Features of the JJRC H31
· Waterproof circuit.
· Headless mode.
· Key Return Home.
· Six axis Gyro.
· 360-degree flips.

Battery life is relatively long; allowing flight durations of between 8 and 10 minutes. This drone comes with an LCD from which you can monitor and better control its flight. Skilled pilots can floss with stunts such as 360-degree rolls and flips midair. Pretty cool, right?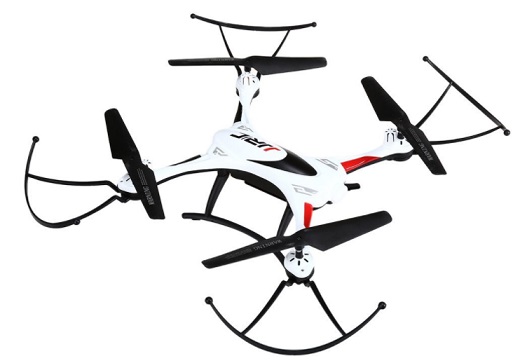 Click Here to See Best Price!
Best Drones without Camera Analysis
The Altair Blackhawk is the best drone without a camera for all ages, all levels of experience, and all budget. It offers a number of high-end features at a ridiculously low price, it's fun to fly, and it has an extremely impressive range of 300 meters. If you're not sure which drone with camera to get, the Blackhawk offers something for everyone.
The 3DR Solo is an excellent drone for photography. Apart from its Smart Shot feature it also has an Orbit mode; here you can set the drone to just go in circular motions around a scene during filming. All the while the camera will be focused on your subject. That is a unique video effect that only experienced video editors can up within processing. Also, when flying this piece of tech, you can pan or tilt your camera as much as you want to acquire the right filming angle.
The Force 1 F 100 is the best drone for discreet photography and espionage. Apart from its brushless motors that keep it quiet, itis highly responsive to controls. Beginners don't have to worry about crashing this piece of tech; they can select the Low-Speed mode as experienced users choose the High-Speed mode. Perhaps the only cone for this quadcopter is that it comes with one battery. An extra battery pack could extend the play time with this fantastic aircraft.
The DJI Phantom 2 features on this list because of its robustness, flight stability, easy control and long battery life. Takeoff or landing is smooth, thanks to the drone's streamlined body shape. The gimbal stabilizes the camera roll so that filming or photography is not affected by jerky movements during flight. Also, you can pan and tilt the camera for different creative angles of photos and videos.
The Holy Stone HS170's advantage over the others is its Wind Resistance control. Coupled with the 6 Axis Gyro, these features make the drone stable and reliable. It also has a Key Return Home function. You don't have to worry about losing your drone if the battery dies or the control signal is interrupted. You can bring it back with the press of a button.
Just like the Holy Stone HS170, the JJRC H31 features a 6 Axis Gyro that stabilizes the aircraft both indoors and outdoors. The only advantage it has over the Holy Stone is the LED light feature for nighttime play and filming.
Best Drones Without Cameras FAQ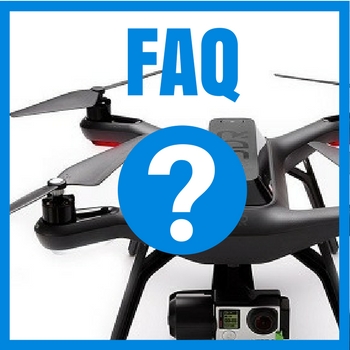 Do I need a license to fly my drone without a camera?
No. As long as your drone's weight is not more than 5lb, and you are flying it for recreational purposes.
How do I live stream with GoPro on my drone?
GoPro's WIFI connection usually interferes with the remote control signal in many drones, and for that reason, you need to set up a video download link for live streaming.
Can I bring my drone on a plane?
Yes, but you have to follow regulations. There are many regulations about drone batteries. For one, keep them installed within the drone during flight. Then you are required to power it off.
What is the best drone without a camera to buy?
The 3DR Solo has some exciting features like the Smart Shot Technology, FPV and GoPro compatibility. You should probably consider this model.
There you have the review of the best drones without a camera. Hopefully, with this information, you will make a better choice and get the value for your money.
Further Reading
Dronethusiast Best Drones 2021 Analyzed
Other Interesting articles in "
Reviews

"