Stunt Drone Review Guide – Best Stunt Drones For Sale [Updated 2021]
1

Updated:
There's a lot of reasons a person might buy a drone. Maybe they want to break into the exciting field of aerial photography and videography. Maybe they're looking for an RC toy for their kids. But for a lot of us, drones have an undeniable "coolness factor" that makes them stand out from similar devices. They let us dip, dive, and dodge as though we ourselves could fly. That's where stunt drones come in. No boring photography features or camera comparisons in this article – just the primal joys of mid-air tricks, flips, and rolls.
Top 5 Best Stunt Drones
Everyone has different needs and desires when it comes to the perfect stunt drone, so there's no single option that's better than the others in every circumstance. That's why we've picked five of the finest stunt drones for sale for you to choose from.
Altair Aerial Blackhawk – Best Beginner Stunt Drone
Get super fast and free shipping when you order the Blackhawk from AltairAerial.com, or you can also see Best Price at Amazon.
Is it possible to pull off cool stunts if you're brand new to the drone hobby? Yes it is, thanks to the Altair Aerial Blackhawk drone. This drone is cheap, easy to control, and great for beginners. It's highly durable thanks to a stable shape and a solid metal body, so even if you crash it a few times it should still perform well (the plastic propellers break sometimes, but several extras are included in the box.)
What makes it a good stunt drone? First of all, the Blackhawk is very fast considering how heavy it is and considering how little it costs. It's perfect for races or other speed-based endeavors. It also allows you to do 360 degree flips (also known as "barrel rolls") with the push of a single button, which makes it very easy for beginners to pull off basic stunts. With a little bit of practice, you'll be able to make the Blackhawk spin and dance just like the pros!
Features and specs: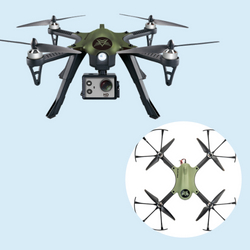 • 15 minute battery life
• Action camera mount compatible with GoPro Hero 3 or 4
• 3 speed levels
• 360 degree flips with the touch of a button
• Powerful and silent brushless motors
• 300 meter range
• 6-axis gyro
• Metal body
Pros:
• Long range and flight time for the price
• Durable
Cons:
• Camera sold separately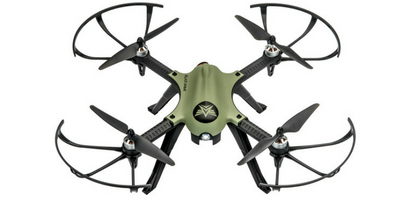 Click To Shop or Read Reviews
Hubsan X4
Unlike the Blackhawk, this mini drone can be flown indoors or outdoors thanks to its miniscule size. Beyond that, it's a pretty barebones quadcopter with decent specs considering it only costs $25 USD.
However, the X4 does have one special feature: a dedicated stunt mode. It can flip in multiple directions and you can chain the rolls together to perform a multiflip. There's lots of tutorials and YouTube videos available that'll show you how to get the most out of this mode, so if you're more interested in stunts than any other aspect of a quadcopter, the X4 is an excellent low-budget choice for a stunt drone for sale.
Features and specs: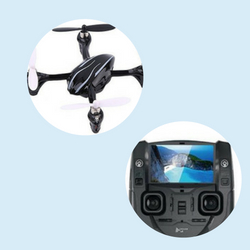 • 240mAh 3.7V battery
• 30 minute charge time
• 6-axis gyro
• 4 channels
• Plastic body
Pros:
• Extremely cheap
• Small and portable
Cons:
• Not durable
• Has a bit of a learning curve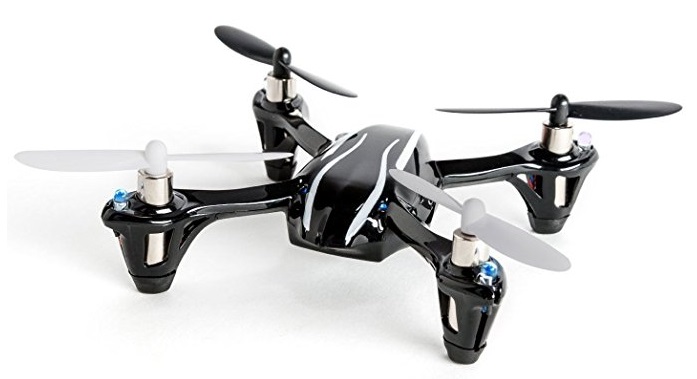 Click To Shop or Read Reviews
Blade Nano QX 3D
Many will dismiss this $30 drone as a "toy," but that's what stunt drones are all about! The Blade Nano QX 3D can fit in your hand and comes fully assembled with no building necessary. It has hobby-grade motors set in a lightweight frame and should be safe to fly indoors in almost all circumstances.
But what really makes this drone special are the stunt features. You can fly it upside down and perform hairpin turns, 180 degree flips, or 360 degree rolls with only a few simple controls. It flies very well and is easy to maneuver because it's built to be as agile as possible. If you're a more advanced pilot, you can even turn on "expert mode" which disables the gyroscope and lets you push your piloting abilities to the limit. The downside is that the Nano QX only has about 4 minutes of battery life, but you're still getting your money's worth with this drone and then some.
Features and specs: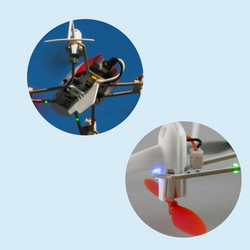 • 4 minute flight time
• Very small (7.2 x 6.3 x 2.5 inches)
• 4-in-1 DSMX Receiver/ESCs/mixer/SAFE sensor unit
• Exclusive SAFE™ stability and agility modes
• Plastic body
• can be flown upside down
Pros:
• Cheap
• Can be flown indoors or outdoors
• Great stunt features
Cons:
• Very low flight time
• Not durable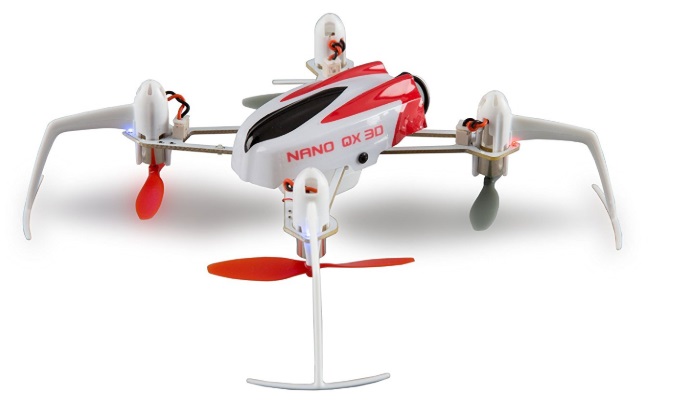 Click To Shop or Read Reviews
Sky Viper e1700 Stunt Drone Builder
Sometimes if you want a top stunt drone you have to build it yourself. You might not be a fan of do-it-yourself drone kits, but there's no denying that the fully built Sky Viper deserves deserves a place on this list. It can perform eight different stunts with a single button press (different buttons, obviously), has beginner-friendly features like auto takeoff and landing, and lets you adjust the sensitivity of your flight to perform manual tricks with ease. If it was a little more durable and had a little more flight time, it might be at the top of this list, but even as it stands the Sky Viper is definitely one of the best stunt drones for sale.
Features and specs: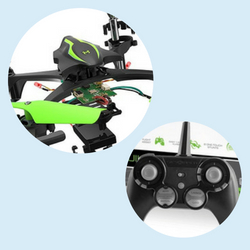 • Comes with eight one-touch stunts
• Altitude hold mode
• Auto takeoff and landing
• Comes with ViperFlight 5, an electronic firmware found in pro racing drones
• 10" x 10" x 1.75"
• 10 minutes of flight time
Pros:
• Beginner friendly
• High quality stunt features at a reasonable price
Cons:
• Assembly required, obviously
• No camera and no camera mount

Click To Shop or Read Reviews
Syma X5C-1
The Syma X5C-1 is another beginner-friendly stunt drone with HD camera that has a number of features which set it apart. Firstly, the body is made of plastic and the prop guards are very elastic, so if you have enough space you can fly this drone indoors without worrying about scuffing or damaging furniture or walls. Secondly, this drone has a very good built-in camera for its $90 asking price.
Thirdly: like the Hubsan, the Syma X5C-1 has features that are specifically designed for doing stunts, as it is quite fast and can be turned to 90 and 180 degree angles while still remaining stable thanks to a 6-axis gyro. The downside of all this stunt power is that the Syma only has about 6 minutes of battery life and takes nearly two hours to charge, but since the drone's so cheap you can always spring for extra batteries if you think this is the stunt drone for you.
Features and specs:

• 6-8 minute flight time
• 1 hour and 40 minutes charging time
• 6-axis gyro
• 4 channels
• Plastic body
• 2 megapixel camera
Pros:
• Stable in wind
• High quality built-in camera
Cons:
• Low flight time
• Long charge time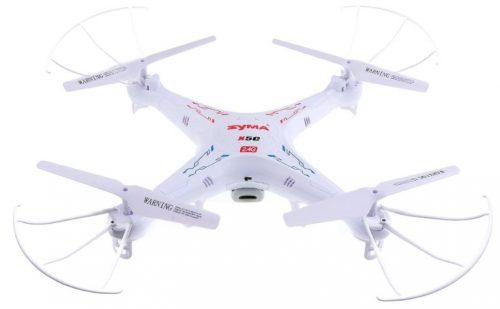 Click To Shop or Read Reviews
Frequently Asked Questions About Stunt Drones
What is a stunt drone
It's exactly what it sounds like – a drone that is designed at least in part to pull off tricks and stunts. The most common stunt that drones are capable of doing is a 360 degree flip or "barrel roll." Some drones have started allowing you to perform this trick with the push of a single button!
How to use a stunt drone
Every drone is different. Some have purely manual controls that you'll have to master in order to perform cool stunts. Some let you do 360 degree rolls and similar tricks with the push of a single button. It all depends
How to charge a stunt drone
In general, you charge a stunt drone the same way you charge any other quadcopter. You take out the battery, plug it into the attached charger, and plug that into the wall (or, in some rare cases, a USB port.
How to assemble a stunt drone
Some stunt drones require very little assembly, but some can require a lot more. Specific instructions for assembling a drone will be included in the manual of your specific product, but as a general rule assembly involves taking a screwdriver and screwing in propeller guards, propellers, and landing gear. Make sure you attach everything securely so that it doesn't get knocked off in a crash or a strong wind, both of which are quite common in drone piloting.
How to fly a stunt drone
Most stunt drones are controlled with a radio transmitter that works similarly to a videogame controller. Usually, one analogue stick controls the direction of the drone (forward, backward, left, right) while the other controls its vertical position (up, down.) Some stunt drones have specific buttons for stunts, others expect you to pull of the stunts yourself using the sticks.
What is the best stunt drone
Everyone has different drone needs and wants, so it's impossible to pick a single one-size-fits-all "best stunt drone." That's why in this article we've selected five great choices – you can't go wrong!
Conclusion
We hope that in reading this article you've learned something about the best stunt drones for sale and that you feel like you can now make a better-informed purchasing decision for the future. But is there an awesome stunt drone that we missed? Is there a question we failed to answer? If so, be sure to let us know in the comments so that we can keep this article as up-to-date as possible with all the latest information.
Other Interesting articles in "
Reviews

"