Here at Dronethusiast, there's no denying that we're big fans of the classic quadcopter. But unmanned aerial vehicles take all kinds of shapes and sizes, one of which is the popular RC plane. For those interested in this type of drone, we've assembled the 5 best RC planes for Christmas 2019, as chosen by our staff of RC vehicle experts and veteran drone pilots.
Whether you're looking for an RC airplane gift for adults or children, first-time fliers or veteran pilots, one of these options is sure to please when it's found under your tree this holiday season.
The Best RC Planes For Christmas
Each of these RC airplanes has been chosen by our staff for their durability, affordability, feature set, and overall performance. They're accompanied by a list of specifications and a link you can use to buy one for yourself or read user reviews on Amazon. And now, without further ado, let's check out the best RC planes for Christmas!
HobbyZone Delta Ray
Read reviews and show for the HobbyZone Delta Ray
The Delta Ray is a very popular model from the biggest RC plane manufacturer – indeed, we previously named it one of our best radio controlled airplanes for sale. It has a unique design, it's ready to fly right out of the box, and a combination of beginner-friendly ease of use features and impressive specs mean it's a plane that beginners and advanced pilots alike can enjoy flying. Plus, Hobbyzone has knocked $50 off the price of this drone in the leadup to the holidays, so there's never been a better time to pick up this great RC plane for Christmas!
Specifications:
• 2.4GHz DSMX transmitter
• 900 foot (275 meter) flight range
• 7-10 minute flight time
• Extraordinarily tough
• Panic mode returns aircraft to stable flight
• Experienced Mode lets advanced pilots explore the full power and performance of the airplane
Pros:
• Ready to fly right out of the box (even includes AA batteries for the transmitter)
• Great for beginners and advanced pilots alike
• Highly durable
Cons:
• Mediocre battery life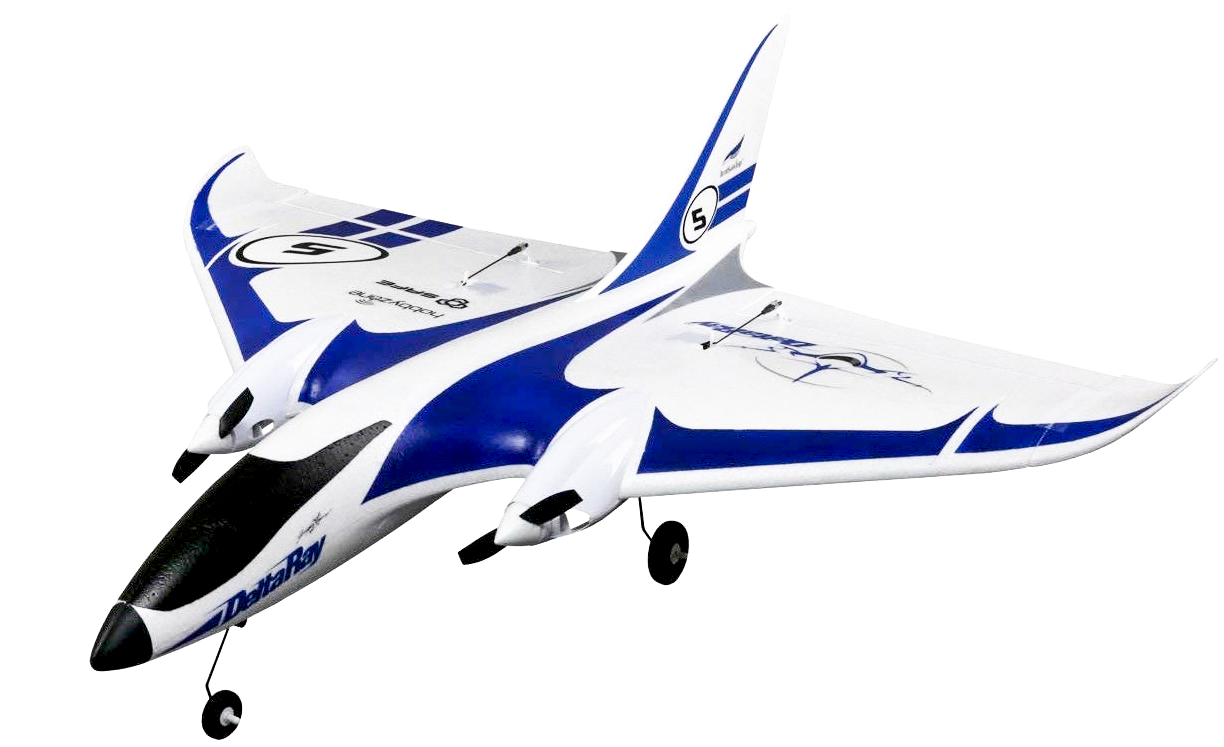 Click To Shop or Read Reviews
E-Flite UMX Radian
Read reviews and show for the E-Flite UMX Radian
If you're a beginner looking for something you can fly right out of the box, this will not be the plane for you. But for more advanced pilots looking for a great glider, the E-Flite UMX Radian is widely (and correctly) considered one of the best. It has a unique design with a great lightweight construction and a very long-distance flight range. But the real incentive here is the built-in AS3X System, which subtly provides instantaneous attitude corrections to deal with turbulence, torque, and tip.
Specifications:
• 1200 foot (365 meter) flight range
• 8 minute flight time
• Lightweight, molded foam construction
• AS3X System provides instantaneous attitude corrections to deal with turbulence, torque, and tip
• 3-channel control
Pros:
• Unique design
• Excellent gliding capabilities
• Great range
Cons:
• Transmitter not included


Click To Shop or Read Reviews
Powerup 3.0 Smartphone-Controlled Paper Airplane
Read reviews and show for the Powerup 3.0 Paper Airplane
Looking for something different this holiday season? How about a paper airplane you can steer with your smartphone? The Powerup 3.0 (and its two prior versions) have been extremely popular gift choices for a few years now, and when you fly one for yourself it's not hard to see why. There's just something unique and special about building and flying a real paper airplane through the air.
Specifications:
• Controlled via smartphone instead of a radio transmitter (iOS and Android are both supported)
• 180 foot (55 meter) flight range
• 10 minute flight time
• Extremely lightweight paper construction
• Beginner and advanced flight modes
• 3-channel control
Pros:
• Cheap
• Fun to assemble and fly
• Easy for beginners to fly
Cons:
• Bad range
• Mediocre specs in general since, y'know, it's a paper airplane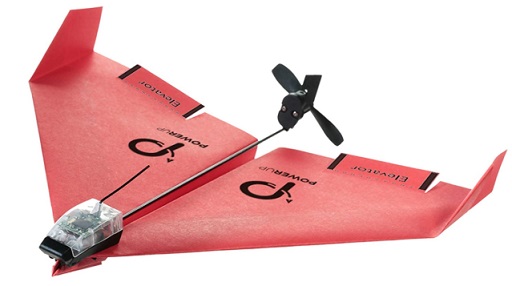 Click To Shop or Read Reviews
HBZ3250 Carbon Cub S+
Read reviews and show for the Original HBZ3250 Carbon Cub
The Carbon Cub S+ is quite possibly the best RC plane for beginners around, thanks to a suite of high-tech GPS based safety features. These include AutoLand (a one-touch takeoff and landing system), Holding Pattern (in which the plane will keep itself stable in the air), and Virtual Fence (which will prevent the plane from leaving a set area.) If you're willing to spend extra for a great beginner experience, this is one of the best RC airplanes you'll find this holiday season.
Specifications:
• 6+ channel full-range Spektrum DSMX/DSM2 transmitter included
• 7-8 minute flight time
• Durable EPO frame
• AutoLand, Holding Pattern, and Virtual Fence safety features
• Uses GPS-based drone technology
• Optional flats and floats available
Pros:
• High-tech
• Best beginner experience
Cons:
•Awful flight time for the price
•Expensive (as you'd expect from a GPS drone)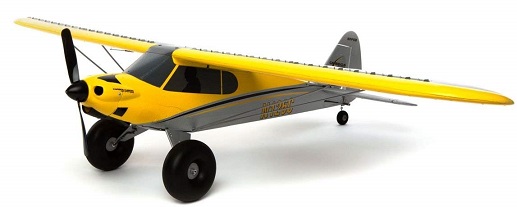 Click To Shop or Read Reviews
Top Race Remote Control Airplane
Read reviews and show for the Top Race RC Plane
This Top Race model is a simple, inexpensive training model that we've always found to have all-around good performance, available for less than $75 this holiday season. It's also good for intermediate pilots who are interested in a ready-to-fly plane and have already tried all of the major brands. Just an all-around solid RC plane.
Specifications:
• 2.4Ghz radio transmitter included
• 320 foot (98 meter) flight range
• 15 minute flight time
• Foam construction
• 6-axis gyro for stability
• 3-channel control
• Good gliding functionality
Pros:
• Cheap
• Great flight time
• Good stats all around
Cons:
• Not super durable
• May not hold the attention of advanced RC plane pilots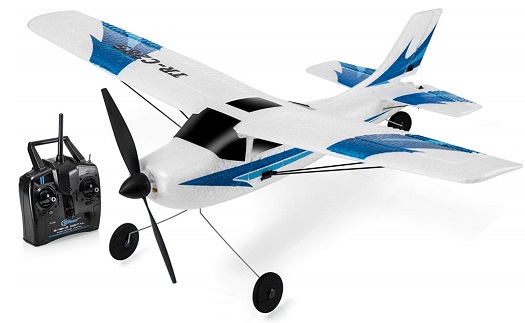 Click To Shop or Read Reviews
RC Plane Gifts FAQ
What are RC planes?
RC planes are unmanned aerial vehicles controlled via a transmitter that sends radio waves to an antenna on the aircraft. Though they're a type of drone, they're distinguished from quadcopters and other rotor UAVs by their fixed wings and more traditional plane design.
Some RC planes are specifically modeled after real life airplanes, others are more abstract. They're enjoyed by toy hobbyists and serious racers alike.
Are RC planes hard to fly?
RC planes are no harder to fly than any other type of drone, which depending on your previous piloting experience may or may not be a comfort. The good news is that even if the more complex models are beyond your abilities, there are many beginner RC planes specifically designed to ease first-time fliers into the hobby.
That said, we still would not recommend purchasing an RC plane as a Christmas gift for anyone under the age of 14.
Where can you fly RC planes?
RC planes are subject to the same regulations as drones, which will vary according to the national, state, and local ordinances of wherever you live. We have a number of articles on this site dedicated to explaining the laws of drone flight in the UK, in Canada, and in every state of the US.
We urge you to familiarize yourself with local ordinances, but in the US (where most of our readership lives) you're generally okay so long as you stay away from airports and below 400 feet.
How fast do RC planes fly?
It depends on the plane and can vary from about 10 miles per hour to 225 miles per hour (although you're only going to see the later with serious high-power racing planes).
Where can I buy the best RC planes for Christmas?
Amazon typically has the lowest prices on RC planes, but if you don't want to wait for shipping or have a moral problem with buying from the company, you can generally find RC airplanes for Christmas at your local Target, Walmart, or equivalent store with a consumer electronics section.
As Amazon Affiliate partners, we get a little bit of extra money if you buy an RC plane for Christmas using one of the Amazon links in the buttons above at no extra cost to yourself. If you like our writing and feel it's helped you find the right RC plane for you, please consider buying from one of our links.
Finding RC Airplanes For Christmas
We hope this article has helped you pick out some of the best RC planes for Christmas, and maybe to find a great gift for a beloved friend or family member. If you've got a great gift idea that didn't make our list, be sure to let our other readers know in the comments. And be sure to check out our always-updated list of the best drone deals on offer to see what's on sale for the holidays!
Further Reading
Drones for Adults – via Dronethusiast
Drones Under $400 – by Dronethusiast
Drone Gifts by Dronethusiast

The writer known as I Coleman is a veteran tech reviewer who's spent seven years writing about everything from PC hardware to drone tech and who joined the Dronethusiast team early in 2017. I brings his characteristic sense of humor and attention to detail to our product reviews and buyer's guides, making sure that they're packed with expert analysis in a way that's still easy for hobby newcomers to understand. In his spare time, I is using drones to create 3D modeling software for a company in his hometown.