DJI Inspire 1 Drone With 4K Camera Leaked Before Launch
As we have reported earlier, DJI Innovations is adopting an increasingly Apple like product announcement strategy by keeping a tight lip on new additions to their multirotor product lines. The upgraded DJI Phantom 2 line has only been announced in late October and we covered the main additions to the best selling DJI line of products here and specifically the Vision+. This last introduction was very much like the iPhone 5 to 5S upgrade where the manufacturer adds technological advancement to practically the same phones in hopes that it will generate new adoption. Once such a product line is launched, one would not expect a brand new line of UAVs.
This time, they broke new ground by announcing a teaser video of  "something groundbreaking" to follow and releasing a teaser video and asking us to "save the date" for DJI Inspire1. The teaser is a mere 31 seconds and tells very little about the product other than it is called Inspire 1.
UPDATE: you can also see a leaked video of Inspire 1:
As a possible part of another Apple like publicity stunt, pictures of the yet to be announced DJI Inspire 1 leaked on Far Eastern drone blog SB-DJI with only Chinese language comments.
Sporting a totally different shape (it is shaped like an H rather than an X) and black rotor arms suggesting that they are made of carbon fiber and the general appearance of the quad makes us feel that it is not a successor of the Phantom product line, but a new, most likely a the first member of more pricey "prosumer" category. According to speculation, this category will fit into the space between the clearly professional solutions of DJI and the current high and consumer category. According to rumors, the Insipire 1 comes with a 4K camera and three-asix gimbal as compared to the Phantom line's 1080p capabilities which supports this theory.
Pricing or other details are yet to be knowns, so knowing as much as we know, we are still looking forward to learning more as we are sure you do to. So Dronethusiast will be there to cover the official announcement on November 12, 4:30pm (PT), where DJI promises to "announce something groundbreaking".
Source and picutres: SB-DJI.com
Summary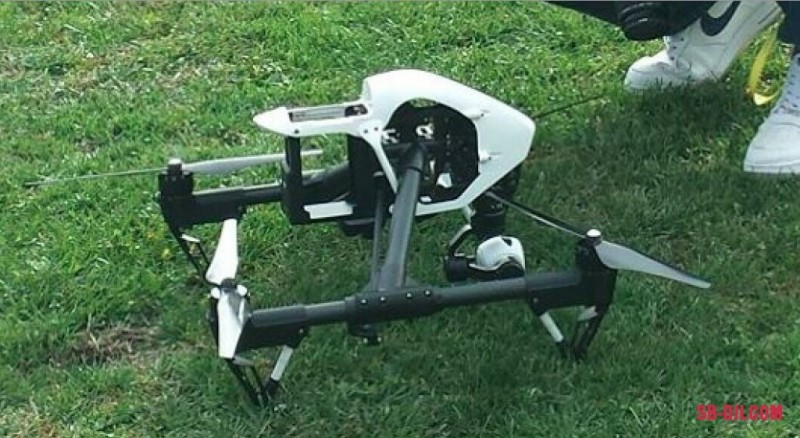 Article Name
DJI Inspire 1 Drone With 4K Camera Leaked Before Launch
Description
DJI's Inspire1 "prosumer" drone with 4K camera leaked before launch.
Author
Other Interesting articles in "
News

"