It's safe to say that DJI now has one of the cutest drones on the market. They recently announced that they are working together with Line Friends to create the cutest line of drones, specifically by giving the Spark we all know and love a makeover.
The Line Friends (Brown) I Spark is just like the original Spark, able to quick launch, use tracking, take selfies, etc., but with the look of Brown the bear.
Line Friends are the characters originating from Line, a messaging app, which is a subsidiary from Japan of Naver Corporation, the South Korean search giant.
Line Friends includes a massive variety of virtual stickers and emoticons that revolve around multiple animal animated characters. The messaging app has a core user base that is centered in Taiwan, Japan, and the surrounding territories.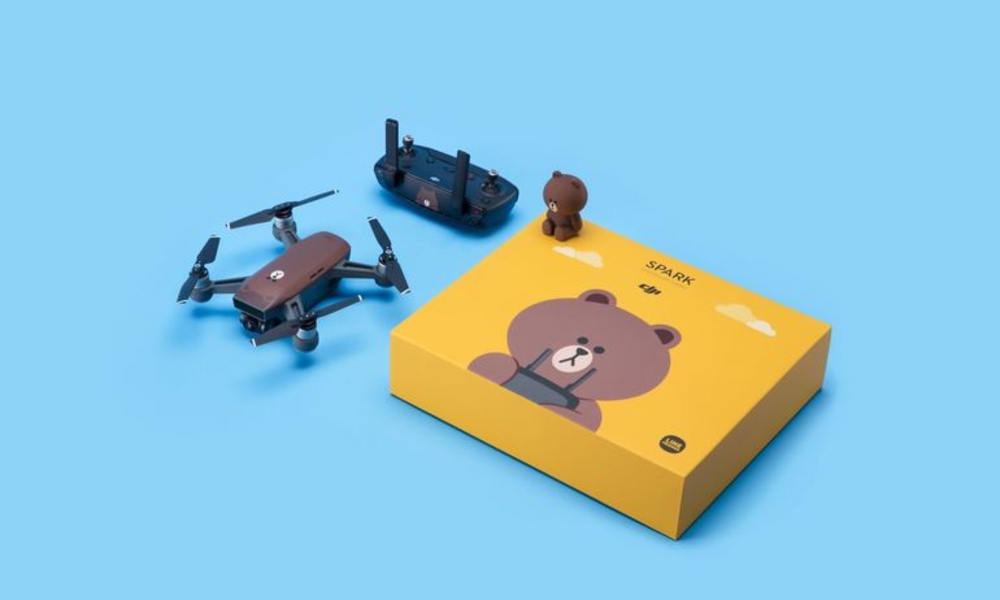 It appears that DJI is teaming up with Line Friends to adorn Spark with the faces of these characters to further grow the overall popularity in Asia.
Aside from the messaging app, Line Friends has a massive line of retail stores to sell merchandise based on the characters. There are over 108 of these stores all across the world. You can even find one in Time Square in New York!
Aside from Brown the bear, there is also Jessica the cat, Sally the chick, Pangyo the panda, and Cony the bunny.
"Similar to a lot of other things that we carry in our bags, drones are becoming an accessory to our lifestyle. This special Line Friends edition launch will take this very concept even further and make sharing and storytelling a more exciting part of our everyday life", the DJI senior communication manager, Monica Suk, commented.
"DJI is excited to announce our new character partnership with Line Friends. It shows how enthusiastic we are at DJI in making our drones relevant, accessible, and fun for more consumers. The DJI Spark originally earned its reputation as being the smallest, yet the most powerful flying camera, which makes flying a drone altogether fun, extremely easy, and more personalized than ever."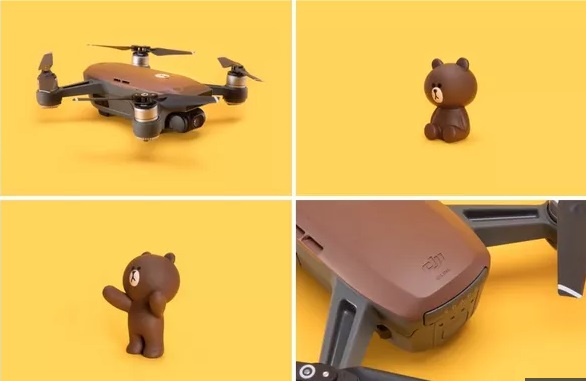 This is officially DJI's first characterized drone. It's also the first that will be able to be controlled by using hand gestures. Hopefully, we will see more of these characterized drones in the future.
"We are excited about the collaboration and we will first be focusing on rolling out the new drone in various markets. Because this is our first collaboration, we are taking the necessary time to listen to important customer feedback in order to evaluate the demand of the market," a representative from DJI commented.
The DJI Spark made impressive waves thanks to the gesture-based control feature to begin with. It's an impressive strategy that has continued to attract beginner drone enthusiasts time and time again since its initial release.
Now that DJI has teamed up with Line Friends for another new and exciting business-savvy approach, there's no telling how far DJI's global reach will continue to go.
At this time of writing, the DJI Line Friends (Brown) I Spark is available online for $399 in certain parts of North America, South Korea, Hong Kong, and China.