Dobby Selfie Pocket Drone – Dobby Drone
Many times when consumers are looking at the kinds of new drones they want to purchase, products such as the line of DJI Phantoms are a big allure. A pocket drone capture amazing high-quality video, and are so well-constructed for the price that they keep everyone from simple hobbyists to those who are looking for a full-fledged movie director's tool interested.
The Dji Phantom product line is absolutely superior to many others, but when it comes to size, you're in a category which needs carry-on-cases, backpacks, and very sturdy transportation methods.
It seems well worth it, because the high def images it can capture are simply that awesome, but what about brands of pocket drones that can go anywhere with you?
The Dobby Pocket Drone
The Dobby pocket drone that absolutely feels like something from visionary shows such as "Futurama" or "Blade Runner", and its propellers fold up very nicely into its tiny pill-like shape. The entire drone weighs just under half a pound, and is controlled by a smartphone app like many others out there on the market.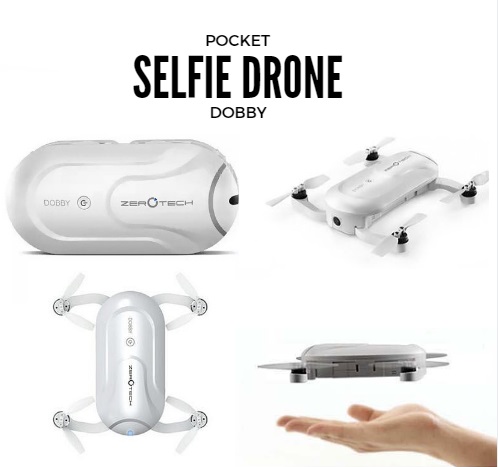 You can even get its 9-minute flight time started just by patting it, and control it using hand gestures as well. The quality that you can obtain with this pocket drone is pretty amazing: you get HD standard 4k-resolution still photos, and 1080p resolution from the 13 MP camera inside.
While using the smartphone app, you can easily share the photos you take to your favorite social media network, one of the most important qualities for any pocket drone to have.
What will really make users excited about this is that you can be on a place such as the great wall or pier with water under it, fly out about 15 feet, and quite possibly never have to ask a passer-by to take your photo again.

The Dobby Pocket Drone Testing
We decided to try this little pocket drone out, and came to our location armed with spare batteries to get 18 minutes of time in. It was obvious as we began to fly it around that the 2.3 ghz quad-core CPU with 2 gb of RAM really helps boost the capabilities such as facial recognition and gesture-based controls. 
Once it was all set up, we liked having the tiny pocket drone take off by voice control the best, but patting the area around the fuselage 3 times also launches this tiny powerhouse up up and away.
We primarily flew it around using motion sensor control, and did not define a flight path with the onboard GPS capabilities.
One detail about the Dobby pocket drone that we can truly rave about is the picture quality. Even the most experienced Pinterest or Instagram guru is going to be pretty happy with the results: There are people still using 5 MP cameras to quickly update their Facebook page, and what this pocket drone produces for pictures should satisfy even those who have dabbled in the DSLR realm and beyond.
What people are really going to love about this is that it is absolutely fulfills the description of a "pet drone". Its ability to follow you around and perform flips also makes it fun for an inside drone during the winter months. 
All in all, this is a pretty amazing device, and those who begin without interest in its photographic capabilities will gradually become sucked in to shutter bugging: the Dobby is one example of rapidly advancing technology that will captivate and entertain users for many more decades to come.
Check this Dobby pocket drone introducing video, for all the many ways this awesome tiny bird can be used.
Other Interesting articles in "
Awesome Drone Tricks & Tips to Maximize Your Enjoyment

"