Drone Academy : Why Participate and What Do You Learn?

No matter your proficiency level and experience as a drone pilot, there are many good reasons you should consider attending a drone academy. Yes, you might have been flying for several years now and think that drone academy lessons are best suited for beginners and intermediaries but did you know that there is a new Federal Aviation Administration Part 107 knowledge test that you need to pass to become a certified commercial drone pilot?
Maybe you are not that interested in becoming a certified commercial drone pilot but would love to learn how to experience and enjoy your drone fully. Or maybe you just want to be proficient enough so you can teach your kid how to fly a drone. Whatever the reason, attending a drone academy is an excellent idea for anyone who owns or is even thinking of owning a drone.
If you haven't bought one yet, the practical lessons you will learn at a drone academy will give you an excellent idea as to what kind of drone you might want to buy to serve your purposes best.
What Kind of Lessons are Taught at a Drone Academy?
The most straightforward answer to this question is the lessons you will need to become an expert drone pilot capable of flying different types of drones. The practical answer, however, is that you are trained well enough to pass the FAA part 107 knowledge test.
Think about it this way: how familiar are you with the following terminologies or concepts?
Standing lenticular cloud?
How to decode an aviation routine weather report (METAR)?
How well can you read aeronautical charts?
While these questions might seem unnecessary to you if you just want to fly your drone around your backyard and enjoy taking some selfies, should you ever want to do more with that beautiful piece of machinery (and we are confident that once you learn how to fly a drone properly you will want to do more with it) then you will need to learn the answers to these questions. These are the kind of questions and concepts you will need to be familiar with if you want to pass the FAA part 107 knowledge test.
While you might not need to pass this test or be certified if you don't intend to fly your drone for commercial purposes, you still need to be familiar with FAA regulations regarding SUAS (small unmanned aircraft systems). At a drone academy, you will become perfectly familiar with those regulations as well as the good practices of piloting drones.
Drone Pilot Training for Commercial Pilots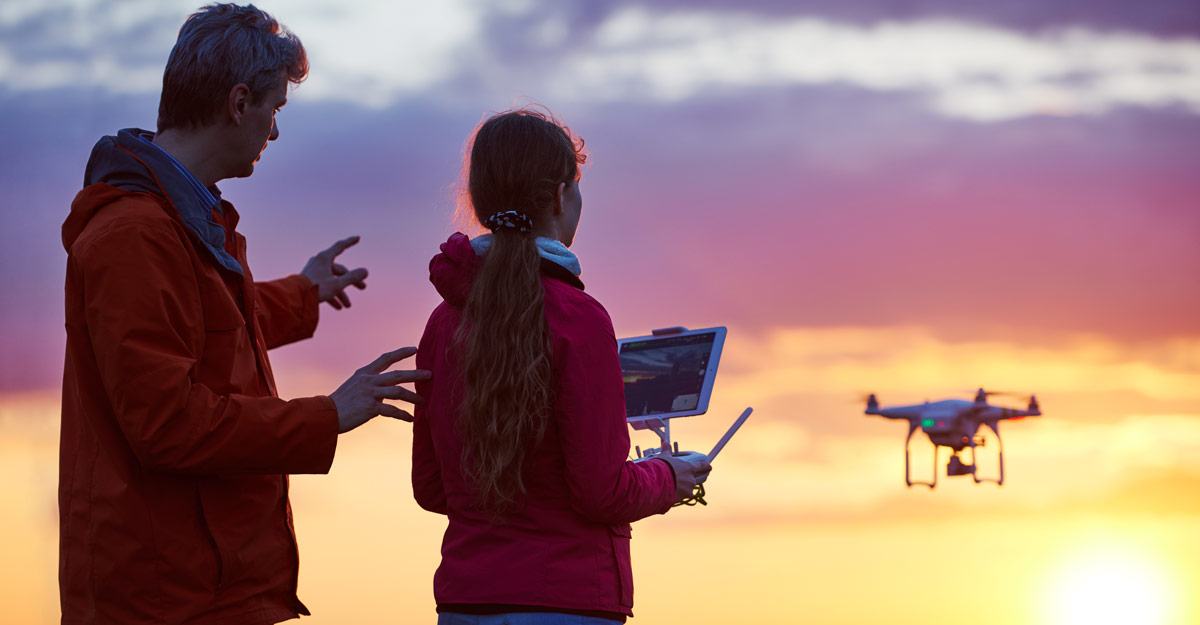 If you do intend to fly your drone commercially at some point, then you definitely have to attend a drone academy. Apart from preparing you for the FAA part 107 knowledge test, instructors will also cover the following subject matters:
Aviation weather
Applicable regulations for drone operations
Reading aeronautical charts
Crew resource management
Special use airspace
Airspace classifications
Effects of drugs and alcohol
Emergency procedures
Drone Maintenance
Some of these topics are often best understood by people who have a strong aviation background. However, you do not need a private pilot's license to attend the drone academy. Drone Academy instructors are both experienced and professional enough to give you the expert instructions needed to pass the FAA tests.
Drone Academy instructors are also FAA certified drone pilots with years of experience under their belt. They know the ins and outs of drone piloting and will gladly pass that knowledge down to you in an easy to digest manner.
Drone Piloting for Recreational Pilots
As we mentioned, recreational pilots still need to be familiar with FAA regulations regarding drone piloting. Of course, as a recreational pilot, your classes will not involve too much in-depth material covering the subject matters required to pass the FAA tests, but you will still get enough knowledge to comfortably and expertly operate DJI Phantom and Inspire drones. You will get sessions of drone flight training that will give you the confidence you need to operate your drone at home.
What's Included in the Recreational Pilots Training at the Drone Academy?
Apart from the practical sessions that ensure you learn how to fly a DJI Phantom, you will also get to learn:
The general rules and regulations that govern different types of drone pilots
Emergency procedures involved in flying your drone
Basic drone flight controls
How to navigate the DJI Go App
How to keep your drone safe from hackers by ensuring your drone, it's remote controller, and the batteries all have the latest firmware
How to operate and fully utilize intelligent flight modes
How to complete firmware updates on your own
Best of all, you will learn how to fly your drone in different settings confidently
Learn from the Experts
While it's true that you could probably learn how to fly your drone on other platforms such as YouTube, you will not have the advantage of building your confidence around experts. Attending a drone academy that offers flight training sessions allows you to learn how to fly your drone in a safe environment with the help of experienced pilots and instructors.
These instructors will expertly walk you through all the necessary steps you need to confidently fly your drone from take-off to safely landing. You will also learn how to navigate the DJI Go App as well as all the available features on the menu. These experts will be on hand to help you learn how to fly your drone at low altitude and how to navigate obstacles.
Furthermore, attending a drone academy gives you the chance to connect with like-minded people who also have an interest in drone flying. It is the perfect environment to polish your piloting skills and make some friends while you enjoy learning how to be an expert at your new hobby.
The classes are well-spaced out, designed to be easily digestible even for beginners, and the instructors are both knowledgeable and friendly. So, before taking your drone out, consider lessons at a drone academy.
Other Interesting articles in "
Awesome Drone Tricks & Tips to Maximize Your Enjoyment

"