A Drone Flight Simulator is a great choice when you're considering investing hundreds or even thousands of dollars in a new uav quadcopter.  Multirotor drones can be very expensive and it's smart to get some practice using a much less expensive method, a uav simulator, before unpacking your new drone.
Quadcopter Simulator Table of Contents
There are various options out there including a drone flight simulator for pc and mac, as well as fpv flight simulators. I'm going to be going over each of the different simulation packages and trying to give you the best overall analysis of each so that you can decide which one is for you.
This may not be exactly as useful as drone flight school, but you can get extensive training from these quadcopter simulators in all areas of multirotor flight. Some of the benefits you will accrue by spending some time using a quad flight simulator are: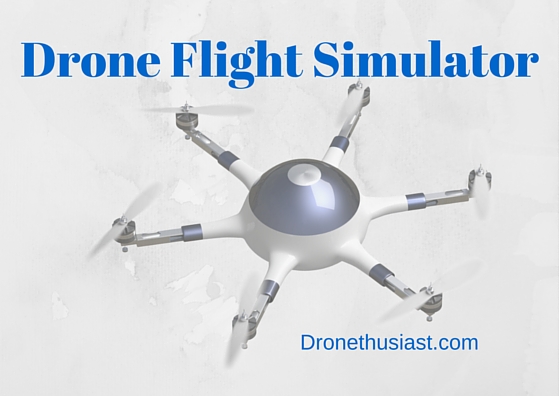 • Refine Your quadcopter Flying Skills.
• Learn To Capture Perfect Still Images.
• Perfect Your Drone Video Taking Skills.
• Practice Aerial Quadcopter Maneuvers.
• FPV Flight Training, Learn To Race in First Person View!
• Pickup New Camera Gimbal Control Tactics.
• Learn Without Risking Loss or Damage to Your Expensive Drone!
Learning all of these skills without spending money for repairs and replacement parts on your hobby drone is priceless.
Drone flight simulators are not just for people who are new to quadcopter flying.
You can see that even someone who already has some experience in drone flight can gain from practicing new camera techniques. Furthermore if you want to start flying FPV, drone flight simulators are a great choice in order to protect your hardware investment.
Let's talk a little bit about what factors are important when choosing a drone flying simulator program.
Types of Drone Flight Simulator
In order to decide which quad simulator is best for your purposes you should decide exactly what it is you're trying to get out of the software.
Ask yourself a few questions, and make sure whichever quadcopter simulator you decide to purchase covers all the topics you need it to.
Will you use the simulator on PC or Mac?
Are you practicing for FPV drone flight or Line of Sight, or both?
Are you trying to practice drone camera skills?
Do you need to practice your UAV video taking ability?
Do you want to practice RC helicopters and fixed wing aircraft as well?
Are you just looking for a drone flight simulator for entertainment?
Is this for commercial or recreational use? (Be sure to buy using your business card and you can write this off as a tax exempt expense for commercial)
If you have a well defined reason for purchasing drone flight simulator software it will make it quite simple to pick out the best product on the market.
Quadcopter Simulators Analysis
*Some of the links on this page are affiliate links that will help support dronethusiast if you end up making any purchases through them. Thanks!
1.Simpro Drone Flight Simulator
Back To Top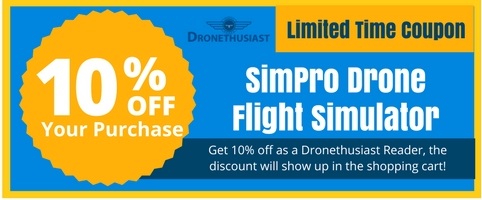 The Drone Flight Simulator by DroneSimPro. Get 10% off as a Dronethusiast Reader, the discount will show up in the shopping cart!
Dronesimpro has just announced that they are now offering the availability of customized solutions to create specific scenarios and drones for their drone flight simulator. The ability to create an environment specific to a pilot's needs could be a game changer it allows great customization for training drone pilots in both their environment and the type of drone used for the training.
"With drone pilots finding new and innovative ways to use drones, there is an increased need for a tailored training, says Jessica Warburton, co­founder of droneSim Pro. "With our modular software we are able to create any scenario according to a drone pilot's training requirements, whether it's to recreate a movie scene, an outdoor wedding, a tower inspection, a structure fire or even a hostage situation."
For more information click here .
DroneSim Pro is a new drone flight simulator that can be used on both a PC or Mac. It also uses a custom built flight engine that replicates the real world physics of drone flight. This allows us to put a drone anywhere in the world and have it fly accurately. This includes any altitude.
The current version, which is the initial launch version, includes the Phantom 2 and 3 flight areas. The next two releases include a lot of major additions including new drones and flight areas, as well as the support of remote controllers. These will be coming out over the next 4 months.
DroneSim Pro Features Include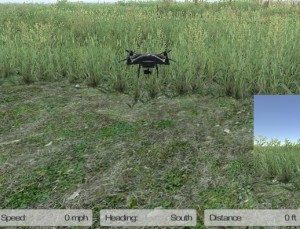 • Realistic Lighting Conditions
• Accurate Physics and Flight Models
• Realistic Game and Sim Scenarios
• Obstacle Courses, House Fires, Open Field Flight

A demo can be downloaded from DroneSimPro.com. The software supports most USB controllers and has been tested to work with Xbox and Playstation controllers. New support for various drone specific controllers will be rolling out in the next few months.
This simulation software looks like a great up and comer in the market and is priced reasonably at $29.99. That's why we're listing it at number 2, in a market that's filled with drone sims in the >$100.00 range, this price range is a great middle ground where you can try it out without going broke!
2. RealFlight Drone Flight Simulator – With Controller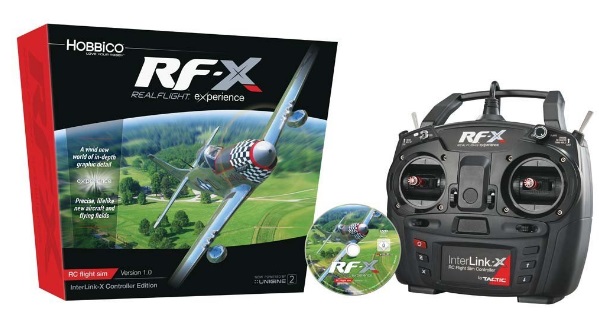 Click To Shop or Read Reviews
RealFlight Drone Flight Simulator – With Interlink MD2 Controller. 
This drone flight sim is the most detailed and powerful simulator on the market. However, the first thing you're going to notice is that you have to pay for this kind of quality.
The Realflight drone sim sells for $109.99, it comes with the Interlink Elite Controller, so you don't have any batteries or complicated setups needed. The $109.99 price may seem like a lot but with the controller and software it is the best deal out there for serious drone flight practice.
Each software function is operated by the controller so there's no keyboard needed, which means more simplicity.
This software allows you to do everything you could possibly want to in a quad simulator.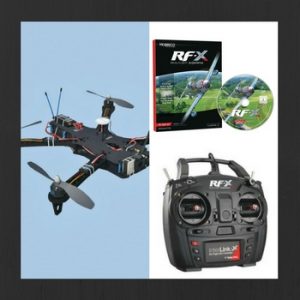 • Learn camera skills
• Maneuvering skills
• Explore FPV flight.
• Fly Phantom models and many others.
• Master camera gimbal operation
• Practice in various conditions, day, night, and different windspeed and direction.
• In game challenges that keep the simulation fun while learning.
The single limitation I can find to the realflight software is that it is not mac compatible. Those of you using apple computer products are going to have to go with a different option.  If you're serious about practicing for drone flight, this is the #1 piece of drone flight simulator for pc we can recommend. However the price is going to turn a lot of you away, we understand that.
Realflight includes a great product feature, the rewind button. This allows you to back the simulation up and redo the instance anytime you have a crash or miss a photo, allowing for real time instant correction of whatever your error may have been.
Check out this video of the Realflight Drone Flight Simulator.
3. Aerofly RC7 Quad Simulator
Aerofly RC7 Flight Simulator – With Or Without Controller
With the Aerofly RC7 quad simulator you're going to notice that it is fairly realistic for a simulator. The physics seem to be very similar to that of when I'm flying my actual quadcopter. However once again you have to spend some money to get this kind of real practice. The standard version starts at $49.00 and goes up to $139.00. It comes with or without a controller, so you can use your existing controller if you have the right connection kit.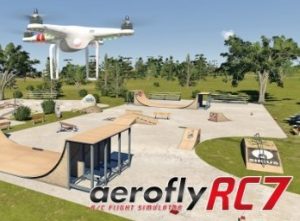 • Fly over 130 models with Aerfoly RC7 Ultimate.
• Use their controller or your own, best customization.
• Fly Phantom and Other Quad and Hexacopters.
• Mac and Apple Versions – YES.
• Fly in rate mode, adjust FPV cameral tilt angel, Fish eye effect.
• Great for practicing Flying FPV Racing.

This drone flight simulator gives you a bit more customization and a better example of practicing FPV flying, therefore if that's what you're looking for this may be for you. Also it comes for mac and pc, just check out the options through the link above, or click either of the images here.
These two are the top flight simulators for drones on the market at the moment. They are for serious flyers looking to seriously practice. There are some other apps available at much cheaper prices but when you lower the price significantly, you're going to see a serious loss of reality when it comes to the drone flight simulator.
4. Liftoff by Immersion RC
Liftoff is new software by Immersion RC, you can check it out, it's not your standard flight simulator. It's geared specifically towards those looking for fpv racing practice. Benefits of this type of drone flight simulator are:
If you're here for fpv drone racing check out our best fpv drone goggles systems post here, a guide to the best components on the market for fpv drone setups.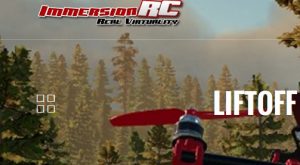 • Practice for drone racing on software built specifically for drone racers.

• Integrates well with fpv goggle systems.

• Cheap at $19.99 on Steam – pre release.

• PC and Mac Verisions Available.

• Very pretty and well designed, but specifically only useful for drone racing.


This software is fun and inexpensive. However it isn't useful for photo taking or video practice. It has one very specific quadcopter simulator function and that is to help you learn to fly your drone from the first person view.

It goes well with fpv goggles and is easy to purchase from steam, easy to install and easy to setup and use with your current fpv system, that's why we're naming it the best fpv uav simulator out there!
5. Heli X UAV Flight Simulator
Heli-X is a great R/C helicopter flight sim that also has the ability to allow you to fly drone flight simulations. They use the great real-time physics based on modern mathematical science.
The software is available for Mac, Linux and Windows so it is a great all around piece of flight simulation software. There are training scenarios within the software that make it fun to use for learning or entertainment.
Some benefits of this software include: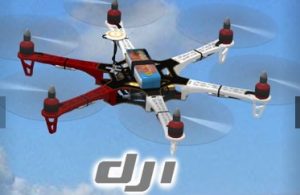 • Cost: It is a little cheaper than the first two options at 49.00 Euros, about $55.00 at the current time.
• They have training scenarios for rescue situations.
• Some other scenarios include cage, lasso, autorotation, reaction training, hover training, etc.
Heli-X is a solid, educational drone flight simulator that won't break the bank. So that you can use Heli-X software you will need to use USB controllers that you can find there. You can boot HELI-X without a controller, but cannot control the models inside the software.
6. FPV Freerider App
The FPV Freerider is a new and popular simulation app that can help you practice fpv and line of sight drone flight. It is limited by it's app status, as it doesn't have as powerful of a physics simulator engine.
It also doesn't come with a controller and you will need to find a USB controller to use with it. You can find USB controllers that work with this software you just have to make sure it is a USB compatible controller.
Benefits of FPV freerider are: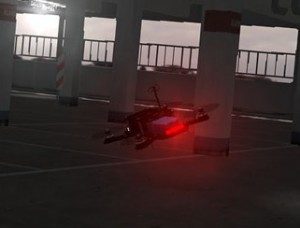 • Extremely low cost, $5.00.

• Fun for FPV racing practice.

• Works with almost any usb remote, just pick one up and connect it to the app.

Drawbacks are that the software isn't as real and you cannot practice your camera work. If you're looking for something to help you with your aerial photography business or are seriously practicing to use a phantom or some other expensive new drone, this may not be for you.
Are Quadcopter Flight Simulators Useful?
Back To Top
The best drone flight simulator software can help you practice aerial photography, fpv racing, video taking, and allows you to practice on many different models. Realflight flight simulator listed at the #1 position allows you to do all these things and more. If you're willing to shell out the $109.99 that it takes to purchase it along with it's dedicated controller.
There are other options available for quadcopter simulators but you're going to play a balancing act between what functions you're looking for and what price you want to pay.
For those of you really looking for practice I suggest the Realflight software. This is best for those working on their flight skills for larger drones. It can be especially useful if you live somewhere in a climate where it's not feasible to fly your drone over the winter, you can spend some time with the simulator to ease the withdrawal symptoms you're feeling! I know that's what I use it for living in Nebraska!
Drone flight simulators when used properly are a great way to work on your muscle memory and hand eye coordination. They are especially great for beginners, but can be useful for intermediate flyers, especially those looking to practice their video and photography skills.
7. Learn To Fly With Mini Hubsan X4
Another option is always to use a mini quadcopter for practice, something that doesn't cost that much and is easy to repair. The Hubsan X4 is a great option at a great price.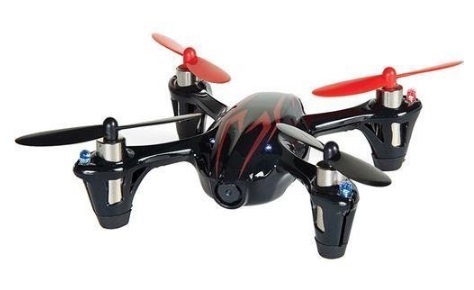 Click To Shop or Read Reviews
Hubsan x4 is a great entry level drone that will allow you to practice your drone flight, has fpv options, and doesn't break the bank! Click the image to check out more details![/caption]
Finally, have fun out there. Flying drones is a fantastic way to build a business, or have a great time. Don't limit yourself to only flying when the weather's good. Fly all the time with a great drone flight simulator from the list above, or a mini copter you can fly indoors and use for practice year round!
What do you think? Do you use a drone flight simulator? Please tell me in the comments below how you learned to fly, was it with a uav flight simulator or some other way?