Best Drone for Photography : 5 Crucial Things to Know

When you think of drone photography, you probably immediately think of the DJI line of drones. After all, they just so happen to be some of the most popular photography drones in the world. From the DJI Mavic Air, DJI Sparkor the DJI Mavic 2 Zoom, you name it. These UAVs have proven to be both stable, affordable and easy enough to operate for most professional and amateur photographers alike.
However, just because you have a wide array of options when it comes to drones for photography does not mean that you will immediately be transformed into the world's most exquisite photographer. As is the case with every other skill-based profession or hobby, there are certain skills, that need mastering.
Drone photography is not an exception to this rule. As such, there are things you need to know before you go out and buy or take out your photography drone on its maiden "mission."
Here are the five most crucial things to know about the best drones for photography:
1. Image Quality Is Most Important
This goes without saying – if you know anything about cameras and photography, then you will know that sensors significantly affect your image quality. In drone photography, the gold standard is a 1-inch sensor. That is what the most popular consumer drones such as the Mavic 2 Pro and the Phantom 4 Pro V2.0 use.
Professional photography drones such as the Inspire 2 use A 4/3-inch CMOS sensor. You want a large CMOS since that makes it easier to shoot high-quality images even in low light.
2. Can the Drone Hover While Remaining Perfectly Still?
There is a good reason why professional photographers use the tripod till this day – it allows them to keep their camera perfectly still to get that perfect shot. The same is the case when dealing with a photography drone. You want to pick something that can mimic a tripod, and for a UAV (unmanned aerial vehicle) that means being able to hover perfectly still in position.
If the drone you choose can't hover, then it will constantly rise, fall and drift often resulting in blurry images or completely missing the frame altogether. To find a drone that has stable hovering capabilities, you need to buy one that has an advanced flight control system as well as onboard sensors. Real life reviews show that DJI drones are leading the pack when it comes to this regard.
3. What Kind of Intelligent Functions Does the Photography Drone Have?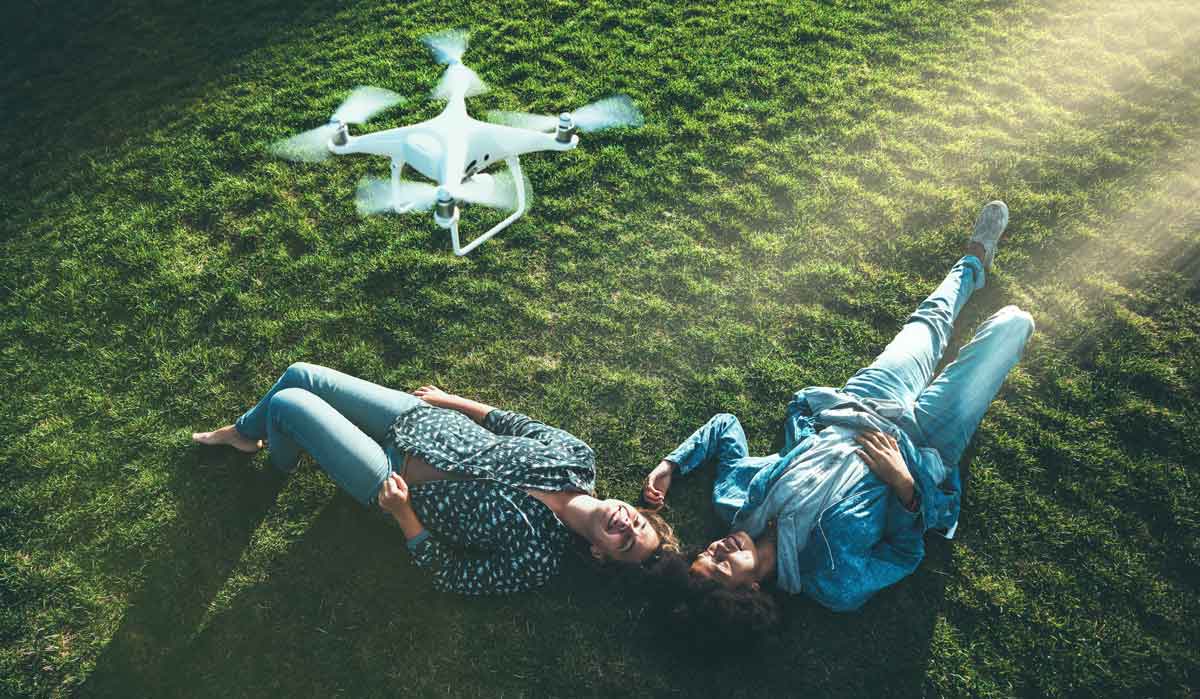 There is no doubt that good photography drones are going to be a little expensive because they come with high-quality flight control systems as well as great image quality. However, one of the main reasons why the best photography drones are so expensive is because they feature highly intelligent functions that support photography. The best photography drones can:
Track your subject automatically
Take selfies with a specific gesture
Fly along waypoints
Of course, different photography UAVs have different features each setting them apart from other drones in the market. The Mavic 2 Zoom, for example, has a feature that allows you to go in for a closer shot without spooking your subject (two-times optical zoom). Others come with mechanical shutters that cut out distortion when shooting subjects that are moving at high speed while others still can support dual-operator control.
These are all excellent to have on a photography drone and as is the case with everything in this world, the more expensive the drone, the better chances you have of getting something that has all the right intelligent features that will elevate your aerial photography to new heights.
4. What are Your Thoughts on 4K Video?
The world is quickly moving towards 4K video, and every screening device will be capable of supporting 4K. Of course, the photography drone industry isn't to be left behind. You can find UAVs with varying video resolutions from low-quality HD to impressive 4K.
Whether or not you need a drone that can support 4K videography will depend on your purpose for the drone. If you are just a recreation photographer or videographer looking to get beautiful selfies and videos that will then be edited, filtered and uploaded to Facebook then maybe just getting a UAV that can shoot at 1080p will be good enough for you.
However, if you are a professional vlogger or a producer looking to capture or create epic cinematic experiences, then you would be better off using a drone that can take 4k images. This is mostly because as you edit your video, you are going to be essentially reducing its quality thanks to scaling, cropping and rotating.
As a professional, starting from 1080p might not end up giving you the best footage. A 4K drone will give you lots of pixels with which to work so you don't end up with a noticeably less sharp end product.
5. You'll Need a Photography Drone with a Mounted Gimbal
We can't stress this enough – you will need to buy a photography drone with a mounted gimbal. Without a gimbal, shaky images and videos are inevitable. The cheapest UAVs sometimes come with gimbals as an accessory or even not at all. If the UAV doesn't have a gimbal, it's safer not to buy it.
There is a long list of things you will need to consider when shopping for a photography drone (often based on your specific needs). While sorting out the nitty-gritty, always remember to "buy a popular drone." There are several good reasons for this:
They often have all the best intelligent features
They are often reasonably priced
You can easily find answers to any questions you may have since there is a huge community of users online
Popular drones also have excellent tutorials and even videos from other users who have bought it before you. This information can be very helpful when it comes to usage and troubleshooting.
Other Interesting articles in "
Awesome Drone Tricks & Tips to Maximize Your Enjoyment

"