A look at Legalities in The Sunshine State: Drone Laws in Florida

This article will give a brief overview of the laws in your state, but we can't keep cover all the minutae in only two thousand words. That's why we highly recommend that you do some research on your own time and, ideally, enroll in a professional course if you're actually looking to get certified. Though there's lots of options for learning more about drone laws, we highly recommend the#1 Rated Professional Course: Drone Pilot Ground School. Get $50 Off as a Dronethusiast reader, just click the link and sign up. It's a great way to learn about drone laws and piloting that's cheaper than most of its competition, you can purchase it once and own it forever and they're constantly updating their professional training.
Get your holiday shopping done in 2019 with our Black Friday Drone Deals of 2019 blog post, we recommend the top deals this year!
A location favorable to fly over
This is a state that has pristine beaches, as well as many activities such as surfing, boating, and fishing. It's a great place to fly drones and drive RC boats. Florida is a stunning state for hobby toy lovers to enjoy. Prime real estate to photograph, sunsets that are spellbinding, and the diverse skyline of Miami and Ft Lauderdale as well as Tampa Bay are all reasons why many drone enthusiasts would want to fly above.
In the United States, laws are simply not the same everywhere, and Florida happens to be a state that has a couple of extra things you need to be aware of in the legal realm regarding drones. Once you are aware of how to proceed and what you need to do you'll feel a lot better, because as with any hobby, knowledge is a main component of knowing how to make sure you are doing everything by the book.
The Registering Process in Florida
Before you get ready to fly, register your drone with the FAA and mark it with your specific registration number that was given to you upon purchase.If you do fly one without registering and are caught, you could face 3 years in prison, $250,000 in various fines, and up to another $27,000 in civil penalties.
Once you have the drone out of the box and are ready to explore all of the terrain here, just go to the web page at registermyuas.faa.gov, and you will see the appropriate procedure to complete. This is something that you don't want to put off, because it will absolutely make you legitimate in the eyes of the local authorities to get started.
What about proximity to airports in Florida?
You will definitely want to check exactly how close you are to any of the airports in the area: if you are not further than five miles away, it's a must to notify the airport before you set flight. Tampa Bay and St Petersburg both have regions close to the airport where this will be an issue to pay attention to.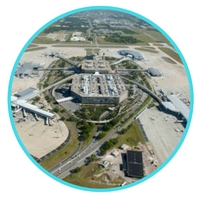 If you are in Hillsborough County, you need to fill out an online form if you happen to need to fly within five miles of Tampa Executive, Tampa International, Peter O. Knight Airport, or the Plant City Airport. The appropriate place to complete this is at www.tampa airport.com/UAS.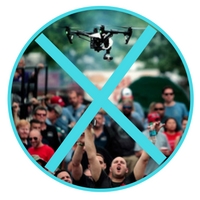 If you are close to St. Pete-Clearwater International Airport, you just need to call the FAA's traffic tower, and that number is 727-539-6867.
Macdill Air Force Base is an installment that you definitely want to pay all heed of seriousness to before flying around: you can contact the Office of Public Affairs to request permission to fly in the region at 813-828-2215.
You are not to fly higher than 400 feet above the ground, and the drone must be kept in sight the entire time. Flying directly above people and moving vehicles is an even bigger thing to make sure you don't do in Florida: this is a heavily populated state, with many people coming into vacation here annually.
What are some laws here that are unique to the state?
Florida legislature passed a law that puts a restriction regarding the use of drones here, and some fliers tend to think that it's a bit murky and hard to define. What it lays out is the illegality of invasion of privacy:
It is not legal to take pictures from the air of a person or their property without permission, and many realize that there could be numerous instances where this happens without said people's knowledge.
As far as the very near future is concerned, it brings about the concern of many as to how deep authorities will go to solve these "crimes"; is there really enough manpower to focus on what private citizens are doing with their drones? There are many elements that could affect this: how the for-profit prison system is governed, how many other crimes are occurring that are actually violent, and how drones continue to appear as a whole in the opinion of the public.
In Florida, once a drone is used for commercial purposes, the rules that regulate it's flight are known to be a bit more restrictive than other states. The registration process itself is a bit different, and this was one area of the nation where a licensed pilot came into play for commercial use before others. Those using drones for real estate in Florida have had to abide by stricter rules, but by being communicative and proactive right from the start, they are able to still complete their daily tasks.
Other legal issues with drones in Florida
During 2014, Gov. Rick Scott signed the "Freedom from Unwarranted Surveillance Act" which puts a very restrictive clamp on the use of drones by local and state law enforcement agencies. Issues that occurred in North Dakota this year rose tempers nationwide, as drones were used against protesters during the Standing Rock debacle. For now, a judge in Florida has to sign off on when the use of a surveillance drone is appropriate, but the days ahead are also going to govern quite a bit about what happens and when.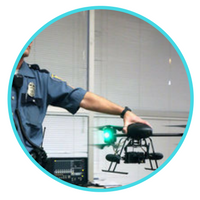 On May 14th, 2015, there was an amendment to Florida's original "drone law" created in 2013. What it did was redefine what surveillance is, and the most important language in the amendment states that it is "the observation of such persons with sufficient visual clarity to be able to obtain information about their identity, habits, conduct, movements, or whereabouts".
Many critics believe that ANY picture taken with a drone could fall under this category, and that there may be numerous lawsuits stemming from flights over different types of private properties. But how will the one who is complaining know exactly what is happening, and be able to access the pilot's SIM card to obtain any images taken of them? In the realm of police surveillance, if you are outside a structure, you can be legally watched, but Florida's law regarding surveillance classifies drones as any UAV with a camera, no matter how advanced the camera is.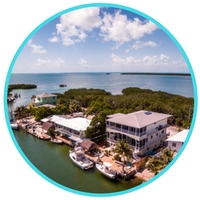 During legislature, the issue of the surveillance law being unconstitutional was never brought up, and issues involving the first amendment itself were not looked at. It is one thing for surveillance to be prohibited, but in its current state, the way things sit in Florida allow the operator to be sued as well. The person suing can get far beyond what many consider normal damages, and some are worried that cases could be in litigation for years, as many others where the individuals can go back and forth on whether or not the drone was purposefully used to spy.
At the core, we don't think that this was intended to clog up Florida's courts and make things any more difficult for day-to-day living, and perhaps they did not correctly predict just how many people would be hitting the skies with drones. Nothing will tell now but time, and the state of Florida will be one of the places that pilots will be paying close attention to legislature for the long haul.
Get your holiday shopping done in 2019, read our Cyber Monday drones article.