Best Drones Under $100 – Dronethusiast Reviews
Updated:
We recommend the Altair Falcon with AHP as the top drone at around $100.
Most drones on the market in the $100 price range come from international sellers and we don't typically recommend you purchase from a company that you don't trust or don't know much about. We like to suggest companies from the USA where you know you're going to be able to get customer service for your drone after the sale.
Best Drones around $100
Even if you aren't a new pilot, these quadcopters under $100 are still well worth your attention. Maybe you want a quad to fly indoors, or something to give as a gift to a family member. All of these quads are superb in their own ways, making them some of the finest drones under $100.
#1. Altair Falcon
See the best price on Amazon.com or get Fast & Free Shipping from their Website at Altairaerial.com
While the Falcon is slightly more expensive than $100, but it's definitely still worth the mention because of its great features that you get for its cost. Plus, AA is a solid brand that's known for their affordable products so we can assure you're getting a great deal.
One great feature is the autonomous hovering & positioning system that's unique to this company. It keeps the drone hovering in place at all times, even if you take your hands off the controller. This is great for any pilot as they don't have to stress about losing control of their drone that you won't want to miss out on.
Check out this video by Mike from Altair explaining what AHP is:
Check Out These Specs:
– Autonomous Hovering & Positioning System
– 720p live video and still photography camera
– 120-degree viewing angle
– Free extra battery
– Custom flight routing
– Headless mode
– Altitude hold
– One-key takeoff
Click Here to See Best Price!
#3. Blackhawk Drone – An Incredible Deal!
Find the Blackhawk drone on Amazon here.
If you're looking for an inexpensive drone that's a little more advanced than the beginner offerings on this list, the Aerial Blackhawk is an excellent choice – the perfect drone for the pilot that already has a GoPro camera or is wanting to customize their quadcopter with an action camera.
This drone is extremely stable and durable, which makes it great for aerial photography. However, its best features are a flight time of 15 minutes and a range of 300 meters – otherwise unheard of at this price range. If you already have some experience with quadcopters and want something that's fast, fun to fly, and offers long range at a low price, the Blackhawk is the perfect drone for you!
Check out these Tech Specs:
• Action camera slot for GoPro Hero 3 and 4 to capture aerial footage in HD
• Brushless motors for a perfect balance of power and quiet operation
• 15 minute flight time
• 300 meter range
• 6-axis gyro
• Durable and speedy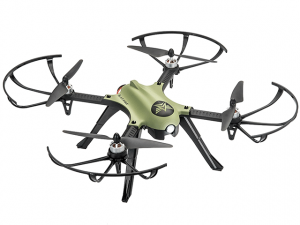 Click Here to See Best Price!
#3. Aerial AA108
Find the Altair AA108 beginner drone on Amazon here.
We apologize for this because the Aerial comes in at a price tag of around $119.00, so it's just a hair above our maximum budget on this page. However due to the amazing features it offers for that budget price we've decided to add it here.
The AA drone founders have an intense focus on customer service too. I spoke to one of them and he's actually American! You don't have to worry about trying to call the company with a question about the drone and ending up speaking to someone in India or China! Good stuff guys, keep up the good work over there!
Check out these Tech Specs:
• Altitude Hold Function – saves so many crashes and makes it easy to fly!
• 1 Touch Take Off and Landing
• 8 Minute Flight Time
• Has a range of up to 300
• Uses a 6-axis gyro stability for maneuverability and ultimate wind resistance
• Heading Hold (Headless) Mode (Great beginner drone function)
• 3 Flight Skill Level Switch, 1 – beginner, 2 – Mid Level, 3 – Advanced (This really makes a difference when it comes to getting started flying the drone right out of the box! Set it to the level 1 and it's so easy to learn with!)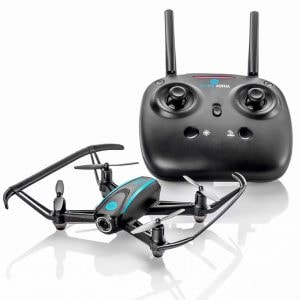 Click Here to See Best Price!
#4. DJI Tello Drone – The Best Drone Under $100
The Tello is a brand new quadcopter from the world's biggest drone company, and it retails for only $99 USD. Technically it's a joint venture between DJI and Rize, but the important thing is that you're getting a high-quality product for dirt cheap. A 5 Megapixel camera, 8 dimensional flips, a "throw and go" flight mode, and HD video can all be yours today – learn more by reading our full review here.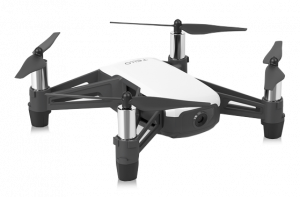 Click Here to See Best Price!
#5. Force1 Focus FPV Drone With Camera
Even though this is a list of drones under $100 and this model from Force1 is on the pricier side at $150, it's worth every single penny you'll be spending. The Focus FPV drone is much like the U28W WiFi FPV drone in the way of features and general specs, but this one is much more amped up.
Read our post all about the best drones with cameras here.
Check out these Tech Specs:
• Product Dimensions: 17 x 9.7 x 3 inches
• Item Weight: 2.4 pounds
• 10 minute flight time
• Equipped with a 720p HD camera
• FPV and live video capabilities

Even though the price tag is significantly higher than the other drones on our list, like we said, the price is definitely worth it. You get 2 extra flight batteries to double your flight time, Headless Mode, and much more.
The standard flight time reported is up to 10 minutes long, with an unclear charge time. This will usually depend on how you are flying the Focus FPV drone more than anything else.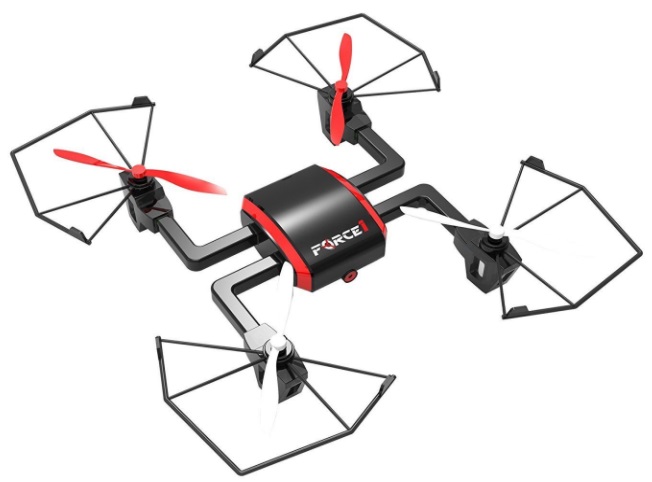 Click Here to See Best Price!
#6. Force1 UDI U818A HD+ Quadcopter
The UDI U818A+ HD quad from Force1 is one of the best budget drones with a camera. It costs less than $90, begging to be put into our list.
The quadcopter weighs less than a pound, can easily fit in your hands, and is able to be flown indoors if you're careful enough. Thanks to the stabilization system, you are able to fly it outdoors even if it's a tad windy out.
It comes with 2 long-life batteries that last up to 9 minutes each, each taking between 90 to 120 minutes to charge. If you have very little technical experience it won't be a problem, this drone packs a punch that anyone can control.
Less than $100
• Product Dimensions: 13 x 13 x 3 inches
• Item Weight: 4.6 ounces
• 9 minute flight time and approximate 100 minute charge time
• Equipped with a 720p HD camera
• 6-axis gyro stabilization system ensures maximum stability during flight

For those looking for an excellent beginner to intermediate quadcopter under $100 that comes with a camera, the Force1 UDI U818A HD+ is the perfect choice. It comes with a removable 4GB Micro SD card so you can save and later view your videos and photos from your flight.
You also get 4 flight channels and a 2.4GHz transmitter with an LDC display for full flight status, too!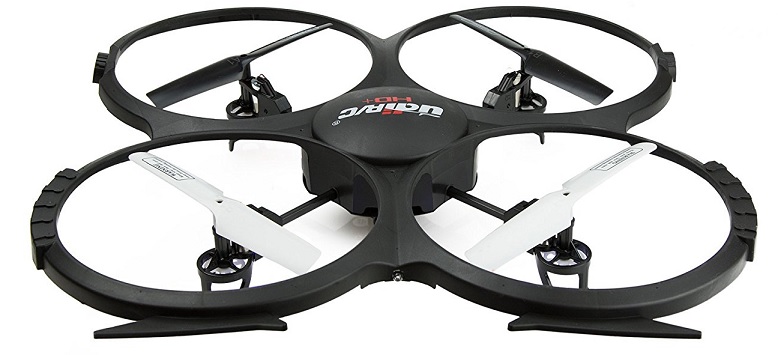 Click Here to See Best Price!
#7. Force1 U28W WiFi FPV Drone With HD Camera
For a relatively small beginner drone that is cost efficient, the Force1 U28W sits just under $100 and has a lot of great aspects going on.
For starters, it comes with 2 batteries that each hold a charge of up to 5 minutes. Repairs and/or modifications will not come easily because of the size, however.
What makes this drone under $100 a true marvel is that it's one of the most budget-friendly WiFi FPV drones currently on the market. The U28W WiFi FPV drone has been upgraded to have better flight specs and a higher definition rate.
Less than $100
• Product Dimensions: 9.4 x 9.1 x 3.7 inches
• Item Weight: 1.2 pounds
• 5 minute flight time
• Equipped with a 720p HD camera
• WiFi FPV capabilities

Even though this is considered to a beginner drone under $100, it has the WiFi FPV capabilities and comes with a 4GB Micro SD card for storing your videos and photos.
Altitude Hold, one of the main features, ices the cake and proves its a good beginner drone. The U28W WiFi FPV drone helps pilots mold, manage and better their flight skills over time! The One Touch Takeoff and Landing features are also a great help for beginners, too.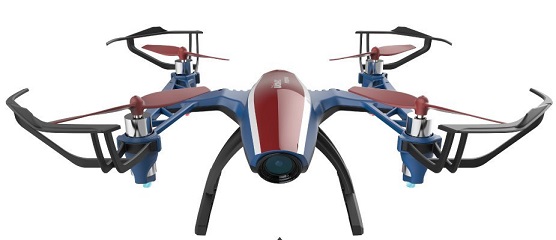 Click Here to See Best Price!
#8. Force1 U45 RC Quadcopter With Camera
Force1 has a fleet of smaller drones that have a serious technical advantage, including the U45 RC quadcopter. It's one of the cheaper drones of the fleet coming in at only $60, practically a steal, that is great for both beginners and experts alike.
Less than $70
• Product Dimensions: 15.8 x 10.2 x 3.5 inches
• Item Weight: 4.2 ounces
• 7 to 9 minute flight time
• Equipped with a 720p HD camera
• 6-axis gyro stabilization system ensures maximum stability during flight

Like many of the other Force1 drones, this one comes with Headless Mode, Altitude Hold, photo and video capabilities, and a whole lot more. The highly durable airframe ensures that the drone will be protected in the case of a crash, too.
Overall, the U45 RC quadcopter is great for all skill levels, only costs $60, and has all the things a drone user, whether they are a beginner or an expert, could ever want in an RC quadcopter.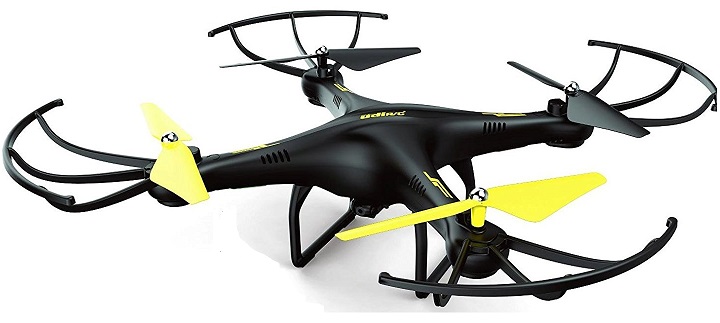 Click To Shop or Read Reviews
#9. Hubsan x4 Best Drone With Camera Under $100
One of the most popular drones in this price point, the hubsan x4 has gained quite the following in the RC quadcopter scene, and for good reason. At $40 you get one of the best quadcopters around.
The craft itself weighs little and can fit on the palm of your hand, it's small enough that you can easily fly it indoors, keeping you in the air no matter how rough the weather may be. Yet despite this, it can even fly well outdoors. This is one of the reasons we've named it the best drone with camera under $100.
Battery life is fairly average, around 5 to 7 minutes, taking 15 minutes to charge.
Since repairs are as easy as soldering a couple motors and the flight controller has proven reliable and capable, people have developed a few nice modifications for it. Modifications such as a chassis swap with lighter and more durable materials are fairly easy, even for those without electronics skills, and yield longer flight times as well as further improved handling.
More impressively, people have developed fpv capable systems for the Hubsan, allowing you to someday step up and have a tiny fpv miniquad made out of parts from your old drone, making this little quad fun to fly even after you've outgrown its basic flight modes.
Less than $50
• Product Dimensions – 2.3 x2.3 x 1 inches
• Item Weight – 1.3 pounds
• 4 channel 2.4Ghz control
• High capacity LiPO battery
• Precision 6 axis gyro
• Durable one piece main frame
Also available is the Hubsan x4 h107c at around $40 which includes larger motors, a larger battery, and a camera. The camera is adequate, it wont blow your mind, but again its nice to have. Unfortunately, the added weight and larger motors cancel out the benefits of the larger battery, maintaining the same flight time as its' smaller counterpart.
If you want to spend even more, there's a Hubsan x4 fpv bundle available, which has an integrated fpv system on the quad, as well as a screen on the remote. While still inexpensive for what's offered, at $140 it's well above the 100 dollar price point, however it's close enough for us to add it to our best drone under $100 with camera list.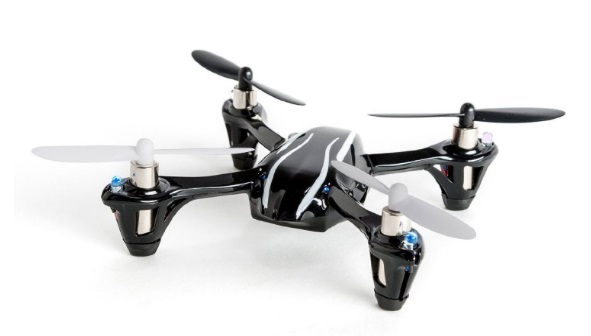 Click To Shop or Read Reviews
#10. Syma X5c and variants under $100
Often repainted and re-branded (sometimes at a much higher price) the Syma x5c is positioned at a competitive price for what you get in the box. For about $50+ shipping depending on where you order, you get the quadcopter itself, a transmitter, one battery, and a charger. Extra batteries are inexpensive and you'll certainly want them if you plan to fly for longer than 6 minutes, but they charge quickly, which is nice. At 9 and a half inches diagonally motor to motor, its not small enough to fly indoors.
The craft itself is light and durable, it can usually handle itself in mild to semi-moderate winds. It's incredibly easy to fly. Some may argue that it's almost too docile and, after a while, you may want to have a little more power but it has enough power for a new pilot. More importantly, it doesn't have too much power.
The camera, while present, produces merely adequate video, but for the size and price, it's impressive they could even include one.
Less than $50
• Item Weight: 2.1 pounds
• Product Dimensions: 16.5 x 12.2 x 3.8 inches
• 7 Minute flight time and 100 minute charge time
• Equipped with HD camera
• 6-axis Gyro stabilization system ensures maximum stability during flight
For a beginner outdoor rc quadcopter under $100, the Syma makes for an excellent option, however, if you ever have to replace a motor it's not easy. Not only are there a lot of screws, but the chassis is held together with plastic clips making it difficult open up. After you get passed opening it re-soldering motors is simple enough.
When looking into this quadcopter, some retailers offer upgraded versions of the X5C, Potensic
is an example of one such reseller, with improved motors and some additional accessories such as extra props and a travel case, this offers a potential value add for those who may desire such things.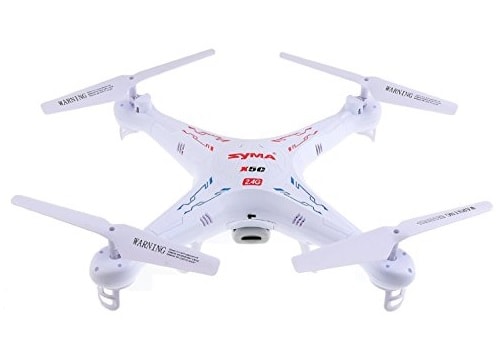 Click To Shop or Read Reviews
Quadcopters Under $100
Cheerson CX-10, 10a, and 10c
Continuing in the trend of making technology smaller and smaller, the cheerson cx10 line is not only incredibly inexpensive, but they are unbelievably small. The base model can be had for under $20 depending on where you order from. For that, you get a tiny transmitter, two sets of props, charging cable, and the drone itself.
The quadcopter is only about 3.5'' measured diagonally motor to motor making it one of the smallest drones on the market. Even in that small chassis, Cheerson managed to fit a 100mah battery. While that may not sound impressive, it delivers solid flight time, keeping you in the air for somewhere between 4 and 8 minutes depending on how hard you fly it.
When flying it is nimble and functions on standard controls with the ability to perform pre programmed flips via control inputs. Like the quad, the transmitter is tiny, somewhere around the profile of a credit card. For those with larger hands, this can be very uncomfortable until you figure out a good way to grip it.
Less than $30
• Item Weight: 1.6 ounces
• Product Dimensions: 6.1 x 4.6 x 2.3 inches
• 4 channel mini quadcopter
• With 0.3MP camera, it enables to take pictures and videos
• LED light for night flight
It also can't handle itself outdoors, with the slightest breeze gusting it away (not only that, but because of how small it is, it's easy to lose line of sight). Charging takes somewhere around 20 minutes with the usb charger, however you'll need your own usb to wall adapter or a computer handy to plug it in. Unfortunately, unlike some other quacopters on this list, due to the size and engineering of this drone, repairs are extremely difficult, requiring a very tiny screwdriver to open it up, the solder pads for the motors are also tiny. Repairs aren't impossible, but it is more difficult.
The cx10a is only a slight upgrade over the cx10, and that's reflected in the price. For around $20, you get everything with the standard model. Boasting the same flight time as the original, the only noticeable change is an included headless mode.
The most recent variant, the cx10c, is another small improvement over the other two. Again, it only adds one feature, but this time its a little bit more substantial, this time, they've added a camera. With a micro sd card you can watch videos of your flights from the perspective of the drone. It may not be a great camera, its not even a good camera, the footage is mediocre and would never compare even slightly to a high end multirotor, but for the price ($25) and the size (roughly the same as before) its amazing that it includes one.
So, which one should you get? Realistically the camera is a gimmick at this size and price, but it is a very cool one. If you don't value the camera the standard model is probably the best value at around $10 less, but if you want the headless mode, the extra few dollars isn't that big a deal.
Click To Shop or Read Reviews
Blade Nano QX – Drones Under 100
The blade nano qx is the closest competitor to the Hubsan. Both of them are extremely popular for beginners, and both of them are loved by enthusiasts due to their modification capabilities and excellent flight characteristics. Repairs are easy, the motors have plug in connections so you don't have to even solder if one goes out. The price on this one is a bit steeper than the others, running about $80 for a complete, ready to fly package, but you do get a more capable quadcopter.
Less than $50
• Item Weight: 0.6 ounces
• Product Dimensions: 7.2 x 6.3 x 2.5 inches
• Small enough to fly in any room or office
• 4-in-1 DSMX Receiver/ESCs/mixer/SAFE sensor unit
• Features exclusive SAFE™ technology with stability and agility modes
Diagonally, motor to motor, it measures in at about 4 and a half inches, making it small enough to fly indoors, but big enough to fly outdoors. While flying, you can perform preprogrammed flips and activate a higher rate mode, making it even snappier.
Unlike all of the other quadcopters on this list the manufacturer, Blade, has a very strong pedigree in radio controlled aircraft and because of that, Blade uses the DSM2 radio frequency standard. This is a key difference when compared to all the other quads on this list because if you have a DSM2 capable transmitter, you can fly using that rather than a lower quality transmitter the company would throw in.
Not only that, but if you already have your own transmitter, you can get the quadcopter for about $20 less. It also means that if you get into the rc scene more in the future, you could buy a DSM2 transmitter such as an orangerx or spectrum and use this quadcopter with it.
Click To Shop or Read Reviews
Thanks for reading our ultimate guide to the Best Drones Under $100. Hopefully we've helped you make a great choice about which drone is for you! If you have any questions or comments please leave a comment below!
Further Reading
If your budget is higher read The Best Drones Under $200
The Drones You Want Under $150
Other Interesting articles in "
p

"