Flying Defibrillator Drone Saves Lives
We are being spoiled by great news from the technology world showing amazingly positive uses of drone technology like the life saving multirotors by extremely humble and creative folks from Iran we just posted recently. It proves that innovators around the world work hard to prove the other part of population raising their voices, only seeing  the real or perceived threats they feel drones pose.  Here is the next great innovation from The Netherlands created by college students, proving that literally life changing uses of this technology are infinite.
Graduate student Alec Momont of Delft University of Technology has designed an unmanned, autonomously navigating flying defibrillator drone that can quickly deliver a defibrillator to where it is needed. A network of such drones could significantly increase the chance of survival following a cardiac arrest: from 8% to 80%!
The Flying Defibrillator Drone
Alec Momont of TU Delft's Faculty of Industrial Design Engineering designed his prototype for an ambulance drone together with the Living Tomorrow innovation platform as part of his graduation programme. When the emergency services receive a cardiac arrest call, this unmanned, autonomously navigating aeroplane can quickly deliver a defibrillator to the emergency scene. Via a livestream video and audio connection, the drone can also provide direct feedback to the emergency services and the persons on site can be instructed how to treat the patient. The drone finds the patient's location via the caller's mobile phone signal and makes its way there using GPS. The drone can fly at around 100 km/h, weighs 4 kg and can carry another 4 kg.
Heart failure
'It is essential that the right medical care is provided within the first few minutes of a cardiac arrest,' says Alec Momont. 'If we can get to an emergency scene faster we can save many lives and facilitate the recovery of many patients. This especially applies to emergencies such as heart failure, drownings, traumas and respiratory problems, and it has become possible because life-saving technologies, such as a defibrillator, can now be designed small enough to be transported by a drone.'
The  Defibrillator
So Momont set to work and designed a new type of drone: a compact flying 'medical toolbox', which carries essential medical equipment that anybody can use. This first prototype has been designed to transport a defibrillator.
'Some 800,000 people suffer a cardiac arrest in the EU every year, and only 8% survive,' Momont explains. 'The main reason for this is the relatively long response time of the emergency services (approx. 10 minutes), while brain death and fatalities occur within 4 to 6 minutes. The ambulance drone can get a defibrillator to a patient inside a 12 square km zone within one minute. This response speed increases the chance of survival following a cardiac arrest from 8% to 80%.' The ambulance drone arrives at the scene in no time, on-board defibrillator, real-time instructions provided by the emergency operator.
The Webcam
The communications channel (a webcam) built into the drone is also very important. This allows the emergency operators to see what is going on and provide instructions to the person applying the defibrillator, who in their turn can also ask the emergency operator questions. 'Currently, only 20% of untrained people are able to successfully apply a defibrillator,' says Momont. 'This rate can be increased to 90% if people are provided with instructions at the scene. Moreover, the presence of the emergency operator via the drone's loudspeaker helps to reduce the panic of the situation."
Implementation
Momont proposes expanding the existing emergency medical infrastructure with a network of fast and compact drones that have communication capabilities and can carry medical auxiliary equipment. 'The costs should not be an issue; I have calculated these at approximately €15,000 per drone, which is clearly a reasonable amount if you consider the number of lives that could be saved.'
'There are still a number of obstacles in the way of the development of the ambulance drone,' says Momont. The drone can fly autonomously, however, this is still not permitted by law. New Dutch legislation in this area is expected to be passed in 2015. Moreover, the drone has not yet been tested on 'real' patients, and the object avoidance system for avoiding obstacles in the drone's path needs improvement. But Momont still thinks his invention could be implemented within five years. A number of parties in the medical sector have already registered their interest in the project.
Momont developed the ambulance drone in collaboration with the Belgian innovation platform Living Tomorrow, which helped to fund the project. The next steps towards the development and implementation of the prototype are presently being considered together with Ghent University Hospital and Ghent University, both partners in Living Tomorrow. Momont is also working together with the Amsterdam Ambulance Service.
We at Dronethusiast.com can only applaud this great initiative. We were also wondering how well this kind of project would do in a crowdfunding campaign on Kickstarter or Indiegogo. Maybe we just reach out to Alec and suggest that. Would you back a project like this yourself?
Summary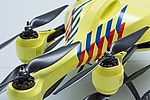 Article Name
Flying Drone Defibrillator Saves Lives
Description
Alec Momont of TU Delft's Faculty of Industrial Design Engineering designed his prototype for an ambulance drone together with the Living Tomorrow innovation platform as part of his graduation programme.
Author
Other Interesting articles in "
News

"