Table of Contents
Quick Review: Click here to Jump to Top 3 List
Due to the nature of many businesses worldwide, the need for a heavy lift quadcopter is fairly common. In just the arena of photography alone, UAVs that can lift high payload items are sought after, as not every single element of modern technology has yet been shrunk to the size (or weight) of loose change.
In the field of movie-making, units such as the Dji Phantom 4 and Matrice are very useful tools: sweeping landscapes such as canyons and the cities full of skyscrapers are captured in sweeping 4k glory. Many amateur and professional video pros alike quickly found that they may want more than just a Go Pro at their disposal, and this is where a heavy lift UAV can come in handy.
Search and rescue is another function that drones have been a part of for some time now, and will be even more of an integral part of in the very near future. Imagine being on an army, recon, or Peace Corps related mission, and all of a sudden desperately needing an antidote, or other form of life-saving medicine.
Drones will be able to navigate through areas such as thick jungles, raging rivers, and places where there may be wars raging, rendering them quite dangerous for travel. Being able to navigate with a very high payload makes this task immediately easier, because some of these goods may be heavier than the average load any commercial drone can carry.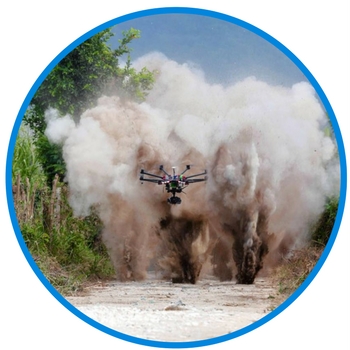 Many pilots have applauded the new Dji Mavic, that can fold up to be very portable, and it has become very widely-used for those who love to capture great footage. But this is simply not a large camera drone that can heavy a higher-than-average weight range, and was not designed with the delivery of goods in mind, rather the intake of stellar video footage.
As the weight that is carried increases, the flight time due to battery charge goes down, but this can play out to be a very necessary evil. Many pilots have discovered that when you are looking to capture epic footage, you can do a lot within a 13-minute window, but we all would love to have the same 27-minute flight time that any heavy lift quadcopter would have minus the extra weight in tow.
Many heavy lift drones are powered by gasoline instead of electricity. We have a separate article on this topic.
QUICK OVERVIEW: THE BEST HEAVY LIFT DRONES
#1 Heavy Lift Drone
Freefly Systems ALTA UAV
Payload: 18 KG
Time: 35 Minutes

Heavy Payload Lifter
AZ 4K UHD
Payload: 20 KG
Time: 20 Minutes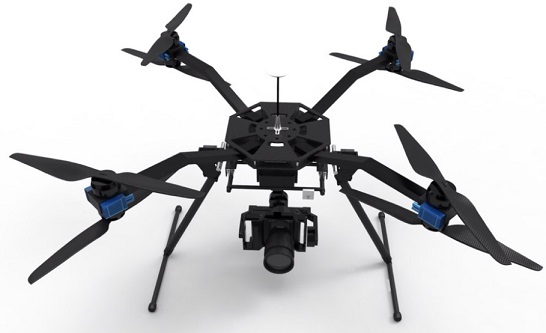 Professional Hexacopter
DJI Spreading Wings S900
Payload: 8.2 KG
Time: 18 Minutes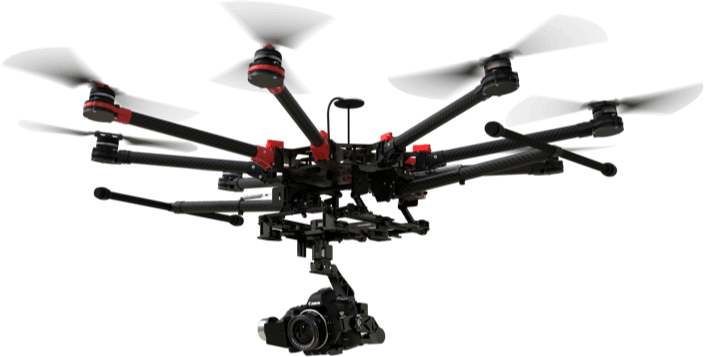 FAQS Regarding High Payload Drones
What does heavy lift drone mean?
Many of the drones that have become very popular among pilots who are gleaning footage and out there for recreation can carry anywhere from 2-4 lbs as a payload. Once you are getting into the "heavy lift" category, you are by most standards looking at something over 10 lbs. Some of the best consumer-level heavy lift drones carry above 40 lbs, and Norwegian company Griff Aviation has recently introduced a drone that can carry over 400 lbs!
How much weight can a drone carry?
A popular and frequently-used drone such as the Dji Phantom 4 can carry 1.02 lbs as a safe, and everyday payload. While this does not seem like much, the primary use for the Phantom 4 is image capturing, and that technology does not weigh as much. Some other drones such as the Alta 8 can carry up to 15 lbs, which naturally renders it a bit more in the "aerial dolly" or "lugging" department.
How long can drones fly?
For a standard consumer drone, the flight time has been stuck at about 25-27 minutes for quite some time now. If you purchase a large quadcopter or or heavy payload UAV, that flight time for the most part is sliced in half, but you are able to accomplish much more as far as hauling goods or machinery.
What does take off weight mean?
Take off weight refers to the heaviest weight at which the aircraft has been shown to handle all of the airworthiness requirements applicable to its flight. This is always an element to be aware of, because it will greatly affect how your craft handles in wind, how long the battery life will be, and has influence on its overall sturdiness.

Here are some of the heavy lift drones that we deemed worthy enough to feature, and some pros and cons that they all possess. We will break down elements of each one that will help you decide if it's the one for you or your company, and better help you understand just what a high payload drone can accomplish.
You may be looking to carry a camera on top of the frame, explore new realms with objects to deliver, or simply want something that you know will be "good for the haul"; check out this list and you'll be up to speed on everything.
Heavy Lift Quadcopter Reviews
The Freefly Systems ALTA UAV
Read Reviews About ALTA UAV
Back To Top
This is truly the go-to for many who are out there needing a very dependable, easy to carry yet uncompromising racehorse sturdy enough to carry up to 15-pound payloads. Guided by the world-renowned SYNAPSE flight controller, you can fly it with RED, ARRI, and other professional cameras, and the control range is around 1 mile.
With this device you can capture 4k video, and definitely need to register it with the FAA right away. Reviews before this have compared it to "A device like the Phantom 4 but times 2", and that is why it comes with such a high price tag. You can dial in a camera shot unbelievably specifically with this drone, and it is just one of those pieces of technology that is very superior… for the time being!
Here are some specs regarding the Alta UAV, so you can make a decision about if it's the right one for you.
– Very fast setup, you can unpack and shoot within five minutes
– A drone that is optimized for up to 15 lb payloads
– With this drone, you have the option for either Sky View or Ground View: camera safely mounts on top or bottom
– Frame is constructed of carbon fiber for overall lightweight feel, made in the USA
– Ingenious SYNAPSE flight controller is a complex and well-engineered control system that allows pilots to have a very thorough range of motion for their shots
– Item weight: 41.7 lbs


Click To Shop or Read Reviews
AZ 4K UHD Camera Drone Green Bee 1200
Read Reviews About ALTA UAV
Back To Top
This is a very trusty-looking heavy payload lifter on the market; the first thing that you notice about this one is that it kind of looks like a double tripod. For a drone that can haul up to 44 lbs, there is not as much of a hulky body as one would think. Here is a video that shows you some pretty spectacular footage that was captured by this large quadcopter:

The flight time is around 20 minutes, and the charging time is 2-4 hours. This is understandable, because this drone definitely has the ability to lug around some serious weight. The Alta UAV has perhaps a bit more of a track record in performance: it is a little difficult to find information about the specifics on this drone, but it does what you need it to as far as what one would expect from a heavy payload quadcopter.

Here are some vital stats on the AZ 4K Green Bee: this would probably be a good purchase for anyone with a need to haul heavy items, or capture high-quality footage with a reliable craft.
• Drone has an overly large frame for 4K UHD Camera use
• Stability has increased by over 30% by changing the elements for the center of mass
• Arms made from strong duralumin assure stability of the drone, and safety of camera
• Design team paid special attention to flaws after a few test runs, and vast improvements have been made.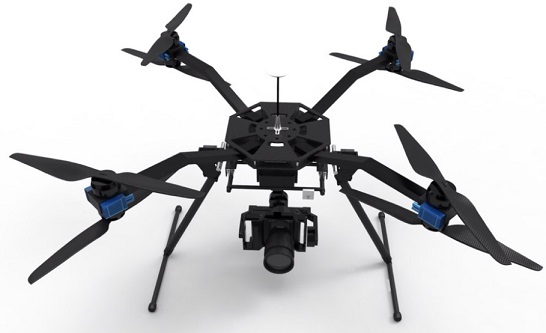 Click To Shop or Read Reviews
Dji Spreading Wings S900 Professional Hexacopter
Read Reviews About ALTA UAV
Back To Top
An entry that is far and above going to be the pick for many as far as a heavy lift octocopter. This is Dji's solution for the task of providing the very powerful technology that Dji is so well known for, and incorporating it into a very lightweight and easy to handle heavy payload drone.
This wonderful piece of work is equipped with six of Dji's most advanced motors, and the arms made of carbon fiber were one of the main elements used to give the craft a lighter weight. The center board on the drone is completely rebuilt, to make it more accessible for the pilot.
Some pilots would balk at the fact that the best use of this drone is by incorporating the camera that comes with it: modifying this equipment is simply not going to get you very far. The thing to keep in mind is that after watching any of the videos you can find out there that depict the footage you can capture, you're going to be just fine using what's offered, unless you happen to work for one of the most major motion-picture producers in the world. In that case, you still may be OK, because this is a very sleek and well-put together machine.
Here are some stats for the Spreading Wings 900 Hexacopter: mulling these over may just talk you into getting one of these awesome heavy lift drones for yourself.
• This version bundles the S900 air frame with the A2 flight controller, and your choice of Z15 Gimbals
• Longer flights result from construction with lightweight materials such as carbon fiber
• Very improved motors make for a more reliable flight, and short circuits can be prevented as well
• The power distribution system has undergone massive improvements: and no cables will come loose during flight
• The way in which the landing gear retracts helps make every great shot you are planning possible
• Item weight is 18 pounds
• Bundle comes with A2 flight controller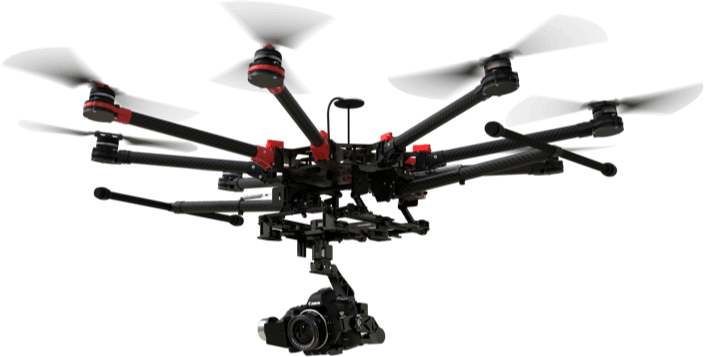 Click To Shop or Read Reviews
Vulcan UAV Black Widow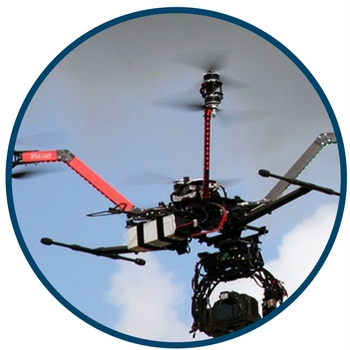 This very tough and durable large quadcopter that is rated highly for aerial photography, surveying, and inspection. This unit is constructed with a coaxial X8 configuration, and is known to give very good performance in wind, with as solid and durable a frame as they come.
This great example of a heavy lift UAV, many professionals who have flown it claim that it is in the most durable category, and that the spare parts are very affordable. The Mantis arms can only support 16" props on this crafted-in-the-UK powerhouse, and some users have commented that they would like to see 18" Mantis arms. Professionals involved in structural inspection will be basically thrilled: this is an awesome machine.
Here are some stats on the Black Widow that could help you with your decision: this company that may be considered lesser-known in some circles is going to really make more waves in the near future.
• Frame Diameter: 900mm
• Has brand new quick release silicon gel anti-vibration system that allows payload and landing gear to be rapidly removed if needed
• Runs with 8 4014 380Kv motors
• Has 250A Power Distribution Board
• Multiframe concept is one of simplicity and flexibility, ideal for photography and other commercial apps
• Landing legs come in 178 mm or high clearance 304 mm for use with professional camera mounts
• Legs can also be fitted anywhere on any arm to allow best combo of clear camera view, stability on landing, and balance in the air
• Adjustable rear battery tray
• S800 fixed landing gear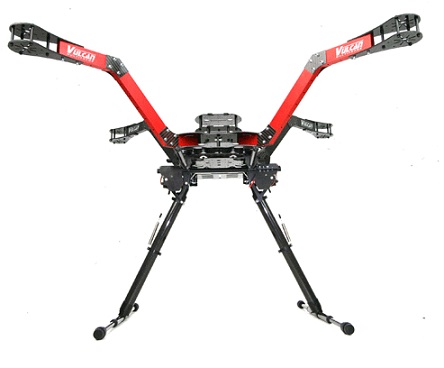 Versadrones Heavy Lift Octocopter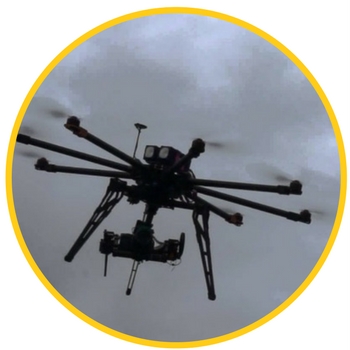 For the most part the largest there is from this manufacturer, this is absolutely one pretty amazing heavy lift drone that boasts a payload capacity of 12 kg, or just over 26 pounds. You can fly at around 44 MPH, and at a maximum altitude of 6500 ft. One of the things that creatives and heavy-duty professionals are going to love about this one is that there is room for customization in the camera realm: you aren't stuck with stock-issued lens and gimbal.
This very versatile machine is equipped with a 3-axis gimbal, and some of the best footage available is gleaned while a pilot flies the rig, and another operator controls the camera. The appearance of this very productive monster is a bit complex and hulking, but it has to be: pilots will still greatly appreciate the advanced flight controller with GPS-assisted flight. Of course you get many other standout features such as automatic return to base, and semi-automatic take off.
Some good choices for camera use in conjunction with this are the Canon 5D, the Canon 1DC, the Sony FS700, and the RED Epic. Here are some stats on this more-than-sturdy heavy payload uav, to help make your decision about purchase in the long run.
Tech Specifications about the Versadrones Heavy Lift Octocopter
• Has removable arms for easy storage and transport
• Dual controller for camera operator and pilot for ultimate control
• Stabilized 3-axis camera gimbal for the essence of getting the perfect shot
• Has very advanced flight controller with GPS-assisted flight
• Features such as Automatic return to base assure that help with tracking and location assurance
• Has 15" carbon fiber props
• AV downlink with LCD screen
• High-quality flight transmitter
• Lithium polymer flight batteries
• Optional upgrades include:
1.FVP Goggles
2.Full waypointing capability
3.Ipad Control
4.Custom flight cases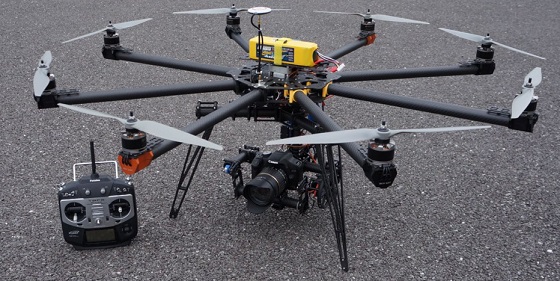 When looking for a heavy lift quadcopter, you may balk at a few elements of the decision. Do you want to go with a trusted brand such as Dji? If you do, you may be very happy with the outcome, and satisfied with the support, construction and durability. But if you are a fan of using many different cameras to get the footage you crave, you simply may not want to take that route.
These devices all for the most part capture video in the highest of standards possible, and all have their unique pros and cons. The Black Widow simply has one of the most durable frames in the business: this feature alone may sell many on it who are looking for a law enforcement tool, or something plausible to use for search and rescue operations.
The Alta UAV is trusted by many because of its sheer durability, and this was one that really caught our personal eye over the Green Bee 1200. It just seemed to have a few more established professionals using it, and looked like it could get ready to roll a bit quicker right out of the packing case.
Versadones looks to offer a pretty stellar product with their octocopter: anyone who even thinks about attempting to fly in a bit of nasty weather would probably want to consider this for their choice of heavy lift UAV. DJI's model in this category is definitely viable: it will appeal to someone who wants to haul a bit more than the usual drone, and simply doesn't have the need or desire to experiment with different camera types.
Since it still captures 4k video that looks stellar, the DJI Spreading Wings S900 could be the first choice of many out there looking for a tool that will handle a heavier load. We are interested and very enthusiastic to see the manufacturers from the UK and Ireland keeping up rather snugly, and adding their quality contributions to the mix of drones that can lift a bit more luggage on their way on up to the skies.
Additional Resources