Making Money with Drones: 10 Ways to Make Profit

Drone piloting wasn't meant just to be a hobby. Although it can be very fun and relaxing to fly around in circles all day, it's much more fun if you're getting paid to do it.
There are lots of different ways you can start earning money using your drone piloting skills. But first, become FAA certified, which is required for most commercial or freelance drone jobs.It's not always required for flying drones as a hobby; it depends on what state you live in.
You must be 13 years old or older to get this certificate.Other additional requirements may also vary by state and depend on what type of job you're going to be doing.
These are just 10 of the drone jobs you can easily make money doing:
1. Freelance Drone Pilot
Be a contracted freelance drone pilot for anyone that needs assistance with surveillance in areas that are hard to reach by foot. There are all sorts of needs for this, and sometimes small items may need to be carried by your drone as well.
2. Aerial Photography
Use a camera drone to take pictures for real estate agents, business owners or for websites who are looking for unique pictures for their homepage or blog. The type of pictures you take will vary depending on what the client wants. Some, such as real estate agents, will pay you to get an over-the-top view of a house or a large property so that their buyers will be able to see the whole thing at once in a picture. This type of job can only be done by a drone, so it is in high demand.
3. Buy, Fix and Resell Used Drones
Flying drones has become a very popular sport, hobby, and job that a lot of people have invested in. There will always be people looking for someone who can do drone repairs or for cheaply priced drone parts to make repairs themselves. What you can do is buy broken drones off people who don't wish to make repairs. You can then either disassemble it for the parts which you can sell or repair the entire drone and resell it for a profit. 
4. Get a Search and Rescue Permit
When environmental disasters happen, help is needed for finding missing persons or animals. You can help by flying a drone over the affected area to sweep for any signs of life. Most of the time this is on a volunteer basis, but if the search team desperately needs help finding something or someone specific, they will be willing to pay for the help. To do this job, you would need to get a search and rescue permit.
5. Agricultural Inspections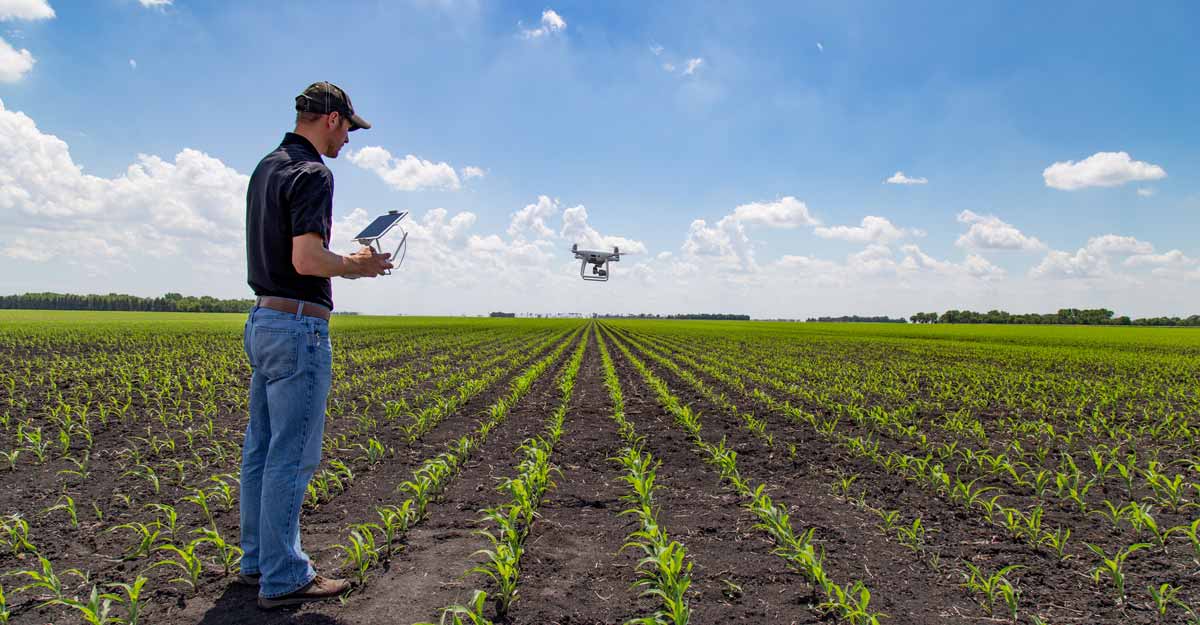 Farmers are always looking for new ways to improve their crops since it is their lifeline. There is new technology you can use to scan a farmer's fields. This involves using your drone to do an entire back and forth sweep of the crop field and then after inputting the data into software like DroneDeploy you get a detailed analysis of the areas that crop is in distress.
It shows you a visual map of these areas and exactly how big they are. The farmer can then use that map and information to adjust his or her land maintenance and/or how much each section of land is being watered or fertilized.
6. Drone Racing
Make up to $100,000 as a sponsored drone racer. This sport takes a vast knowledge of drones and tons of skill flying them. Some races get to as fast as 60mph. There are a lot of people that do drone racing, and there's even a drone racing league that you can join. Pilots from all over the world participate.
7. Wedding Photographer
This is another job using aerial photography. Use your drone to take pictures of an outdoor wedding or for uniquely angled shots. Some brides decide to have a wedding photographer alongside an aerial photographer so that they have lots of different types of pictures to keep for memory, and for showing off. Make a business card and give it out to bridal shops and post an ad online so that brides-to-be may come across it and give you a call.
8. Videographer
As well as aerial photography, aerial videography is a highly desired job to have. Whether it's for weddings, large corporate events, concerts, real estate agents or any other event, there is a strong want for amazing and immersive videos. It's a highly profitable industry to get into, and you may even become known for the videos that you create.
9. Inspecting Power Lines or Pipeline
Be a contracted drone inspector for long-distance power lines or pipelines that need a general inspection. It saves the company tons of time and money to pay you rather than someone else because it's a lot faster to use a drone than it is to walk or climb all the way along a long pipeline or powerline.
10. UAV/Drone Operator for the US Army
When you join, the army will train you to operate and fly a drone to wherever it is they need surveillance. The drones they use are much harder to fly than basic aerial photography drones, so it definitely requires full-on training. This is a much more serious job and is full-time compared to other freelance drone flying jobs.
Benefits of Using Your Drone to Make Money
Being a drone pilot is definitely beneficial in a lot of ways because it can help you earn a profit, but it can also be just a fun job to have. These are all the types of jobs that allow you to be outside and socializing with people while you work. You can also create your own hours, based on the type of jobs you get. If you need more experience and knowledge, you can consider drone training.
The kind of job and other drone business ideas you want to be doing the majority of the time will determine the type of drone and drone technology you should get. Photography and videography jobs will require you to get an aerial photography drone with a high-resolution camera. For other jobs and drone applications, like for inspections, you will need a more durable and wind-resistant drone such as a hexacopter.
Other Interesting articles in "
Awesome Drone Tricks & Tips to Maximize Your Enjoyment

"