Parrot's Anafi Introduces FPV Through Your Phone

Parrot's newest drone is set to hit the market soon, and it looks to set a new standard for immersion when it comes to affordable FPV drones. The Anafi FPV is their latest iteration on their flagship model, and comes with a headset that is set to offer first person views. The FPV in the name is familiar to most people in the drone hobby (First Person View), and that's what this drone is all about. While there are other first person systems on the market, Parrot has gone about adding this functionality in a unique way.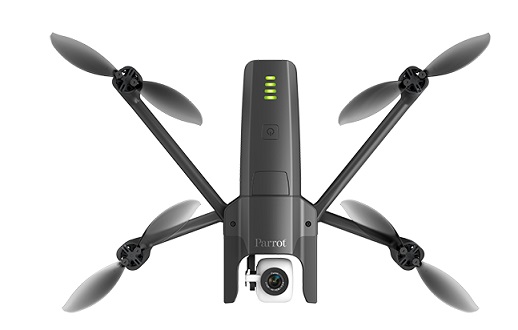 What's interesting about the Anafi FPV is the headset doesn't have a screen, but instead has a slot to hold a smartphone. This is similar to popular VR products like Google Cardboard, and fits phones up to 6.5" giving it a decent range of supported devices. While this means that the display is likely not going to be as good as a dedicated screen would be, it does provide a good experience at a reduced cost. Parrot is likely betting on a lower price point to sway consumers. At only $799, it's a fair bit cheaper than a lot of other competing first person view drone systems, and is a good place to enter the market.
With the addition of the first person view, Parrot is also introducing some new flight modes to provide a better flight experience. The first is cinematic mode, which is described as taking "smooth and dramatic" footage. It does so by locking the horizontal axis of the camera to the tilt of the drone. This gives it that very fluid feeling, and promises to provide some very cool shots.
The other new flight mode is racing. This mode too locks the camera to the tilt of the drone, but is meant for filming at higher speeds. The footage is this mode is described as being more "aggressive" and Parrot released a launch video demonstrating how this might look when enabled. These two new flight modes add a lot of potential to the drone, and add on to the existing modes the Anafi has.
With the drone you also get a lot of standards; a headset, controller, battery, a spare set of propellers, a 16GB MicroSD card, and a USB-C cable. In addition, you also get a handy traveling backup which doubles as a launching platform.
In terms of the drone itself, most of it remains unchanged. It still features a camera that shoots 4K video and 21-megapixel images, and folds up easily for transportation. In terms of speed, it can reach top speeds of up to 34 MPH, boasts a range of 2+ miles, and has a flight time of 26 minutes on a single charge. As noted, most of this is unchanged, the real add-on here is the improved first person view mode.
At this price point, the Anafi FPV is an interesting drone that serves as a good entry to first person systems. While it certainly isn't as high quality as some of the dedicated, more expensive systems, the features on display here are enough to get started with.
Parrot has a long way to go in unseating DJI as the leader in consumer drones, but it's certainly a good start. In the past, Parrot was known more as a toy drone, so it's nice to see them improving and pushing out new, more serious drones. This is certainly one company to keep an eye on, and as they continue to make improvements in years to come.