Parrot's New Foldable Drone Has HDR Capabilities

Now that the Parrot Anafi has been officially released, you can read our full review of the drone here.
Parrot announced their newest drone in their lineup yesterday during a press conference that took place in New York. Because Parrot hasn't had a release in a while, this news has everyone, including us at Dronethusiast, on the edge of their seats. The Anafa is a foldable, compact drone that weighs as little as 0.7 pounds, or 320 grams.
Parrot commented on the Anafi, mentioning that this is a big step forward from their last drone release, the Bebop 2. The amount of improvements that have been made in the past two years since the release of the Bebop 2 include an upgraded camera and an improved connection system.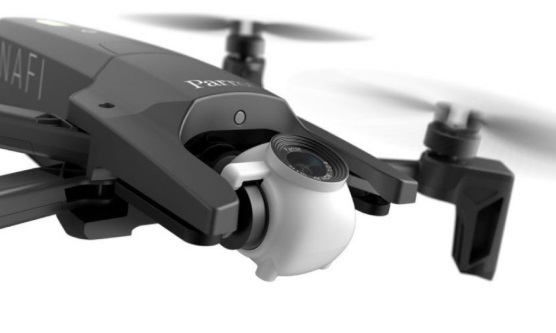 The Anafi includes a 21 MP camera, a 180-degree gimbal tilt, 4K HDR video at 30 FPS and 1080p HDR video at 60 FPS. Parrot has also mentioned that the Anafi will be able to zoom in up to 3 times, but that full HD shots will only be able to be made at up to 2 zooms. The camera itself is able to both digitally and mechanically stabilize all captured photos, too!
The Anafi uses a 3-axis gimbal stabilization system with, as we just mentioned, 180 degrees of tilt. This means that the drone is not only able to look down, but it's also able to look straight up into the air. This allows for a much broader range of user freedom when it comes to getting the best shots possible, allowing for footage in the best directions.
Not only will we be getting the new Anafi, but we will also be getting a new application, as well. The new FreeFlight 6 app will allow users to select 21 MP or 12 MP photos, as well as being able to adjust their video modes. One such video mode is hyper-lapse, which allows for speed footage at a rate of up to 240 times, slow-mo video, and even a high frame rate mode that allows users to film at a rate of up to 60 FPS.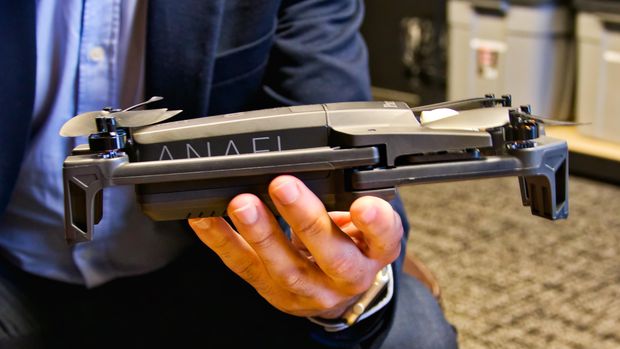 The FreeFlight 6 app is available for both iOS and Android systems, which connects your phone to the Anafi controller using a USB-A cable. Parrot has backed this type of connection because it improves the connection with the drone and allows for constant video streaming.
Though this is an arguable opinion, it would seem from everything we've seen from Parrot before, they are now getting down to business and creating more professional drones for their lineup, which is proven by the Anafi. Though their previous drones have seemed to be more toyish, the Anafi is bringing aerial photography and videography to an entirely new level, which is made better by the fact that it's a foldable drone.
Compared to the Bebop 2, the Anafi is 35% more quiet and, as we mentioned, more technical and has excessive improvements made. While the Bebop 2 had issues connecting at times, Parrot is confident that the Anafi will have no trouble remaining connected at all times. Gone are the days where your signal is lost!
Because the Anafi has a total of 4 antennas, each on the feet of the drone, as well as to the physical controller, maintaining a WiFi connection will be no trouble at all. What's more, it also has a maximum transmission range of up to 2.4 miles and is able to switch between 2.4GHz, 5GHz, and even 10MHz bandwidths without you having to switch them. That's right, the Anafi does it automatically.
Finally, the Anafi has been designed to use a wide variety of thoughtful design elements. 3D mapping software and the launch from your hand function are two prime examples of how much Parrot has put into their new drone.
At this time of writing, Parrot has announced that the Anafi will be available starting July 1st and will cost around $700.
Camera aside, the Anafi comes with a number of beneficial features, such as following the user and enabling photos taken using technology that deals in body recognition. This means that the Anafi is also a selfie done!
The Anafi, on a single charge, has a maximum battery life of up to 25 minutes, which is charged using a USB-C, capable of fast charging. The smart battery used with the drone is able to detect when it's running low and give the user a warning before it runs out. It can reach speeds of up to 32 MPH when in Sport Mode, and has a resistance to wind at up to an impressive 33 MPH.
Other Interesting articles in "
News

"