A Galaxy Chock Full of Choices: The many drones of Star Wars

Updated: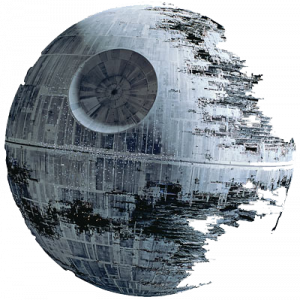 A long time ago, in a galaxy far, far away, a little sci-fi film whose studio assumed it would fail instead changed two worlds at once: the world of cinema and the world of toy merchandise. The Millennium Falcon, Death Star, X-Wing Fighters, Land speeders, and AT-AT walkers were some of the coolest and most well-crafted toys ever, and we never could have imagined that 30 years later we'd have something even cooler: Star Wars drones.
Fans may have mixed opinions on the newest Star Wars films – personally, I think everything but Solo has been fantastic, but feel free to debate that in the comments. But no matter what you think of Disney's take on the movies, you can't deny that their new toy lines have been superb. From the Black Series of action figures to the way they've embraced new collectible models from Funko and others, Star Wars licensed merchandise is great for kids and adults alike. But nothing can compare to the thrill of flying and battling your very own remote-controlled starfighters, and these are 7 of the best options for sale.
Best Individual Star Wars Drones
There's two main classes of Star Wars drones. The first is exactly what you'd expect – faithful recreations of the legendary Star Wars starships that come individually with their own controllers and everything you need to fly them right out of the box. The second are the Star Wars battle drone sets, where you get two or more drone vehicles and can recreate some of the movies' dogfight scenes (or even stage new battles of your own!) We'll start with the first category.

Air Hogs Star Wars Remote Control Millennium Falcon XL Flying Drone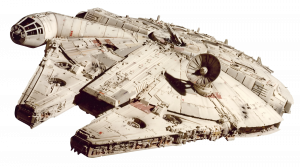 Just in time for Solo, you can own and fly the remote control classic that for many movie viewers was the vehicle that stole the show. There's a few different Millenium Falcon drones, but the Air Hogs model gets high marks from hobbyists for its detail – Han Solo and Chewbacca can be seen right inside the cockpit, and there are some really cool sound effects. From a technical side of things, this drone is much larger than you might expect, although it requires minimal assembly, and the 6-axis gyro can be used to pilot the drone up to 250 ft. away. Luke might have thought the Falcon was a piece of junk, but we promise you won't feel the same about this drone.
Features and specs:
Designed for ages 14 and up
27" x 20"
250 foot control range
6-axis gyro
Movie-accurate design and sounds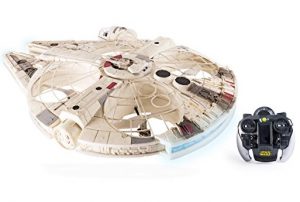 Click To Shop or Read Reviews
T-65 X-Wing Starfighter Quadcopter Star Wars Propel Drone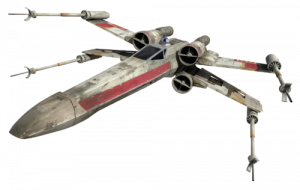 The X-Wing is the workhorse fighter of the Rebel Alliance and the later Resistance – the front line in the fight against the dark side of the Force. This is a fun drone in the larger category that has reverse propulsion design, and can reach speeds up to 35mph. Pilots will love the feature that allows it to do barrel rolls at the push of a button, and does not require FAA registration before hitting the skies.
This one has auto takeoff and landing features, and will offer many hours of fun for any pilot. There are a lot of Propel Star Wars drones, and they have a strong reputation for quality, so get used to seeing that brand name on this list.
Features and specs:
Designed for ages 14 and up
7.5" x 2.2" x 13.2"
Altitude stabilization for easy piloting
Reverse propulsion designs
Can battle with up to 12 other Propel Star Wars drones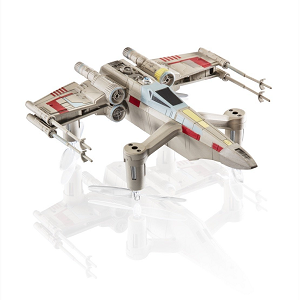 Click To Shop or Read Reviews
TIE Advanced X1 Starfighter Star Wars Propel Drone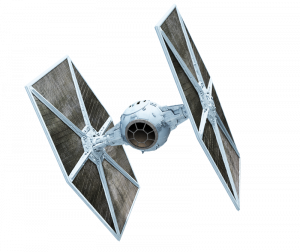 All the TIE Fighters are cool, but the TIE Advanced X1 Starfighter is the preferred vessel of the evil Darth Vader, which makes it extra cool. This drone reaches speeds up to 35 MPH, and spare blades are included. You can battle with up to 12 other quads at once, and there is a safer-to-fly beginner mode that you can use during learning. Trim control, auto calibration, and authentic movie sound playback all make this quad extra awesome, and the collector box includes a USB charging cable.
Features and specs:
Designed for ages 14 and up
6.5" x 3.2" x 13.2"
Training mode makes this model ideal for beginner pilots
Companion App for Android and iOS lets you host and create virtual battle events
Can battle with up to 12 other Propel Star Wars drones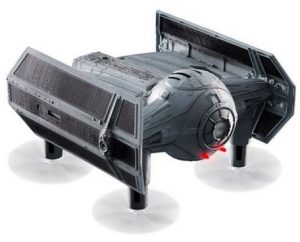 Click To Shop or Read Reviews
5. Star Wars 74-Z Speeder Bike Quadcopter Drone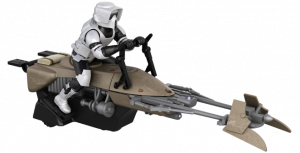 Okay, you guys are probably tired of the Propel Star Wars drones at this point, but c'mon – how can you not include the speeder bike? These 74-Z models will be instantly familiar to anyone who saw 1983's Return of the Jedi and watched Luke and Leia chase the Imperials through the trees of Endor as part of their secret mission to destroy the second Death Star.
This drone has 3 difficulty levels for optimum learning, and the pilot can maneuver into sidewinder barrel rolls with just the push of a button. Those who are fans of other futuristic action models such as the lightcycle from "Tron" will enjoy owning a speeder bike for a drone: even though they are not outer-space vessels such as the X-wing drone, they still have a high "wow" factor as we remember them careening wildly through the trees.
Features and specs:
Designed for ages 14 and up
7.6" x 4.3" x 13.2"
Can fly high in the air, unlike the movie version
Can perform sidewinder barrel rolls with the push of a button
Can battle with up to 12 other Propel Star Wars drones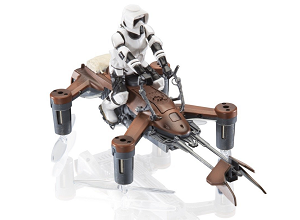 Click To Shop or Read Reviews
Air Hog Star Wars Remote Control Star Destroyer Drone

This is the big one, folks.- the Star Destroyer drone you've been waiting for. Who could forget these mighty symbols of the Empire, first seen in the very first shot of the very first Star Wars film, the ultimate symbol of the powerful threat our heroes will have to defeat. This Star Destroyer drone has a 250-ft. range and a 2.4 GHz remote control. It contains a lithium ion battery-type, and pilots of all ages will love the vaguely PS4- Xbox style controller. The detailing is extra-awesome on this ship, and many will love playing a role from the darkside as their choice of pilot.
Features and specs:
Designed for ages 14 and up
18" x 12.4" x 4"
250 foot control range
Turns and flies well
Crash-resistant styrofoam construction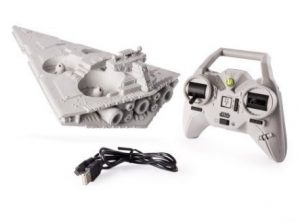 Click To Shop or Read Reviews
Best Star Wars Battle Drones
Let's face it, folks – "War" is right there in the title. It's fun to fly Star Wars drones on their own, especially if you're an older movie fan like me, but kids especially will want to play more actively and stage the drones in battles against each other. That's where these great Star Wars battling drone sets come in.

Air Hogs Rebel Assault X-Wing VS Drone Death Star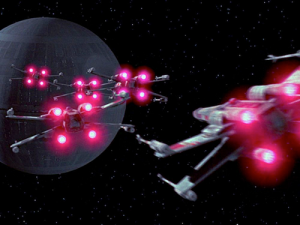 That's right, folks – the dream of a drone Death Star has finally been made real. In this set, you don't actually pilot the space station. Instead, it flies autonomously while you control an X-Wing and try to land three shots on it. It's a lot like the remote droid Luke trained with in the first movie – how cool is that!
The included drone has high-performance flight with gyro-stabilization, 4-channel control, and 2.4GHz communication for a 200 foot flight range. It also requires AA batteries. This vehicle and drone Death Star can even be paired with the X-Wing and Tie Fighter from the last set for an even more epic battle, and one of the best Star Wars battle drone experiences available for sale.
Features and specs:
Designed for ages 8 and up
Comes with one controller, one drone, and the autonomous flying Death Star
Battles with infrared light that the controller can track
High-performance flight
Movie accurate sounds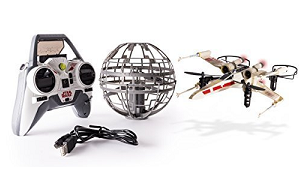 Click To Shop or Read Reviews
Millenium Falcon Vs. First Order Star Destroyer Micro Machines Battle Set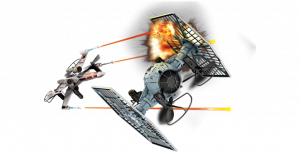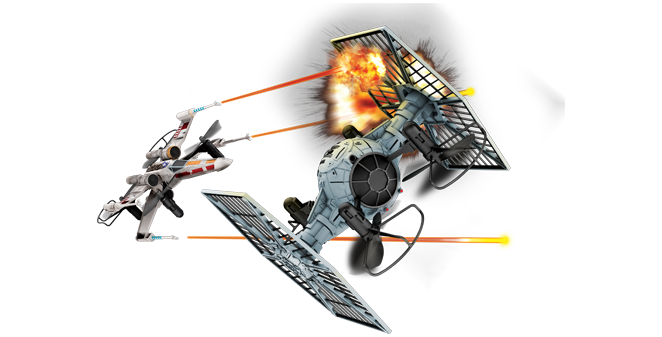 This is a pretty cool offering from the multitude of what's available out there from the new Star Wars product line. These Micro Machines brand drones are specifically designed for kids aged 4 and up – perfect for little girls or boys who are just getting into the world of Star Wars for the first time.
These Star Wars battle drones let you pit the Episode VII version of the Millenium Falcon against a miniaturized First Order Star Destroyer known as the Finalizer. You have to buy each drone seperately, but fortunately each only costs about $17, so you're still getting great value for the price.
Features and specs:
Designed for ages 4 and up
Comes with one controller and one drone
Battles with infrared light that the controller can track
Drives along the ground
Precise vehicle controls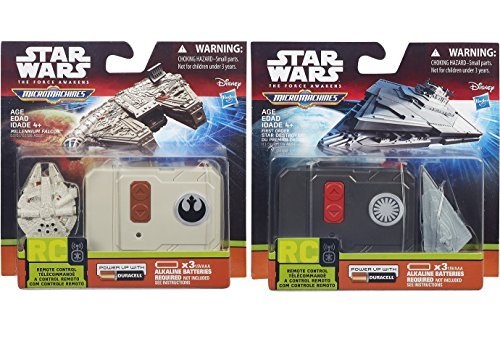 Click To Shop or Read Reviews
Conclusion
Many of the drones we have shown here have similarities, but for the most part, you are choosing from a large or more miniature-scaled Star Wars drone. The smaller versions of drones may be the most fun to use indoors, but the large-scale Millennium Falcon has gleaned many positive reviews and seems to have taken the cake nationally as far as what star pilots really want as their first choice.
If you're looking for the best beginner drones, there may be better choices, but even experienced pilots have to admit there's something awesome about flying one of these real-life Star Wars drones.