Star Wars Inspired Drone Race in the Forest
An amazing Star Wars inspired drone race took place recently at the forests surrounding Argonay, France. Remember the scene in Star Wars Episode VI "Return of the Jedi" with the "Speeder Bike" chase? This one:
The Race
Now an association of drone flying FPV (First Person View) and modeling enthusiasts called Airgonay decided to recreate that scene by organizing a preparatory run of a major drone race they plan to organize in the future. NoComp, the President of Airgonay hopes to invite all the best drone racing pilots to the event. What they did this time was a trial run of the race, but it was equally awesome, so we can't imagine how cool the full race will be. The chase took place in a specially designated area provided by the local city council in order to ensure safety. The circuit itself stretches a 150 meters (about 500 feet). Natural obstacles such as trees and branches challenge the pilots as the sudden changes in lighting conditions also make flying drones in these conditions quite an achievement. The starting line – also seen in the video – with yellow takeoff platforms and the quads starting from the create a very motor sport like style of action.
The Pilots
NoComp and his team managed to bring 24 pilots on board who controlled their aircraft solely based on the FPV feed beamed down to their goggles from an action camera placed on the front of their machines, as the drones were flying well out of sight. In the new line of competition they call "FPV Racing" participants compete in groups of 4 on a designated circuit marked with yellow signs in the forest.
The Drones
The multicopters these pilots are racing are much smaller in dimensions compared to the popular drones designed for hobby level aerial photo and videography such as the AR. Drone or the DJI Phantom 2 Vision+. The little birds mostly made in France called JPAY Spider and Porket Racer 240 and they represent the best balance between speed and maneuverability for this type of competition. They range between €149.00 and €189.00 ($ 190 to $240) in price, so they are a lot less costly if damaged the Phantoms for example. Of course the FPV equipment, transmitters and goggles such as the Fat Shark will cost you a pretty penny to put your hands on but most of them will not be damaged in a crash. The camera, usually a Mobius Action Mini Sports Cam is also ruggedized and costs much less than the GoPro putting only about an $85 dent in your wallet. These little fellas can fly in excess of 50 km per hour (30 mph) and the sound they make and you will hear in the video resemble those heard in a bike race.
The Challenge
The "NoComp Stadium Challenge" at the end was given to those pilots who managed to fly at least 3 laps on the course which is quite an achievement in itself. Not to mention doing it when four "lunatics" are chasing you ready to take over even at the price of pushing you out of the race. A guaranteed adrenaline rush even for spectators. We at Dronethusiast also envision that though RC races will surely not be televised any soon, but the fact that all participants have an onboard camera in their machines make it a very spectacular event definitely fit for online broadcasting.
As the final 5 contestants took off, crashes decimated the pool of pilots very soon grounding 3 of the multicopters controlled by the favorites. A competitor called "Felli" who was seen as an outsider actually won the race by demonstrating Jedi like reflexes and maneuvering. There were no significant incidents or damage during the race, only a few props got damaged which is "cost of business" in this field.
The Organizers
On our side, RESPECT with all caps to the Airgonay team for organizing such a great event. Even if this was just the dry run, we are sure you all agree that this is amazing so we personally can't wait for the real race to take place and we are sure that NoComp and his team will soon gain worldwide attention. A course race organized in a professional and safe manner with no incidents will also help to shed positive light on our hobby and not only crashes and irresponsible pilots will make top news.

So here you are finally. Watch and enjoy the video which is in French, but has subtitles (in case they don't turn on automatically, go to the video "Settings" on the bottom right corner to turn them on).

But hey, if you have read this article in full, you will not need to read the subtitles, just watch the video and let yourself be amazed. If you like it, check out our other race video about Legion Run.

Source: Airgonay, Herve Pellarin Youtube Channel  

Summary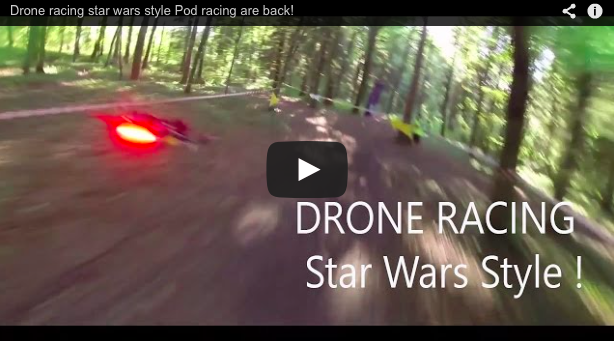 Article Name
Star Wars Inspired Drone Race - Dronethusiast
Description
Star Wars Inspired Drone Race. Airgonay decided to organize a preparatory run of a major Star Wars inspired drone race they plan to undertake in the future.
Author
Other Interesting articles in "
News

"