Tanky Launches 100mph Ready-to-Fly FPV Racer
Crowdfunding sites like Kickstarter and IndieGoGo are often a good barometer of what's coming next in the drone industry. Projects looking for backers can be indicative of the trends yet to come, and last week one in particular, from Tanky Drone, started to attract attention. The developers at Tanky have designed, tested, and perfected an FPV racing drone of the same name. But this isn't an ordinary racer. Unlike many of its competitors, it comes ready to fly straight out of the box, and can apparently reach speeds in excess of 100mph.
Drone racing is a lot of fun, a unique, adrenaline-inducing blur of virtual reality and real-life flying. But from the outside looking in, it can be pretty tough to get started. Many of the best pilots spend hours putting together a custom-built drone, while the ready-to-fly alternatives often sacrifice performance for the sake of simplicity. In a nutshell, that's the market that Tanky is targeting with its first quad: The would-be pilots who want to skip the DIY and the complexity and get behind the controls straight away.
"FPV drone racing is the sport of the 21st century. It combines the ultimate thrill of incredible speed with an amazing out of body experience. However, there are many barriers to entry into the FPV sport" said lead designer, Bogdan Ryabyshchuk. "Barriers such as a lack of good information for those who want to get into it, a steep learning curve for those who are not mechanically inclined or computer savvy, a myriad of choices for electronics, and the necessity to reflash and set up everything from scratch. We designed Tanky, the next generation of ready-to-race FPV drones, to address these problems."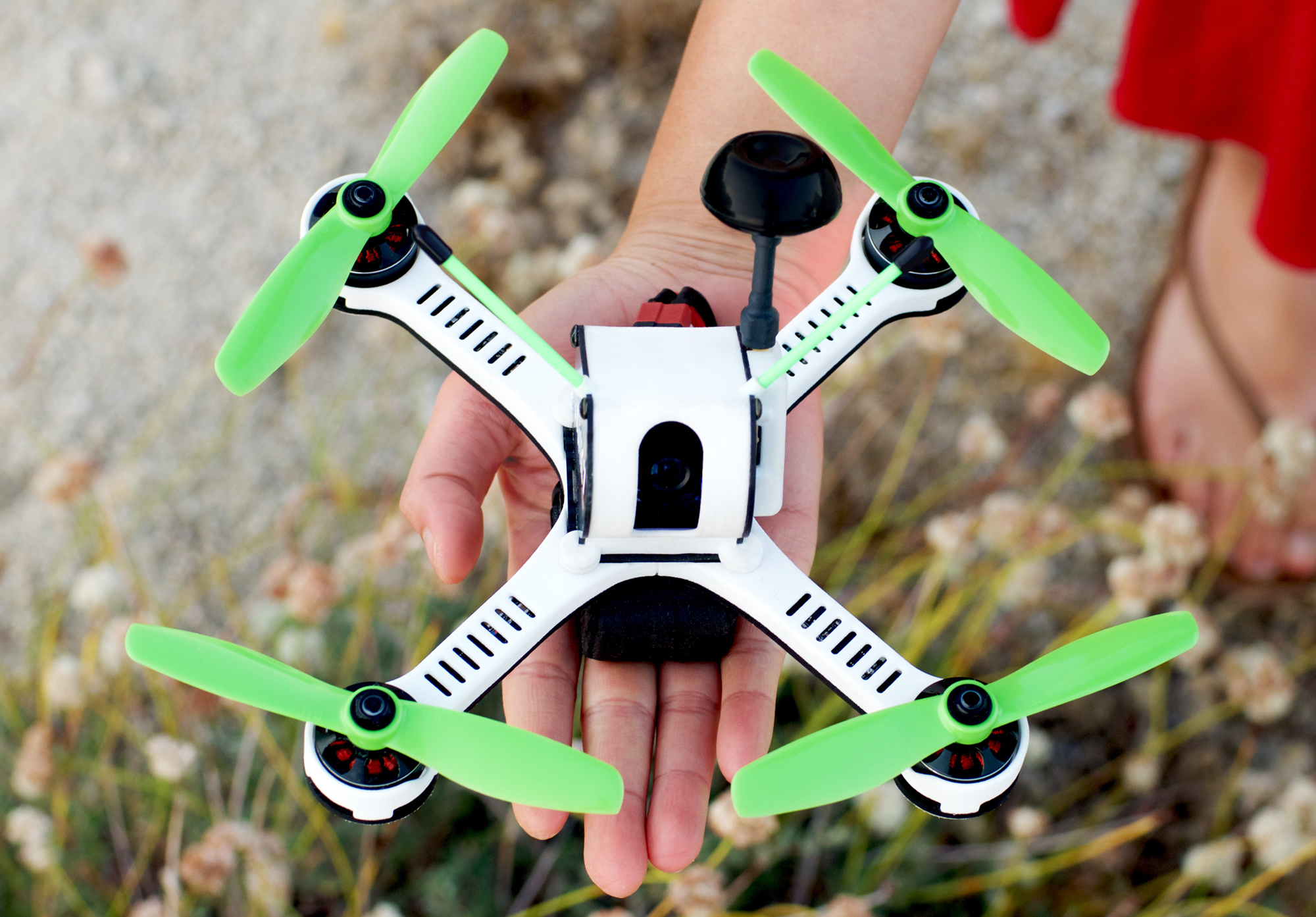 The Tanky Drone team are raising funds through a campaign on Kickstarter to help finish the development of its FPV racing quadcopter. The company has set out to raise $225,000 to finalize and produce the first batch of Tanky drones, and offer a number of features sure to attract current and prospective pilots into the sport.
The first of these features is an innovative tiltable camera. By letting the pilot remotely adjust the angle of the camera to keep the horizon in sight, Tanky offers superior visibility during high-speed racing, landing or just exploratory flying . In other racers the camera needs to be adjusted manually before a flight, which is far from ideal when courses vary and the purpose of your flight might change or require a different setting. With a tiltable camera, beginner and seasoned pilots can fly comfortably regardless of the speed at which they are flying at, and FPV pilots can finally land safely instead of crashing into the ground.
The second noticeable thing about Tanky is how much detail has been put into the design process to ensure that it's both lightweight and aerodynamic. Tanky's X-shaped frame, slim arms, and centralized mass allow the drone to reach its peak aerodynamic efficiency when it is pitched forward and flying at extreme speeds.
Third, Tanky's core components are shielded behind a skin of composite thermoplastic. Let's face it. When racing at high speeds crashes are a matter of when, not if.  This rugged outer should act as a strong barrier, and also comes in various colors.
Finally, arguably the most impressive thing about the Tanky drone is its speed. From the test footage, it's clear that this drone doesn't mess around. Its performance is responsive, nimble, and incredibly fast. The team claims that in testing it has reached speeds of more than 100mph.
Tanky comes ready-to-fly. "While the FPV drone-racing scene is dominated by custom-built race crafts, it should not have to," said Bogdan. "Motorsports drivers do not build their own vehicles to compete in races, so those interested in getting into FPV flying and racing, who do not have the time and know-how, should not have to either."
If you're interested in finding out more about the Tanky drone or want to get behind the team's project and become a backer, visit the Kickstarter page here. Early supporters can receive their own Tanky for under $500.
Other Interesting articles in "
FPV

"