Walgreens Targets Small Virginia Town For Drone Deliveries

A small town in Virginia will the site of the newest program to use drones for a delivery service. The town of Christiansburg Virginia is the site of program which is being put on by a partnership between Walgreens, the Aviation Tech company Wing, and Fedex. Through it residents will be able to have all their essentials from the drugstore as well as other items from local shops delivered directly to their doors in a matter of minutes.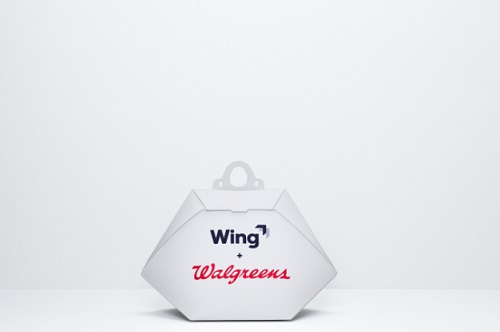 The program will initially launch with over 100 products available, including many popular medical products like cold and flu medication. They also plan to offer specialty "packs" in certain categories like snacks or pain relief.
Walgreens might not seem like the first company you think of when talking about drone delivery, but from a business standpoint it makes sense. According to Vish Sankaran, chief innovation officer at Walgreens Boots Alliance, Inc, "approximately 78 percent of the U.S. population living within five miles of a Walgreens store…". That's a very sizeable part of the population, and puts them in a great position to benefit from the advancement of drone delivery technology. Having drones operating out of each store would give them a huge advantage over their competition for the convenience factor alone.
This also looks to be a smart move for a drugstore, as many of the products they sell are for people who probably don't really want to be leaving the house. Imagine having a bad flu and needing medication, but instead of having to drive to the store a drone delivers it shorty after ordering. Drone delivery technology looks to be a smart move for consumers as well as business.
Walgreen's partner, Wing, has also been involved with other businesses in the area. The local business Sugar Magnolia has also been working with Wing in order to provide delivery services with drones. This is interesting as Sugar Magnolia is not a huge, household name company, but a smaller on likely only known in the area. This shows that drone delivery technology is advancing to the point that even smaller businesses are able to get involved.
Looking at Wing, we see they've been busy for the last couple years building up to this. They've built out speciality drone and navigation software to achieve their goal of making delivery, quicker, easier, and cheaper. Backed by Alphabet, the company is in good hands and looks poised to continue their research and development towards their goals.
In terms of customer logistics, everything is controlled through their app. Customers simply make a few taps to select their products, and a drone is dispatched to pick up the products and then deliver to the customer. It really couldn't be easier, and promises to be the most convenient way to shop if adopted on a larger scale.
The city of Christiansburg itself was chosen due to its proximity to Virginia Tech. Virginia Tech has already been in collaboration with Wing for over 3 years as part of a Department of Transportation pilot integration program. If all goes well, though, the obvious next step is to expand to other markets. Hopefully, some larger cities will begin to see the service in the next few years, although there are a myriad of legal issues in terms of drone operation that need to be settled first.
While completely autonomous delivery is still likely a few years off, it's exciting to see the advancements in the field. With lots of big players looking to make it a reality, the future looks bright for delivery drones. Let's hope that business keep looking to fund these types of projects, and hopefully one day soon your next package might be delivered by drone.