DJI Announces New Smart Controller For Mavic 2

Well, how about that. Mere hours after we reported on Drone DJ's story that we wouldn't see the long-fabled Mavic 2 pro controller at CES 2019, DJI announces that very item. We work on the facts we have at time, folks…although I'm sure none of our readers are disappointed by this surprise announcement.
The DJI Smart Controller is a $650 R/C controller fitted with a 5.5-inch 1080p touchscreen that runs on the Android operating system. The company says that it is "designed to maximize your outdoor flying experience with the Mavic 2 or other aircraft equipped with OcuSync 2.0."
OcuSync is the transmission system that communicates between DJI drones and controllers – the Mavic 2 Pro and Zoom editions are currently the only models equipped with version 2.0, although the wording of this description certainly suggests we'll see more drones with the technology in the future.
At any rate, the main focus of the Smart Controller itself seems to be maximizing usability in harsher outdoor conditions. Its first selling point on the DJI website is an Ultra-Bright display (1,000 cd/m2) that's supposed to make your FPV live feed easier to see when working in direct sunlight.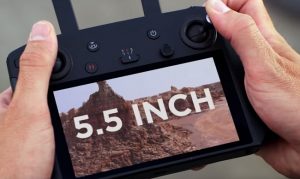 Since the transmission itself is powered by the aforementioned OcuSync 2.0, it should stream faster and more clearly than other FPV controllers and supports automatic switching between 2.4 GHz and 5.8 GHz transmission frequencies. This reduces the influence of environmental interference on drone operation and image quality while also ensuring long-range video transmission at distances of up to 8 kilometers (about 5 miles.) However, Bluetooth 4.2 and Wi-Fi connections are also available for those who don't care about having the longest possible range when they fly.
Further cementing the idea that this is a controller designed to be used anywhere, the Smart Controller is also designed to operate in temperatures that range from -20° Celsius (-4 degrees Fahrenheit to 40°C (104 degrees Fahrenheit.) It will be interesting to see if photographers use these features to capture new types of landscapes in the coming months.
DJI has not specified exactly which version of Android powers the controller, but the underlying machine has 16GB of ROM and supports microSD UHS-I Speed Grade 3 cards up to 128GB. These are used to run the DJI ap and a small assortment of video editing apps as well as to communicate with the drone itself.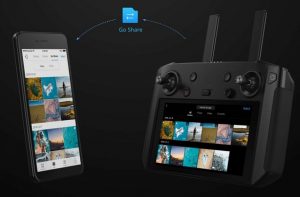 Though touch screen controls are supported, most users who buy this controller will probably want the greater degree of precision provided by the two throttle sticks mounted onto the device itself. We don't have a reporter at CES ourselves, but early reports suggest that the controls work well and feel fairly comfortable for most users (always a concern with these blocky, rectangular transmitters.)
With so many features you might be wondering what the catch is to all this. Well, as it turns out, there's two. The first is that the Smart Controller costs $650 USD. That's more than the price of some drones, and will probably price this controller right out of the amateur market (a shame for hobbyists interested in more precise controls.)
The second is that the Smart Controller's 5000 mAh battery only lasts 2.5 hours, can't be removed, and takes a full two hours to charge. While that's longer than the lifespan of the single battery included by default with the Mavic 2, for drone photographers who like to use multiple batteries and have longer shoots that basically means the Smart Controller is a no-go.
What do you think? Is the long-rumored Smart Controller everything you Mavic 2 owners were hoping for? Or does it leave a lot to be desired? Sound off in the comments, and look for our Dronethusiast review sometime in the near future.
Further Reading
Best Drone for 300 by Dronethusiast
The Fastest Drones around, by Dronethusiast!