Drone Wedding Photography : Everything You Need to Know

Wedding photography has always been a big deal with couples doing their best to get the most professional and creative of photographers to immortalize their very special day in gorgeous images and video. The introduction of drone photography has allowed this industry to reach even greater heights.
Drone photography will help you reach new angles and capture unique perspectives that you just couldn't do any other way – unless you were willing to blow what is probably an already unsalvageable wedding budget on a helicopter! Thankfully, the widespread availability of UAVs means that any professional photographer can give you excellent wedding photos for a reasonable price.
However, just as you would go about finding the right wedding photographer:
Asking the right questions
Trying them out on a small engagement dinner party
Checking out their portfolio
Asking for references
There is a host of questions and concerns that must be addressed when considering drone wedding photography. Today, we will look at everything you need to know about hiring a drone for your wedding photography and some tips on how to find the right photographer.
Why Are Drones Perfect for Wedding Photography?
The main reason to hire a team of photographers for your wedding day is so they can best capture the grandeur of the celebration. Yes, of course, you also want them to immortalize that moment when you say, "I do," your first kiss as a couple, and your first dance. But mostly, you want them to capture the grandeur of the event.
Drone photography is perfect for weddings. With a drone, you can capture the entire setting from above. Drone photography and videography can be used to highlight all the little things you did to make your wedding day so spectacular. No longer do you have to rely on looking at photographs in the right sequence to get the overall picture; now you can get it all in one aerial shot using a drone.
Is Drone Wedding Photography Expensive?
Just like an excellent wedding photographer, drone wedding photography prices are going to vary depending on several factors. However, the typical figure often comes to around $1,000 (about $300 for the photographer and maybe another $700 to hire his/her drone). It's best to get a few different quotations and compare.
Will the Pictures from a Drone Be as Good?
Depending on the kind of photographer and drone pilot you hire as well as the drone itself, your wedding pictures will be more than good. Typically, wedding pictures taken by a drone are nothing short of spectacular. Mostly because these UAVs can capture the ceremony at unique angles and elevations, and this makes the images seem surreal at times. Hiring a drone that supports 4K is the best idea especially if you are going to demand video as well.
Will You Need Permission to Use a Drone at the Wedding Venue?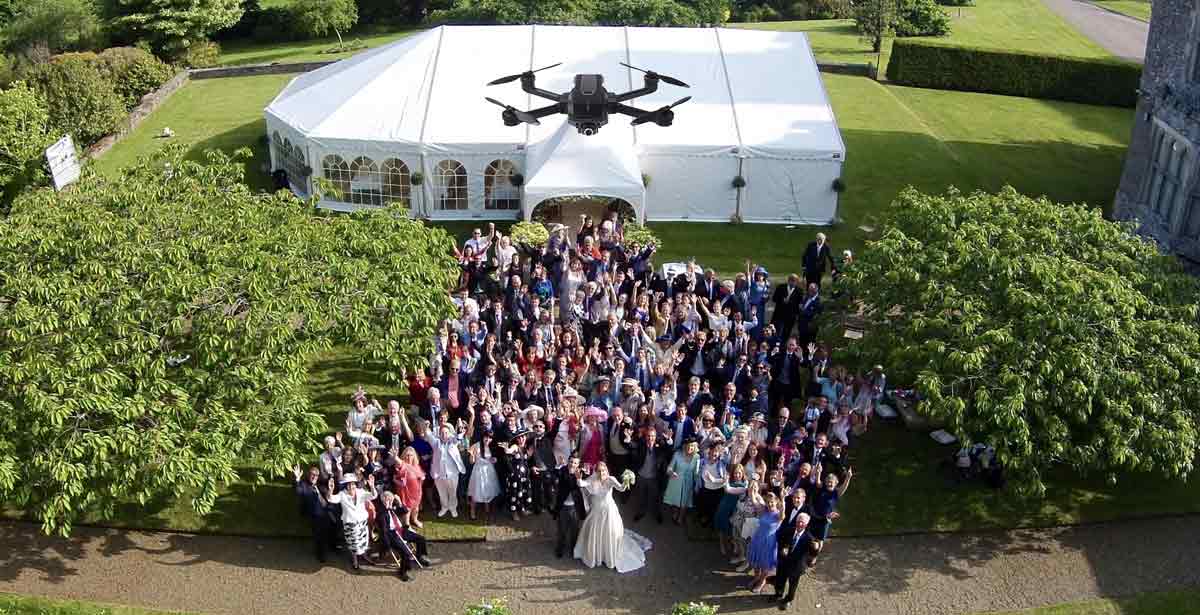 Yes, you will need to get permission from the venue to use a drone. Depending on where the venue is, you might need to get permission from the local government as well. In many cases, your wedding photographer will know what to do and who to talk to about this sort of thing.
Just know that using a UAV for your wedding photography will require quite a bit of planning, and as such, you can't let this be a last minute thing. You need to give yourself and the pilot sometime to discuss things like necessary permits, safety precautions and best angles to capture the entire ceremony.
Note: The weather will also play a big role in determining the kind of results you get from a UAV when capturing your wedding ceremony. That also needs to go into account and be mitigated if need be.
What Kind of Venue is Best for Drone Wedding Photography?
Weddings that are held outdoors are the best for UAV photography. Wide open spaces give the pilot and photographer enough room to work their magic and make the images and videos as spectacular and as dramatic as desired. Furthermore, there are very few drone pilots who have the skills to fly indoors without putting your guests at considerable risk.
Will I Need Drone Insurance?
Yes, you will need drone insurance. Not because these things are dangerous (the best are very safe and easy to use nowadays) but because "things happen." Drones are rather expensive and having one breaking at your wedding ceremony will not do that already inflated budget any favors.
Some insurers allow you to purchase drone insurance policies for the day, so you don't have to worry about covering the premium for an entire year just for a one-day shoot. In most cases, the drone photographer will have this covered but ask to be sure.
Tips on How to Hire a Professional Drone Wedding Photographer
As is the case with hiring a wedding photographer for your ceremony, you need to do your homework. You need to find out:
How good they are
Look at what they have done before
Their availability on your specific dates
How much they cost
However, with drone wedding photography, there are a few extras that need to be carefully considered. These include:
Licenses and registration. Commercial drone pilots are required by law to register their drones with the FAA. You also need to check if they have drone insurance.
Like typical wedding photography, you need to find a photographer who has experience using a UAV. You don't want someone who is going to use your special day as a guinea pig.
The UAV gives your photographer unimaginable capabilities when it comes to capturing the best images from almost impossible vantage points. You need to find a photographer who will take full advantage of that fact to give you the most spectacular images and videos.
Drone wedding photography can be exciting, but it can also get rather expensive. Take your time to find the right photographer and educate yourself as much as possible about the subject matter. With the right pilot and photographer, drone photography can revolutionize your wedding photos.
Other Interesting articles in "
Awesome Drone Tricks & Tips to Maximize Your Enjoyment

"