Dubai Municipality Develops Flying Drone Lifeguard

Dubai has long been known as a city that's at the forefront of innovation – and in the last five years, that innovation has also been extended to the drone industry. The city (largest in the United Arab Emirates) has some of the best drone infrastructure in the world and desperately wants to become the home of the first drone taxi. But first, they're taking a smaller step by introducing a flying drone lifeguard creatively known as "The Flying Rescuer."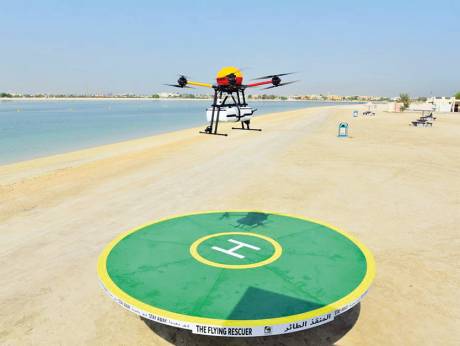 The Flying Rescuer is a custom-made heavy lift drone that can carry up to four rings of life buoys (potentially saving eight lives) or deploy a rescue raft that automatically inflates as soon as it hits the water. The drone is controlled by two rescuers on the shore who can monitor the beach using FPV video from a pair of thermal imaging cameras mounted on the Rescuer itself.
These controllers can also communicate with any drowning swimmers using a loudspeaker system on the aircraft. As Alia Al Harmoudi, director of the municipality of Dubai's Department of the Environment explained: "The system enables remote voice guidance to be delivered from the control point of the device. It is very useful in cases of collective drowning or during sweeping currents."
This project is only being put into action this week, but was first announced in 2016 as part of the emirate's Coastal Rescue and Safety program, or CRS. Since CRS launched, it has provided rescue and relief services in over 2,139 cases and has brought the number of deaths due to drowning in Dubai to zero.
But Al Harmoudi still believes there's room for improvement, and points out the additional benefit the drone can bring to rescue missions: "It can travel 300m in five to six seconds, which is much faster than a lifeguard's swimming speed. It can fly for 35 minutes and cover up to 7 sq km. It is also fitted with a light beam that can direct the lifeguards or boats to a swimming person."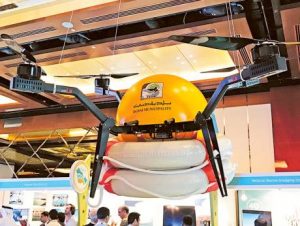 Being able to drop several bouys at once will also be helpful to the CRS program, since many of the cases it deals with involve 3-4 people all drowning at the same time. And since so much of Dubai's money comes from wealthy tourists enjoying its beachfront property, the Municipality has taken a special interest in preventing any and all deaths. And it's not at all surprising that the same city that built the Burj Khalifa would decide to apply a technological solution to the problem.
Between Aeromao's new amphibious drone and the "shark spotters" that are being deployed in Australia, it seems that there's a growing interest in using drones to patrol and survey shorelines. What do you think of this growing trend? Let us know in the comments!