Getting off the Ground – Financing a Drone Business
One of the most exciting things to observe over the last few years is just how quickly technology has advanced in the UAV field.
Very useful drones such as the Dji Phantom are spotted all over the globe, and since camera technology has increased so drastically, higher resolutions are available for surveyors, real estate professionals, and filming crews.
With the many different types of applications that will arise, many entrepreneurs will be on the hunt for drone financing.
How To Make Money With Drones: Frequently Asked Questions

What is a drone business
A drone business is any business that uses some kind of commercial unmanned aerial vehicle. Drone photography and videography are a very common type of drone business and will be the focus of much of this article, but drones can also be used for surveillance, real estate, industry, and all kinds of other fields.
How to open a drone business
There are many different types of drone businesses – photography, videography, drone industry, etc. – so it's hard to say an exact course of action. However, you'll need to start with at least one high-end drone (obviously) and you'll probably want some seed money from one of the organizations we talk about below. Then you need an office and a website so people can contact you and learn more about your business.
How to create a drone business
To create your business, you'll need to start getting clients. Having some family or friends who are willing to be your first customers is one possibility, but smart marketing and advertising are a lot more useful for attracting clientele.
How to start a drone business in the US
To operate a drone commercially in the US, you need to apply for an FAA Part 107 certification. After that, you'll need to file either a
s a sole proprietor (which requires nothing more than a state and local business license) or as an LLC/Corporation, with will require additional legwork and filing fees.
How to start a drone business in the UK
To operate a drone commercially in the UK, you need a Permission for Commercial Operation (PfCO) from the CAA. After that, yo
u'll need to file either as a sole trader, a limited company, or a partnership.
How much does a drone business make
This varies wildly depending on what kind of business you're starting, your location, how much advertising you do, etc. However, an average rate for a drone service business is usually somewhere between $200 – $500 USD an hour.
How to promote your drone business
We've written an entire article on drone advertising that will teach you everything you need to know about promoting your drone business and how to start making money with drones.
Is a drone business profitable?
Like any industry, there's no 100% guarantee that if you start a small business you will find success. But yes, drone businesse
s can be and often are very profitable. The market is currently experiencing an enormous boom, so if you can make yourself stand out from the competition it's very possible that you could make a good income off of drones.
How can I find drone businesses near me?
There are lots of online service directories for drone businesses and other types of companies. All you have to do is Google "drone businesses near me" and you should have no problem finding what you need.
What are some top drone businesses?
DJI is the top drone company in the world – a Chinese maker and seller of drones that has almost no competition. But we recently looked at some smaller businesses – service and manufacturing – that are shaking things up and finding success in the industry.
Drone Business: An Industry That Everyone Will Want In On
It occurred to many that taking a human element out of gathering footage could be very profitable: a search and rescue operation, surveying, or real estate business can have their productivity boosted drastically by having a pilot fly a drone for them.
Even hobbyists who shoot aerial videos of their favorite landscapes are monetizing YouTube channels: it takes some time and dedication, but once you drive visitors to a product for sale or advertising partner, the money adds up quickly.
Those beginning a drone business are realizing that the possibilities seem endless: competitive intelligence gathering can be done by drone quite easily.
How to make money with drones can materialize itself with many ideas: but the idea of reporting back to companies who are looking into buying land, studying population trends, and tracking lawbreakers such as those fishing illegally are all possible now.
Another business possibility that had many wondering how they could obtain drone financing is disaster relief.
When areas get hit by flooding, tornadoes, earthquakes, and hurricanes, some of the terrain involved is dangerous enough to want to keep the human element away.
Drone business opportunities abound in very high numbers in the news gathering arena as well, where issues such as war, protest, and other conflict can keep journalists much safer then they would be on the frontlines.
How big the pie is when it comes to the future
Drone business is predicted to grow so rapidly that it may seem impossible to keep up with: projected revenues from drone sales alone are predicted to top $12 billion during 2021, and shipments of consumer drones will more than quadruple over the next five years.
Extreme growth in the enterprise sector will run laps around the consumer sector in both shipments and driving revenues, and regulations will open up many new use possibilities in the EU and the United States.
One very important category of drone business will be rapidly emerging technologies such as geo-fencing and collision avoidance, and more and more commerce will be taking place as technology advances.
People will be learning how to make money with drones so quickly, that a need for funding and venture capital will be so much larger than just a year ago.
By the year 2020, the FAA estimates that there will be around 7 million drones that will ship to the United States alone.
Hobby drones sales will rise by more than 3 million units by 2020, and the number of drone business opportunities will rise directly right along with that number.
What are some of the best options for seed money?
There are so many talented individuals out there who have the drive and passion to dream up a great idea for a drone business, but are simply unaware of the entities out there that were created to help them.
KABBAGE is an option for financing that is out there that got our attention for many reasons.
Applying for Kabbage is very simple, and takes just a few minutes. They specialize in loans from $2,000 on up to $100,000, and you can link any of your business's online services to qualify instantly.
There is no real paperwork or faxing, and they approve businesses by looking at performance data, and not relying on a credit score alone.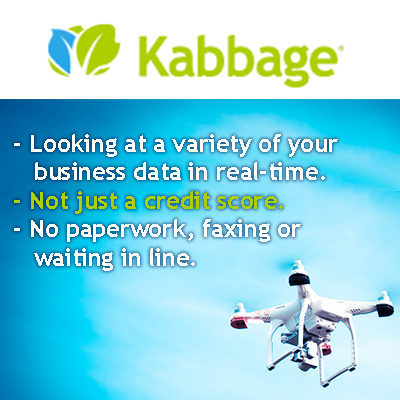 You can draw against your line as often as once a day, and will only pay for what you have taken.
Kabbage provides you with constantly ongoing access to the funds you have received, and you will appreciate this as needs for equipment, employees, and advertising arise quickly.
You need to have been in business for one year, and have a revenue of at least $50,000 annually.
Your interest rate is generated based upon risk, and every month you pay back 1/6 or 1/12 of the entire loan, depending on the six month or one year term.
It is simple to acquire drone financing, an inventory, loan, short term business loans, micro loans, revolving credit, and bridging gaps in cash flow. Kabbage is very viable for a drone business owner, especially when a growth period is likely forecast.
LENDIO is another way to access drone financing that simply rocks. You can know your business loan options within quick minutes, and alleviate the owner's need to go from bank to bank to acquire different types of loans.
After answering a few quick questions about the business, you are instantly matched with different options.
Lendio has a network of over 50 lenders, and so they can quickly find the best options for any beginning small drone business. SBA loan, startup loans, and more are available after just filling out one application.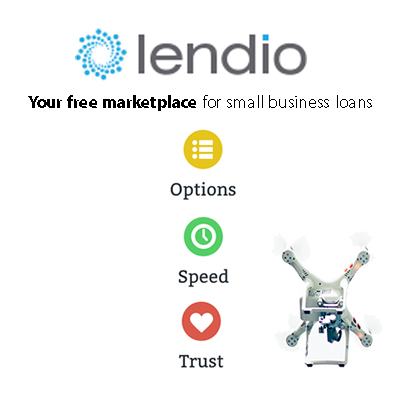 The time saved with Lendio is a big deal: while they are looking for the right type of individual to fund your dreams, you continue running your business, and are not out there knocking on multiple doors and wasting that valuable time.
Basically what is happening in the climate of lending right now is very exciting: a business owner may have to struggle through the elements for a year or so, and rely on self-generated capital for things like Facebook advertising, graphic design, and a sales force.
But, when the time comes to get some serious capital to really hit the ground running, many of those elements may be tax write-offs, which is a win-win for you as the owner at the helm.
It can be rough in the beginning when you are working on your dreams, but a little boost in the right direction in the beginning can be as defining and timely, as your "flight path" begins to climb steadily in altitude.
Other Interesting articles in "
Awesome Drone Tricks & Tips to Maximize Your Enjoyment

"