Getting Your Drone License – What It Is And How To Get It

The first ever drone license, also known as a remote pilot certification, was launched by the FAA in the United States during August of 2016. The Part 107 Remote Pilot Certificate is the certification that gives drone users the ability to take an exam on a federal level and further classify themselves as a licensed commercial drone pilot in legal standards.
Become an FAA Certified Drone Pilot and Get your License
At Dronethusiast we understand that a lot of you are out there trying to start a business using drones. That's why we recommend you use Drone Pilot Ground School to learn to fly and get your 107 license to fly from the FAA. Drone Pilot Ground School is the best course offered and you can get a special limited time deal because you're a Dronethusiat reader. Click here to get your discount.

What is a Drone License?
While you can certainly find drones with autopilot features, in some instances you still may need to acquire a drone license to fly. If you want to be technical here, you're really only getting the certification and not actual licensing to fly a drone. This means you don't generally need to have one to fly a drone, but you're definitely going to want to have one if you have plans to use your drone for certain instances.
For example, if you are a drone pilot who is using a small UAS to get paid for whatever you're doing, you're definitely going to want to have a drone license. This is actually the overall intended use and why this certification licensing was created in the first place.
This licensing and certification go hand in hand with how commercial pilots have a license to get paid to fly their planes for a living, so you can see where the connection has been made here and why it was done in the first place.
Part 101 Remote Pilot Certificate is referring to the rules and regulations that the FAA came up with to integrate drone use into the National Airspace System, or NAS. These rules and regulations, as well as additional rules that pertain to using the NAS, are all part of the Federal Aviation Regulations Aeronautical Information Manual (FAR AIM) and 14 Code of Federal Regulations (14 CFR). These are all under Part 107.
Overall, the purpose of having a drone license is basically to make sure that beginner drone pilots using their drones for commercial purposes are safely abiding by the rules of the sky that have been established by the FAA and the NAS.
Before getting started we just want to point out how Dronethusiast can help you get ready for the holidays. We have a great article for finding a childrens drone if you are seeking a drone for kids this holiday season.
Having a Drone License for Recreational Flying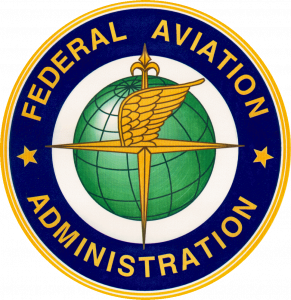 Before we get into the process of how to get a drone license, we're going to touch on whether or not you need to have a drone license if you fly your drone for recreational fun.
In short, no, you do not need to have a drone license if you take your drone out in the field for fun every now and then. Whether you have a quad, UAV, sUAS, it doesn't matter – if you're not pulling in a profit, you don't need one.
The only thing recreational drone users need to worry about in this aspect is following the rules and regulations that have been put into place by the FAA, which you can brush up on.
How to Get a Drone License
If you're looking to get yourself a drone license, you're going to have to go through an application process. Anyone who plans on making money with their drone must go through this application process or face a fine that can go well into the thousands.
Listed below is a list of what you're going to need before you can legally apply for your drone license and what you have to do during the process:
– Must be at least 16 years of age
– Must be of sound mind in order to safely operate a small UAS
– Have a valid piece of government-issued identification with your picture, name, signature, and home address
– Make an appointment to first take the knowledge at any test center closest to your location
– Pay $150 to the firm where you will be doing the testing
– Once you've finished the test, wait at least 48 hours for your score to be uploaded and later viewed
– Further apply for the Remote Pilot Certificate, which is done using the successful test code, if you passed, as proof
– Complete a full background check with the TSA
Once all of this is done, you will need to print out a Remote Pilot Certificate that acts as a temporary piece of certification until you have received the real one.
Whether or not you register your drone before or after this process is totally up to you, but we recommend that you do it before you go for your drone license to make sure that you're ready to go the minute you receive it.
Courses That Offer Help and Training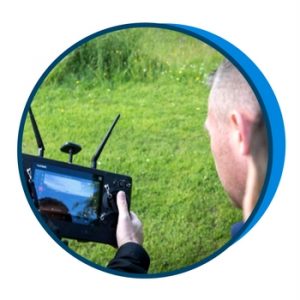 If you're a hands-on type, or would rather have some real experience before you take the test, using a drone training course is the best way to do so. It gives you a real feeling of what you can expect before you take your test and is a great way to ensure that you are fully prepared.
A lot of these courses have additional information and curriculum, besides the test areas, that you will no doubt find useful. Whether you're going to stay residential and want to license just to have it or are looking into starting a business with your drone, taking a course is definitely beneficial.
We've rounded up a couple of the best training courses and have them listed below for you!
UAV Coach Drone Pilot Ground School – Drone Training Courses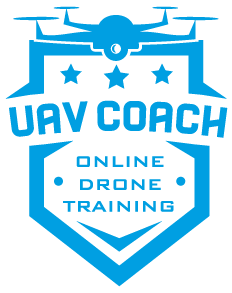 Check out the Drone Pilot Ground School Training Courses Here!
This school offers training for the FAA Part 107 Aeronautical Knowledge Test online where you will learn curriculum partnered with a former Chief Pilot of a Part 141 Flight School and a Gold Seal Certified Flight Instructor.
Listed below are just a few things you'll have at your disposal:
Coverage on the 127 knowledge concepts that are required by the FAA and published in the UAS Airman Certification Standards
Over 30 video and text lectures
Bonus modules on flight proficiency, insurance, and legal considerations for those looking into the drone business aspect
Practice quizzes and offline curriculum that can be downloaded or printed for studying
UAV Coach also offers great photography classes. You can learn post-production, mapping and 3D modeling, and other important aerial filmmaking techniques. Overall, UAVCoach offers better courses than any other option on this list, and we highly recommend it as our #1 choice!
You can learn more about their course by clicking here.
Drone U Drone Training Courses

Check out the Drone U Training Courses here!
Drone U is, quite simply, the best drone training option for your money. Unlike the other options in this list, they don't charge a large up-front price – instead, the cost is a much more manageable $47 per month, and you can cancel at any time, which means you only pay for classes you're actually using. You can take as many courses as you like and you can learn at your own pace, which I like better than sitting through a pre-programmed curriculum.
Another great thing that sets Drone U apart from its competition is its focus on community. They really try to have large, active groups on all social media platforms (Facebook, Instagram, etc.), and getting to learn along with other drone users can help make the process a little more fun and a lot less stressful. That's why, of all the training courses we've tried, Drone U is our favorite.
Drone U has videos, tutorials, and daily podcasts on almost any topic you can imagine, including:
Drone Systems
Flying Technique
Photography
Videography
Business & Commercialization
Motion & Cinematography
Industries
Optics
Pilot Certification
DARTDrones Training Courses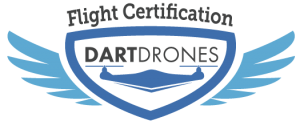 DARTDrones offers 5 courses, 6 consulting offerings, run courses, and much more across the nation. They even have over 30 training programs that you can customize to your specific needs, as well!
Listed below are just a few of the courses you can opt for:
– In-Person Part 107 Test Preparation
– Online Part 107 Test Preparation
– Starting a Drone Business
– Online Aerial Photography
– Professional Drone Pilot Bundle
– Drone Certification Program
– Government Training
– Corporate Training
You can learn more about their courses by clicking here.
Fly Robotics Ground School (AMA Flight School)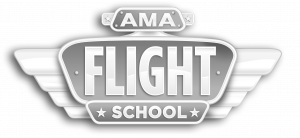 Promoted by DJI, the Fly Robotics Ground School offers a course that continuously uses curriculum as the FAA updates their regulations. It's constantly redrawn up with the help of career educators and UAS pilots for commercial operation purposes.
Listed below are some of what this course will teach you:
-Aerodynamics and the scientific principles of flight and aviation meteorology
-Part 107 of the FAA regulations
-Ethical guidelines for aerial data collection, photography, and videography
-Self-certification and physiology factors that directly affect the operation of your flight
-Flight inspections, safety standards and procedures
-Aviation safety and general record keeping
-The NAS, classes and types of airspace, terminal charts, and sectional aeronautical charts
You can see their course and learn more about it by clicking here.
How to Get an Appointment
At this time of writing, there are two companies in charge of supervising the test needed to get a drone license. Keep in mind that these are not testing centers, only supervising companies.
PSI – Formerly LaserGrade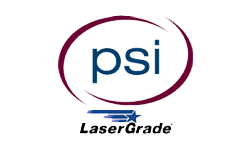 With PSI, you can use an online request form for an appointment. You can also call 1-800-211-2753 and press 1 twice or email them at examschedule@psionline.com for your appointment, as well.
CATS – Computer Assisted Testing Service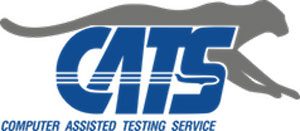 With CATS, you can also use an online registration request form and do the payment process at the same time! You can also call them at 1-800-947-4228 and press 3.
Testing Centers Near You
If you don't know of any testing center near your location, or one that is relatively close to you, you can visit the full list of FAA-approved testing centers across the nation for yourself by clicking here.
You will, however, need to make an appointment with PSI or CATS before you can visit the testing center, so make sure you have one set up and ready to go before you do so.
There are some testing centers who allow for walk-ins, but you should always check with PSI or CATS before you do that to ensure you aren't wasting your time.
Acing Your Test and Achieving Your Drone License
Remember to study hard, use a drone pilot training program if need be, and work hard to get your drone license. Once you do, you'll be able to sell the photos you take with your drone using your commercial drone license, for example, and have your own little business with a small UAS.
Further Reading
Best Camera Drone Under $500 via Dronethusiast