The Story Of Probably The Best NYC Drone Video
You've probably heard of the NYC legislation that pretty much bans drones in the city completely. By that time, New York photographer Victor Chu was done with the filming of his aerial drone video that covers all 5 boroughs of the city.
"There's been a couple of videos about New York City shot with a drone, but they always cover Manhattan. They never cover the Bronx and Staten Island and the other boroughs," Chu explained to NY Daily News. "They are neglecting the other wonderful parts about New York City." He was interviewed by two major TV stations and his drone video was featured by a dozen news outlets including Time, Business Insider and Gizmodo.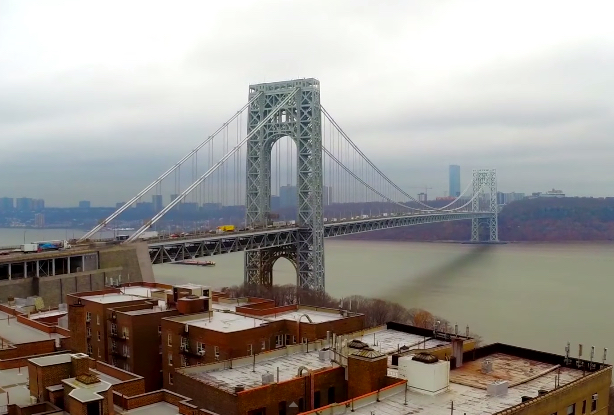 The Filming
In June of 2014 Chu started out with the project as a demo reel for his website. Midway through shooting, as his drone was in California for servicing, he found out there was an inaugural drone film festival. He had less than two weeks to shoot what he planned to complete in almost two months. Several days were plagued by rain and strong winds. He finished shooting the day before and editing literally a couple of hours before the deadline.
In total, Chu completed over 21 days of shooting in over 30 locations, 5 boroughs creating more than 10 hours of raw footage. He also used 5 spotters who made sure he didn't crash.
How He Did It
Victor used a DJI Phantom 2 Quadcopter with an AVL Video Downlink Kit equipped with a Zenmuse H3-3D 3-Axis Gimbal and a Delvcam Dual Antenna monitor.
His GoPro was set to 2.7K, 30 frames per second, medium POV and he used prop guards on all shots (front prop guards removed occasionally). Shoot at 2.7k was important to be able to crop out front guards from the shots.
Many people forget, but it's important that Chu planned out about 60% of the shots in advance. Some of the shots couldn't be predicted because he didn't know how it would look from the air. For those shots, he had to improvise and look at the features around, then make a decision. "I'm not very good at improvising or planning regular film but aerial film is almost like one of those level editors in a 3D video game. There's just so much more control" as Victor explains.
Most of the shots were either done at sunrise or sunset (preferably sunny days), which provided the best lighting conditions. Victor used Google Maps satellite view, reference photos online and in Google Street View occasionally. On a good day he managed to cover 4 different locations. Victor only has 4 batteries and – including driving, parking, and walking -, it would take often more than 4 hours to complete one. There was a day when he spent 4 hours in DUMBO including parking and ended up not using any of the footage because of bad lighting and lack of time in the video. There is no business like show business :).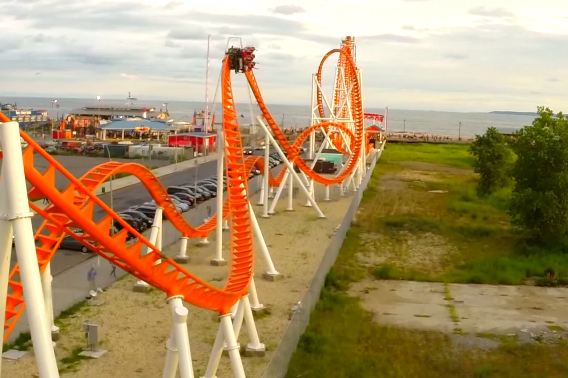 The song he used was pretty much chosen first because Chu felt it had an aerial feel to it. He asked the artist who agreed to provide the rights for free. To be fair, Victors said that if the drone video gets more than 1000 views, he'd pay him. The video now has more than 300K views.
Victor edited the raw footage to the beat and melody of the song which gives the video a better experience. Every time he shot something, he went home and would start editing right away because he was so eager to see the footage. This way, by the time the last shot was completed he was pretty much done with the editing. Smart plan there.
And than Victor found out there was a drone festival halfway through and his drone was away, getting fixed. Chu also procrastinated getting the drone fixed, so he ended missing the autumn foliage in Central Park. I think that's just human, I still feel that I admire his persistence. Anyway the festival deadline forced Chu to release the video at the end of 2014 but it also forced him to shoot in cloudy weather. He feels that some of the cloudy shots turned decent, but could've been a lot better. Don't we always feel that there is room for improvement?
Victor flew almost half of the days with a spotter who was using binoculars. He needed a spotter for the ship graveyard and all Staten Island shots, the History Channel sign, Pepsi sign, the globe fly-in and the Northern Manhattan shots including cloisters and some other spots. During the shooting of the ship graveyard one he and his spotter had to walk in the marsh for 200 feet and and their shoes got all wet in the cold. No pain no gain I guess :).
For the Unisphere Globe shot Victor had to figure out how big the largest opening was and had to look at a photo online and extrapolate from the size of a person in the pic. He figured it was about 6 ft tall and 10 feet wide. Before that particular day of shooting, he practiced in a local park with lightstands that created a smaller opening and it was twice as windy. It definitely gave him the confidence to do the shot. The next day Victor's spotter had a walkie talkie too and the shot was actually done in one take. Chu sat below the globe and the spotter was sitting about 150 feet away with a direct view of the opening. This way they had an eye on 2 different angles. Chu originally was going to go for an upward spiral shot inside the globe but when the drone got in he realized there was a steel net that cut the globe diagonally in half. So he had to just do a 360. Awesome anyway, that is one of my favorite shots in this amazing drone video.
Almost all shots were done in 10-12 mph winds or less. When the wind was more than 15 mph, the footage was most likely unusable.
A lot of the shots were done 2-3 times to make sure that they get the smoothest and best looking (cinematographically beautiful shots). Victor tried to incorporate at least 2 beautiful things or techniques in each shot. For example the shot with the speedboats in LIC, he wanted the reveal the reflection and the sunset. The boats just happened to come into frame and Chu didn't even notice them until he reviewed the footage. Another thing he didn't notice right away was the bike in the lighthouse shot. He was just going to do an overhead shot and hopefully get the bird in since it was perched on top. Pretty lucky there.
In case of any shots with trains or trams, Victor had the drone up in the sky waiting for a while and started shooting when the vehicle came in. For the Brooklyn Bridge shot, he went over the top and made sure he had at least 5-6 feet of clearance. Then went back and forth shooting different paths to achieve shots that were different from other typical Brooklyn Bridge shots.
The downlink range of Chu's equipment is limited, so for the most part of filming the range was around 300 ft in height and about 400 feet away. So technically all his recordings were in line of sight.
As Chu explained to Dronethusiast, the video was extremely fun to shoot. the aha moment was the editing and matching up with the song. He expected that it may go viral, and reach maybe around 100k views, but didn't expect to get interviewed by 2 tv stations and reach over 300K views.
Kudos Victor!
So I am sure you agree the result is amazing and withe some practice and time invested, you can also do similar quality aerial drone videos. Would you like to learn more about creating stunning images with your UAV? Our writer Mark Richardson has a great course on Udemy for you!
Click here to sign up for Mark's course called "Drones: Become a Pro Aerial Photographer and Videographer" at half price, so you can enroll for just 49$ instead of the regular $99 with a 30 day hassle free guarantee! This offer ends soon.
Behind The Scenes
Here is a great behind the scenes video as a bonus.
Summary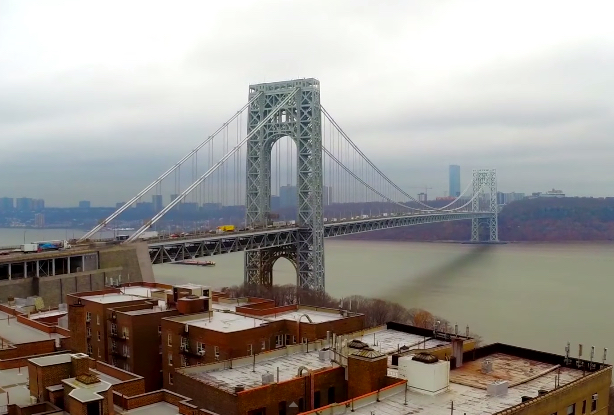 Article Name
The Story Of Probably The Best NYC Drone Video
Description
New York photographer and aerial videographer Victor Chu's drone video of NYC that covers all 5 boroughs of the city.
Author
Other Interesting articles in "
Cool Pics and Vids

"