Totally Lame Drone PR Stunt from TGI Friday's
This story surfaced a couple of days ago and I am sure many of you have seen it. At the same time, I just had to come back to it because I feel that it's as cheesy as it gets and it's astonishing to see how many media outlets took this gig seriously.
Small and large companies continue to announce drone projects left right and center. From delivery drones by Amazon and DHL to drones delivering beer, some of these projects have more merit and chance to actually materialize than others.
And in some ways, that is ok because when any major company embraces our technology it tells regulators and the general public that drones can be used for a lot of good purposes. To my opinion these are all cool as long as there is some sort of innovation or research involved and the service itself has at least a faint chance of making anyones life better. And luckily, there are plenty of them out there like the drone defibrillator, the one that takes a life saver to drowning swimmers (from Iran) or the peer-to-peer on demand drone delivery service from the UK.
And than there are drone projects that merely speculate that media outlets will pick up the story just because there is a lot of buzz (pun intended) around Unmanned Aerial Systems. Not so tech savvy journalists will pick up any story with the word "drone" in it.
#Togethermas
A perfect example – at least to my opinion -, of a totally self-serving drone pr stunt is the latest gig by TGI Friday's. The restaurant chain announced that it is rolling out #Togethermas camera-equipped mistletoe drones in its U.K. stores for the holiday season, starting with a central Manchester location. The DJI Phantom quadcopters are also equipped with "Kiss Cam".
A spokeswoman for Friday's said the "mistletoe drones" are part of the restaurant's "legendary" holiday atmosphere. "Not only are they great fun for the entire restaurant, but they help people get a little closer at this time of the year." She added: "Who knows—maybe we'll have had our first mistletoe drone wedding by this time next year." Oh God, please save us….
There is absolutely no sense in the drone pr stunt itself. According to a national survey conducted by the restaurant, nearly half of people have never had a kiss under the mistletoe. So a professional operator with an FPV screen is controlling the Phantom hovers over guests with some mistletoe attached to the landing gear. The Kiss Cam is there to get them to smooch a bit. Would you feel comfortable kissing while a drone is terrorizing you from above? You decide.
Bonus
Netflix did a great job mocking the gimmicky drone trend in its "almost robust drone DVD delivery" video back in February.

Sources: NY Daily News, Gawker 

Summary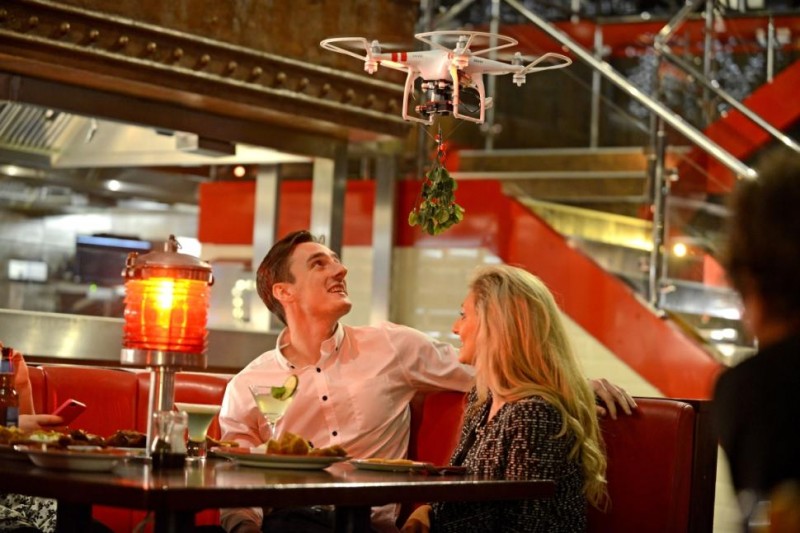 Article Name
Totally Lame Drone PR Stunt from TGI Friday's
Description
Totally lame drone pr stunt by TGI Friday's. The chain has announced that it is rolling out #Togethermas camera-equipped mistletoe drones in U.K. stores.
Author
Other Interesting articles in "
News

"