Top 10 Drone Blogs As Voted By You! – Dronethusiast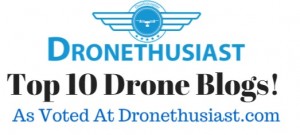 The results are in for the Top Drone Blogs poll we cast out to all of you hungry drone enthusiasts last week, and so now we are going to excitedly share which blogs out there are making waves in the wide world of drone reporting. Current technology and trends, techniques and add-ons, and reviews of new gear seem to be what readers are hungry for, as well as blogs about just getting out there in the open and flying these amazing things!
We just wanted to give you a bit of fine detail about each blog, and show you some posts from them to wet your wired-up appetite ready for reading. As the summertime is almost open us and many will be getting out nationwide to fly, these top ten will offer you a wide variety of reading material, and inspiration to get out there and get your gear airborne.
Top Drone Blogs 2016
Honorable Mentionsbeginnerdronepilot.com and yourdroneshq.com, keep up the great work!
Without mulling around any further, let's get on with showing you who made the cut, so you can see why their writing, photos, and videos are especially awesome. Keep your laptop fully fired-up, because we've got scores of reading for you to do! Here are the proud winners:
#1: Tom's Tech Time
Our number one contender is chock full of information on pilot training, tools and gadgets, very informative videos, footage from flyers, and camera info. They have proven themselves ahead of the rest with reviews of filters, backpacks, hardcases, and even HDMI modules.
Just to show you how great the pilot training section is, check out this video that shows you how to properly fly over water. It gives you a clear explanation of how to use every feature on the app, avoid obstacles en route, and observe the water before flying.
To check out the latest on Phantom 4 vs. Phantom 3, How to avoid crashes, and many more cool topics they cover, visit Tom's Tech Time here to see just why they are so awesome and innovative.
#2: Drone Deploy's Blog
A very slick interface and lots of valuable information is waiting for you here at this portal whose goal is to make sense of the commercial drone industry. It makes sense that they scored so high, because at just one brief glance, you can see that they take what they do very seriously.
One of the most relevant topics on their website is "How Drones are Building ROI at Construction Sites", which you can read here. They are also doing a first-rate job of depicting how agricultural drones are bringing value to farmers, and showing how major events planners are benefitting from drone mapping capabilities.
They have a very comprehensive list of topics, and they don't skimp on multimedia or photos, one reason why we truly believe that so many are eager to see what they have to say immediately. Check out Drone Deploy's Blog here, and see for yourself why the #2 spot is well-earned by them.
#3: Dronethusiast (Hey That's Me!)
Well, as we described when we first began the poll, we secretly hoped we would rank highly, and we did! Our most recent post here is about the British Airways drone incident, and we've got a multitude of info on tap for you this spring.
Tips and tricks, Tutorials such as "Buying Drone Accessories on a Budget", and comprehensive reviews of new releases such as the DJI M600 are all items we're serving up for you, and we've loved every minute of producing this high-quality content. We are covering items such as propellers, batteries, cameras, and even RC boats already this year, and we promise that the best is yet to come.
Come check us out here whenever you aren't out flying your toys around, and we promise to keep cranking out the content to keep you motivated.
#4: The Drone Girl
She herself is not a commercial pilot, but a world-renowned journalist who has had her work published in news outlets such as CNN, NPR, the BBC, Forbes, and The Economist. She first became interested in cheap drones when she was a producer and photographer at the Missouri School Of Journalism's program, where she produced a great video for Harvest Public Media where a drone captures footage of a prairie fire.
One of her latest posts is The Perfect Drone for Someone Looking to Spend $100 , where she gives a very comprehensive and in-depth review of what she deems is an awesome device within that price point.
Cases, batteries, and many other cool items of gear are reviewed here, as well as a recent spotlight on Zoe Stumbaugh, the world's top female drone pilot who was once bedridden, and now enjoys drones as the best hobby she could have ever hoped to embrace. To get her point of view on everything happening in the drone world and just to check out how all-around awesome she is, visit her here. She mobilized her troops and got herself voted in at #5 in our Top Drone Blogs poll!
#5 FPV Blog
One thing that is very unique about this blog is its layout. They definitely took some risks and went beyond the normal scheme of giving you the top-heavy format, and it really does work out well. Just a simple tweak such as putting the goodies and headlines to the left really can make a difference.
One of the latest cool videos posted is this one about Klettersteig Braunwald. It's a pretty amazing view of some of the Swiss Alps gnarliest terrain, and has a unique flair because of the sheer altitude you're watching from.
The main contributor and editor Crashpilot began the blog 3 years ago. A resident of Zurich, Switzerland, he publishes his videos on Vimeo, and his guest author Alastair Baker is from the midwest in the USA, where he runs a specialized drone dealership in Sioux City. Check out their page here, and enjoy the forum that is geared towards straight photography and first-person racing.
#6: UAV Expert News
This blog is a place where you can quickly check in for your daily dose of industry news, events, and other drone-related happenings. It's a very strong contender at the #6 spot: They always update daily, and offer tons of cool content such as This article about the ways that pilots can benefit from a website that identifies heavily-visited tourist spots that will allow drones to fly overhead.
They do an excellent job of covering drones within the defense arena as well, and have a great piece about solar energy efficiency record breaking, along with coverage of Cyberhawk and the ways in which the oil and gas markets are constantly evolving. Also covering events such as the medical-delivery drone headed to the Smithsonian, the key to success here is constant updates: they do them frequently, and do them well.
Just go to their website here to check them out for a daily dose, and see a perspective that mixes the small-time hobbyists' view along with information regarding security and how drones really are changing the world.
#7: Drone 360
This is the website for a print magazine that you can buy right on the newsstands, and is a pretty cool and well-put together online version. What you are really getting here is everything drone-related, with a bit of a "Popular Mechanics" feel to the coverage style.
One of the latest articles is about Nasa's tests of the drone traffic management system, reporting dutifully that they did not have any major flaws in their initial trial run. They also just covered Echodyne's small radar that could be big for drones, which utilizes metamaterials, and does not require any moving parts.
A nice link that shows aerial views of South Africa, an in-depth look at the ways in which ESPN is going to televise drone racing, and juicy tidbits about patents and legal issues are all online at Drone 360. Check out their website here and see the cool content that puts them in our highly-read top ten list.
#8: First Quadcopter
At first glance, what our writer likes most about this blog is that it bears an odd resemblance to the "Wall Street Journal" in its appearance. With a very official and newsy presence, it has a standard vertical scroll and just fits very nicely into its own skin on their website.
One of their latest features is all about The Eachline E10C Mini, the world's smallest quadcopter with a camera. It's a very in-depth look at one of the machines that is a truly affordable way to learn and practice how to fly, without the big expenditure of a full-blown quad.
This is a very straight-to-the-point, no fluff hub to read about the entry-level drones that you can buy, figure out pricing points on, and read testimonials about. There is no shortage of material for them to cover, as brands such as Autel, Hubsan, Cheerson, and Syma are all upping the ante and delivering products to the public that are ready-to-fly, and are also gaining more features by the day. What a great addition to our Top drone blogs post!
9. DIY Drones
This is a fantastic blog that is all about either building your own, or understanding the different kinds of technology used to build many different kinds of drones. They do also focus on quadcopters that are ready to buy, the flight safety aspects of many different mediums, and take pride in having the distinct flavor of a true RC enthusiast's viewpoint.
One of their latest blog posts is about the first dronecode China conference in Beijing, and when you dive into their webpage here , you can see that it feels a bit like a true message board forum, where there is always some sort of "thread" being constantly replied on and gleaned by multiple users.
Multiple diagrams, subjects with delightfully home-grown style RC cars and solder kids, and posts for those that are in the know about building their own kits will be well-enjoyed by the scientist types young and old. The only folks that may not enjoy this blog are those who are in the range of a "still-learning" beginner, and those who just like to fly, but do not know anything about the components inside that are really propelling the device.
That's it for our top drone blogs post, another one we missed, take a look at Readyquadcopters.com!
Read up on our recent UAV Tracking Post here!
Other Interesting articles in "
News

"